Although creating and managing a website has become easier in recent years, less experienced users may still be questioning some of the options out there, and feel a little overwhelmed by the vast number of options.
Some key questions are:
Which content management system should you use?
Which hosting platform is the best?
What plugins will you need to have a functional site?
If you're about to start an online business or a company website and your objective is to find a solution that is good for you but also for your users, keep reading.
In this article, we're going to discuss the importance of choosing a nimble and highly customizable website builder and good plugins that will add the right features, enhance efficiency, and deliver a pleasant user experience.
What is a membership site?
Membership sites are some of the most popular and successful websites on the Web. Let's take a look at them in more depth to see what makes them stand out.
A membership site is a website that delivers gated content to members, who need to log in to view it. Members register on the site to receive access, and memberships can be free or paid. Paid memberships can be monthly or annual, delivering recurring revenue to the website owner.
Content that is delivered to members can take the form of any of the following (and more!)
Text and images
Downloads
Videos
Podcasts
Quizzes
Live webinars
Membership sites can be created for various purposes:
Educational: Educational sites teach their members about a topic. Scotts Bass Lessons is a well known site for teaching bass guitar that offers a 14-day free trial to new users. Video lessons and live broadcasts are all part of the attraction. Users can get their questions answered by Scott and the other teachers and hang out in the community forum.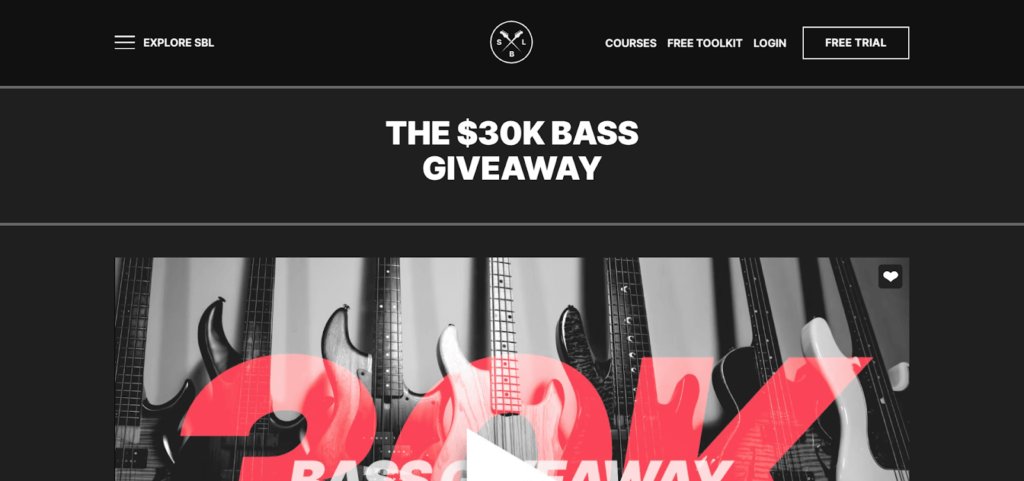 Marketplace: Marketplace websites offer time-sensitive deals to members at discounted prices. AppSumo Plus is an example of a marketplace membership site. For $99/year members get 10% off purchases, extended access to deals and access to KingSumo Pro, a product for growing an email list.
Get Started with the Best WordPress Membership Plugin
Today
Connect, Manage and Build your Membership Site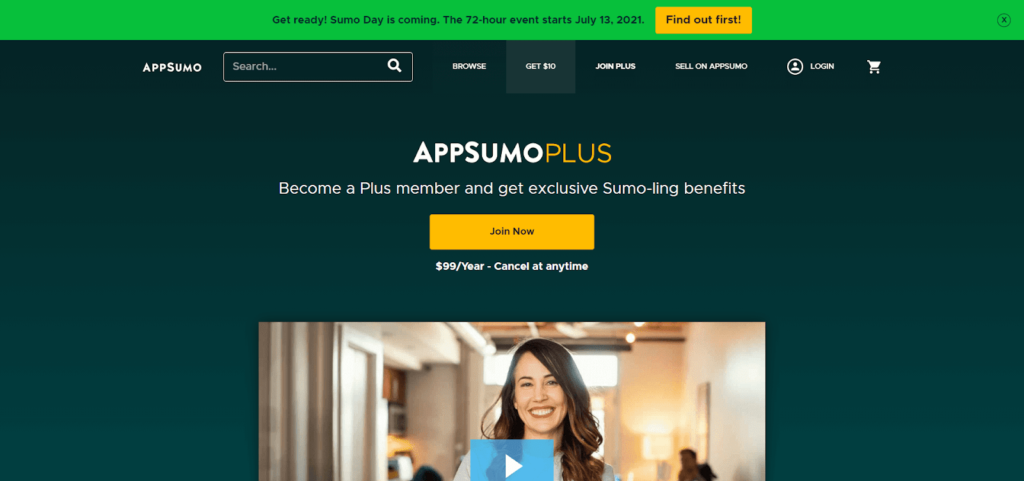 Community: Community sites revolve around a shared interest. Soflo Vegans is an example where members can ask questions, post resumes and add to and vote on directory listings.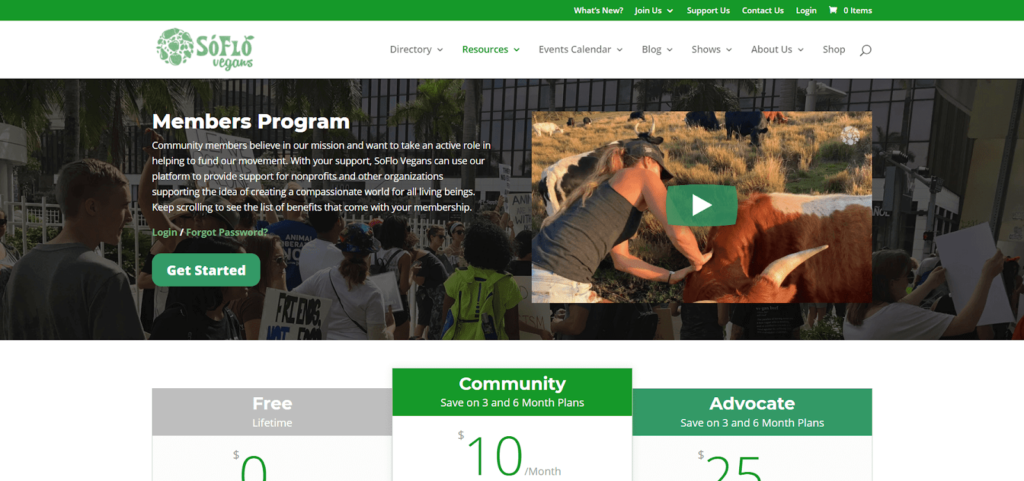 Good membership sites create communities where members are encouraged to share information and network with one another. There may be a members' directory, forum, and private messaging to promote interaction.
What makes an attractive membership site?
First of all, a membership site should have a clean design that signposts users clearly to the content within.
You can see this in Pat Flynn's Smart Passive Income site, where 'Join Courses' and 'Become a Pro' are highlighted on the page.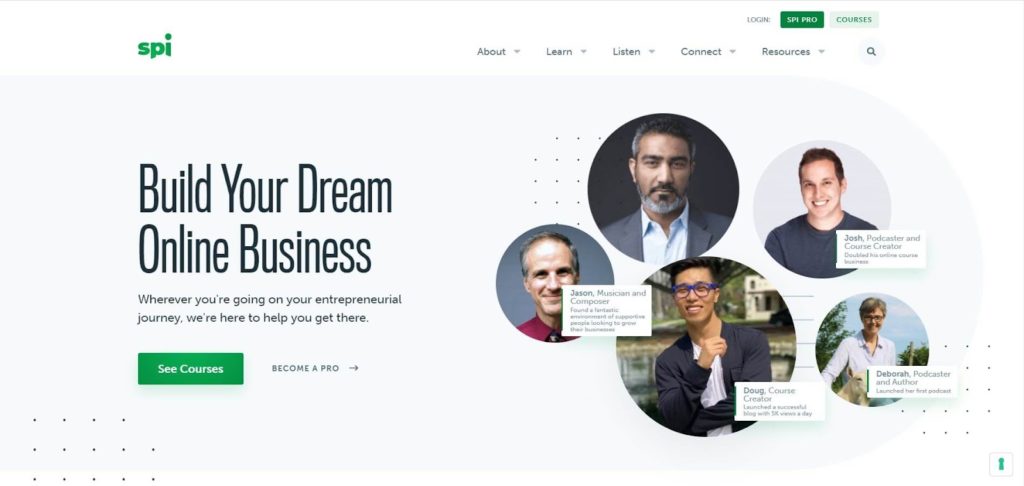 Being ranked highly in search is a must for a membership site, so SEO-friendly sites do better. As mobile usability is part of the search algorithm, a site should also work gracefully on a mobile device. Healthy Grocery Girl does this well.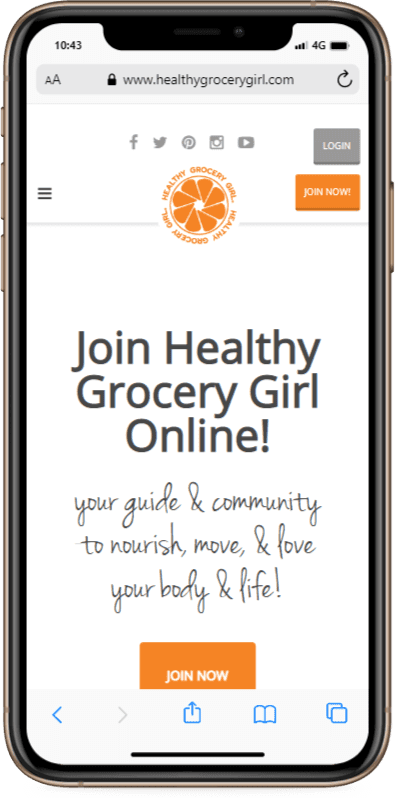 A membership site should have an easy registration process that encourages users to sign up for membership.
JustinGuitar's site for example clearly outlines the benefits of membership in bullet points, and makes it easy to register.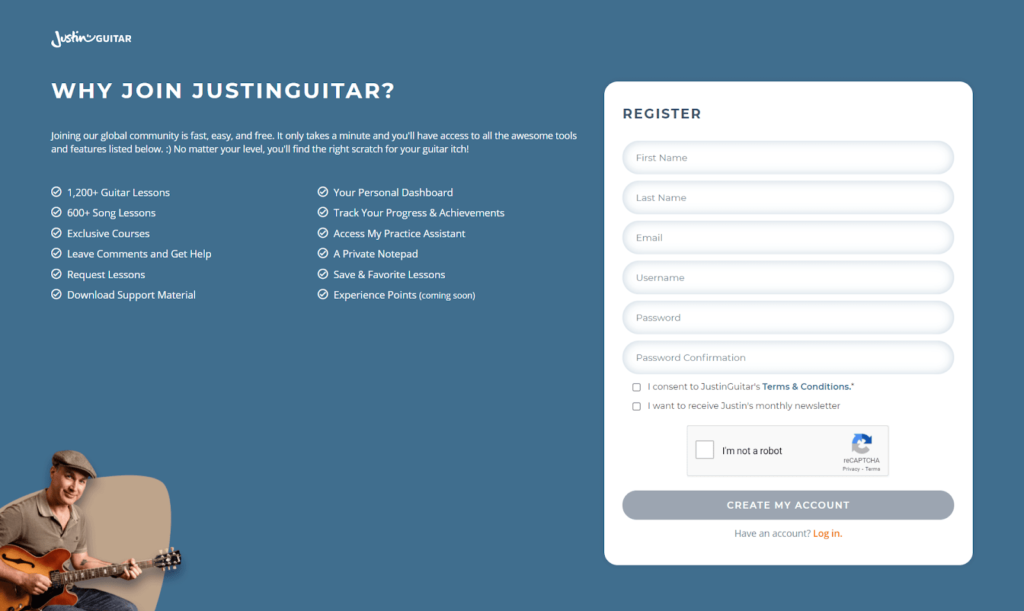 Sometimes memberships are tiered, with more content and benefits offered to those at the highest tier. ContraPoints website is one example, with the Commendable Non-Freeloader level at the bottom and the higher tiers offering more videos and the opportunity to be credited in a video.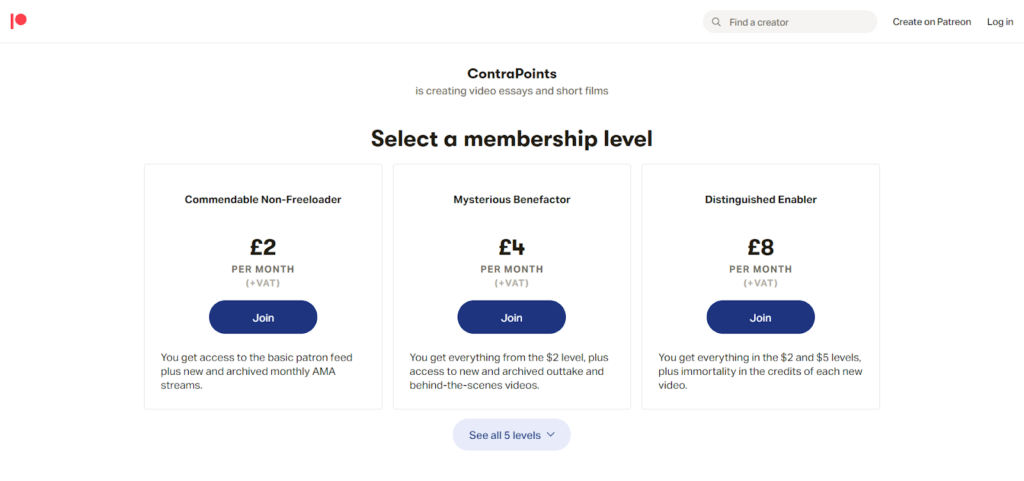 Memberships can also make use of a points system to drive community engagement. WPMU Dev's site illustrates this, with Hero Points and Reputation Points awarded for participation in the community. The bonus for users is that Hero Points can be redeemed for extended memberships.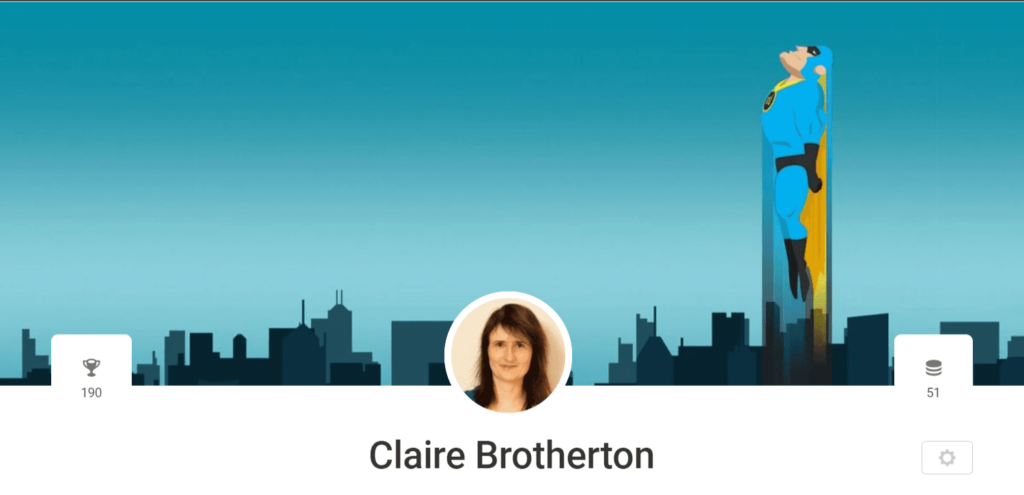 Some membership sites also use a points system to give access to different areas on the site, with the highest access reserved for those with the most points.
Now we've seen what makes a good membership site, let's turn our attention to how to create one.
Creating a membership site with WordPress.com
To create sites like these, you need the right platform for your website and the right plugin to handle the membership part. A good combination is that of the WordPress.com platform and the WP User Manager plugin.
The WordPress software comes in two flavors: WordPress.org and WordPress.com. WordPress.org is the version where you download and install the software on your choice of web host. You and your host are responsible for keeping the site up to date, secure and online.
WordPress.com, on the other hand, is managed hosting. That means that you don't have to download anything or be responsible for backups, security or uptime. These are all handled for you.
Why is WordPress.com a good fit for a membership site?
Customizing your site to match your type of membership offering is important, and WordPress.com offers plenty of scope in terms of design (themes) and functionality (plugins).
As you are dealing with user data, security is key, and WordPress.com is super secure.
Minding the cost/performance ratio is important to a small business, and WordPress.com delivers at a reasonable price.
WordPress.com also offers responsive support, a fast website and great bandwidth when compared to other hosting providers.
You can sign up to WordPress.com for free, but certain things are not included in the free version. For example, you can't use your own choice of domain name; you have to use a domain name with something.wordpress.com. It also doesn't come with live chat support.
If you pay to upgrade, you get more features. WordPress.com has a choice of four paid plans, from $4 to $45 a month.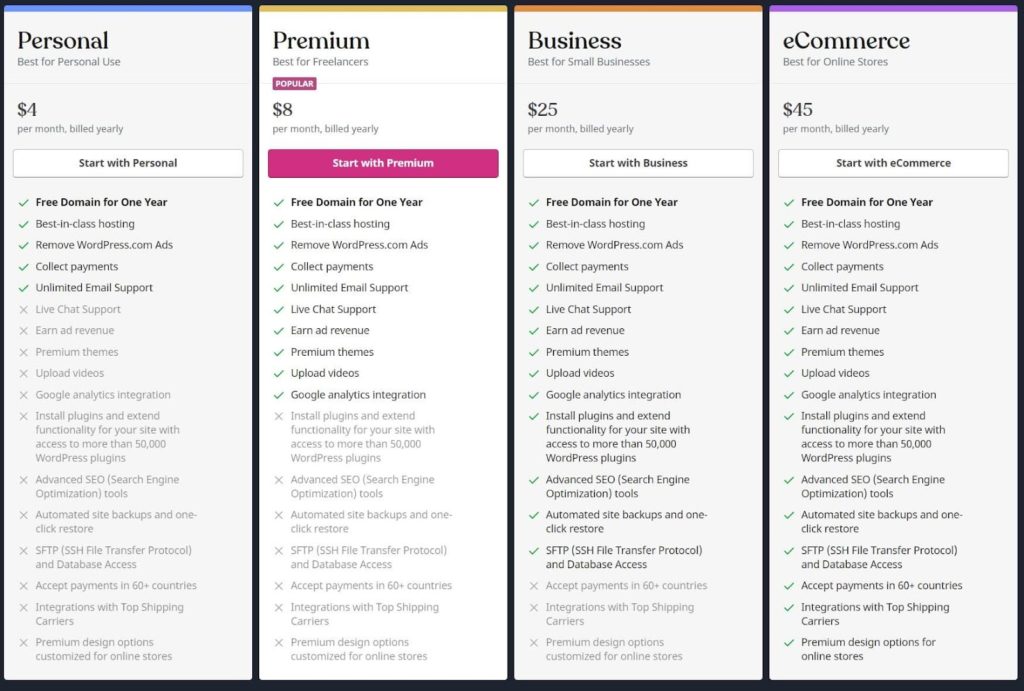 We recommend going for the Business plan for your membership website, because it offers:
A custom domain name such as myawesomemembershipsite.com.
Flexible customization options. With premium themes, you can have a more professional-looking site, and you can tinker with the design to get it to match your branding. You're also able to add custom code to your website.
The ability to install over 50,000 plugins for added functionality. This includes WP User Manager and many others – for example, plugins for email marketing and online forums.
Automatic backups and a 1-click restore feature from backups. If you make a mistake building your site, this gives you peace of mind knowing you can return it to the previous version.
Increased performance and security features, which come from being on an established platform. You don't have to worry about your website going offline.
Advanced SEO tools to help your website rank higher in search results.
200 GB storage, which is perfect for video hosting on your membership site.
Support via email or live chat whenever you need it.
It doesn't matter which type of business you are in; they can all benefit from the WordPress.com Business plan.
Let's now explore why plugins like WP User Manager are critical to the success of your website.
Using the WP User Manager plugin
Selecting the WordPress.com Business plan for your website is essential as it allows you to add third-party plugins like WP User Manager to your website. Plugins create a performant and agile site. Other useful plugins to install on your membership website are bbPress for forums, and Yoast SEO to boost your SEO.
The WP User Manager plugin has been designed to make creating a membership website easy.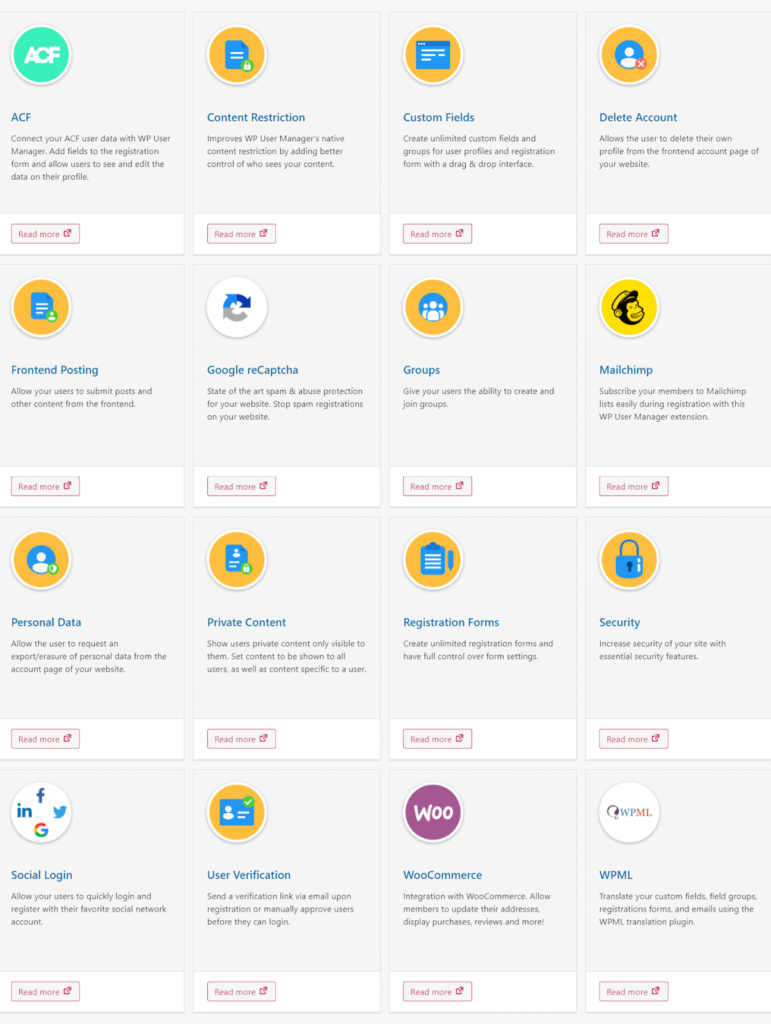 While you can download WP User Manager for free, you'll get the most customization and flexibility by subscribing to a plan to use add-ons.
The plugin has four plans, each with different add-ons.
The Starter plan is the one for creating a single membership site. It includes:
User verification via email or manual approval
Restriction of content with one click
Essential security features
Member control of data including exporting and deletion of profiles
The next level up is the Plus plan, for up to five sites. It includes everything that the Starter plan has. In addition, there are the following features:
Creation of private content for members only
Custom fields for user profiles and registration forms
Social logins so users can use their favorite social network to log in
Integration with Mailchimp email marketing so that users are subscribed to a list when they register
Translation of content into other languages via the WPML plugin
Now we've seen what WP User Manager can do, here's how to get started using it with WordPress.com.
Setting up your WordPress.com site
To begin, create an account with an email, username and password.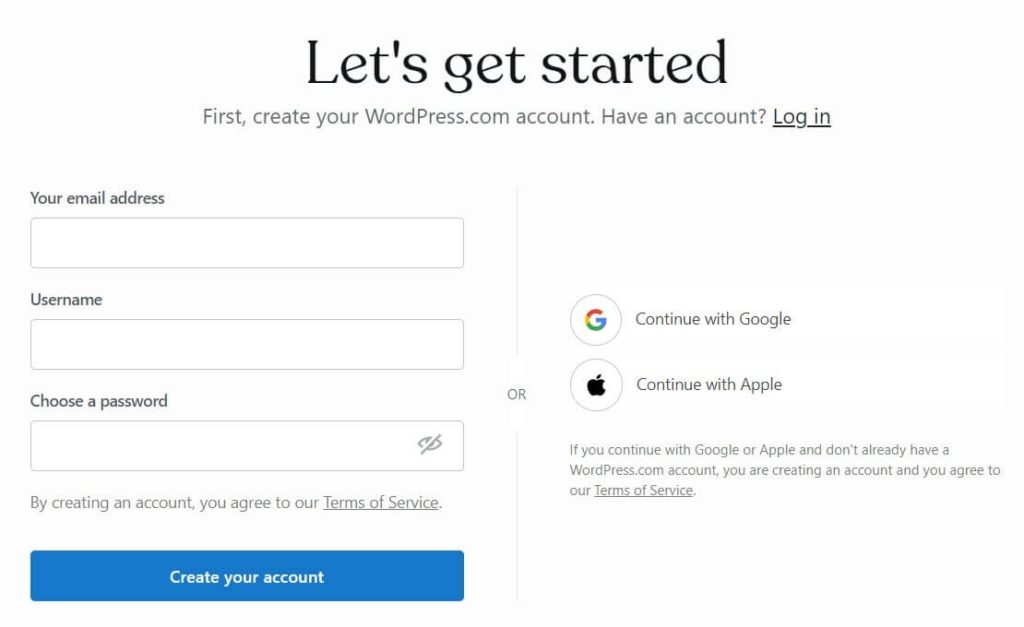 Next, find the domain you want to use. You have the option of choosing a free one or paying for one. Remember that a domain not ending in wordpress.com looks more professional.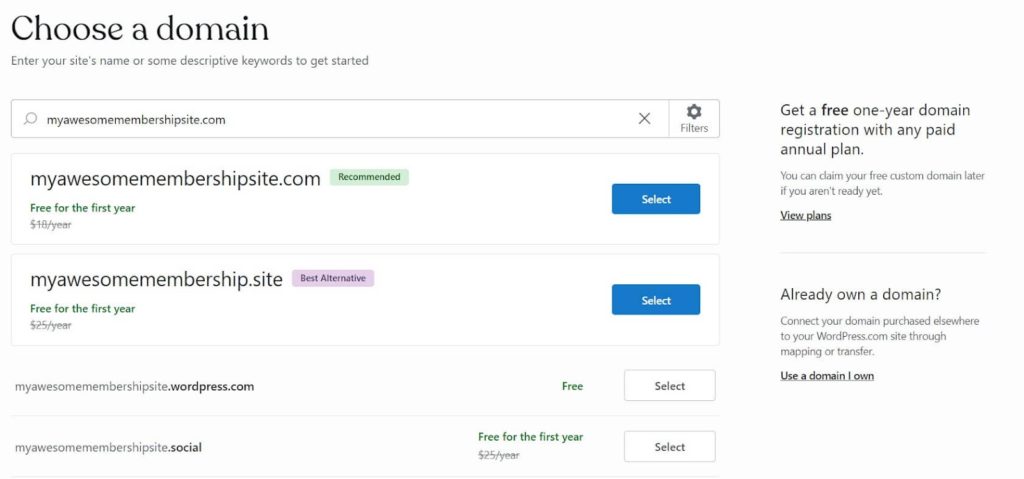 Then select the plan you want – remember to choose the Business plan.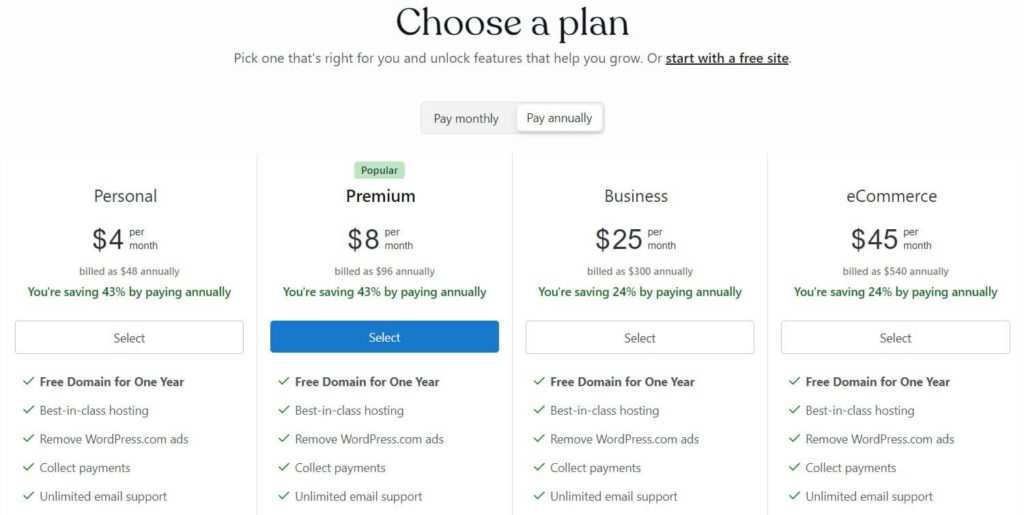 Next, pay for the plan.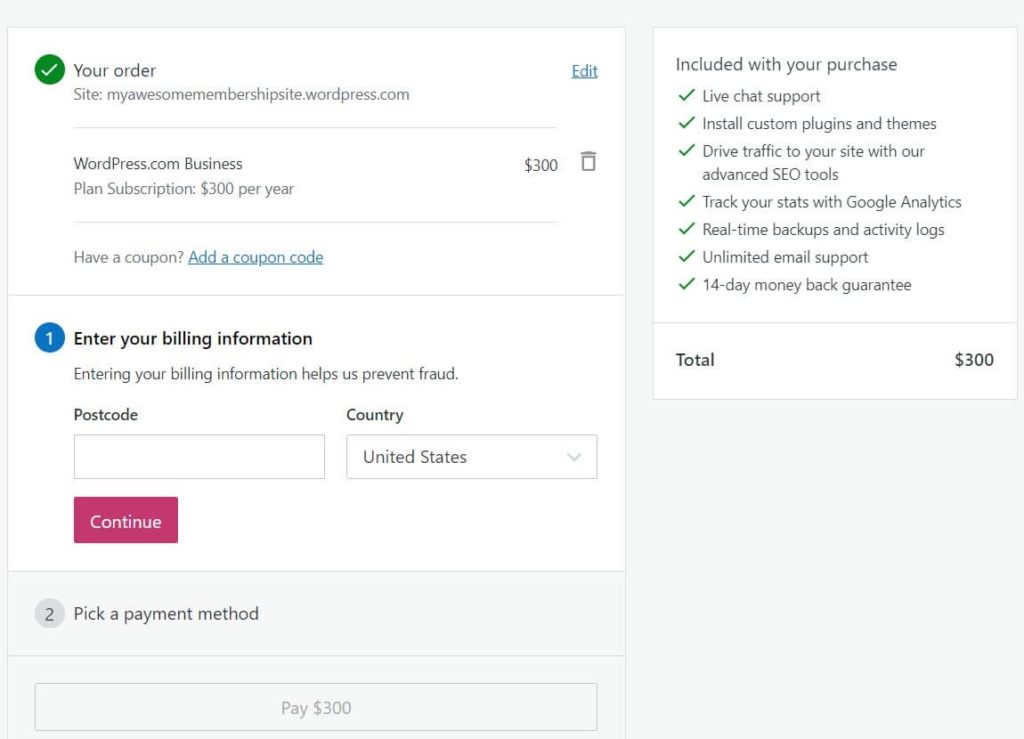 After you've paid you should choose a theme for your website. This determines the look and feel of your site.

Install and then activate the WP User Manager plugin by searching for it on the Plugins tab.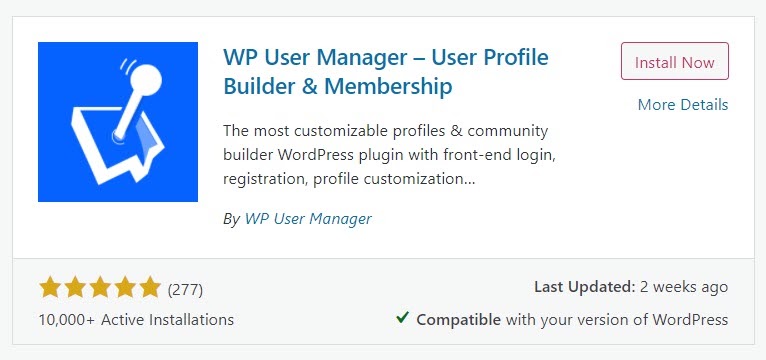 Get started using the plugin: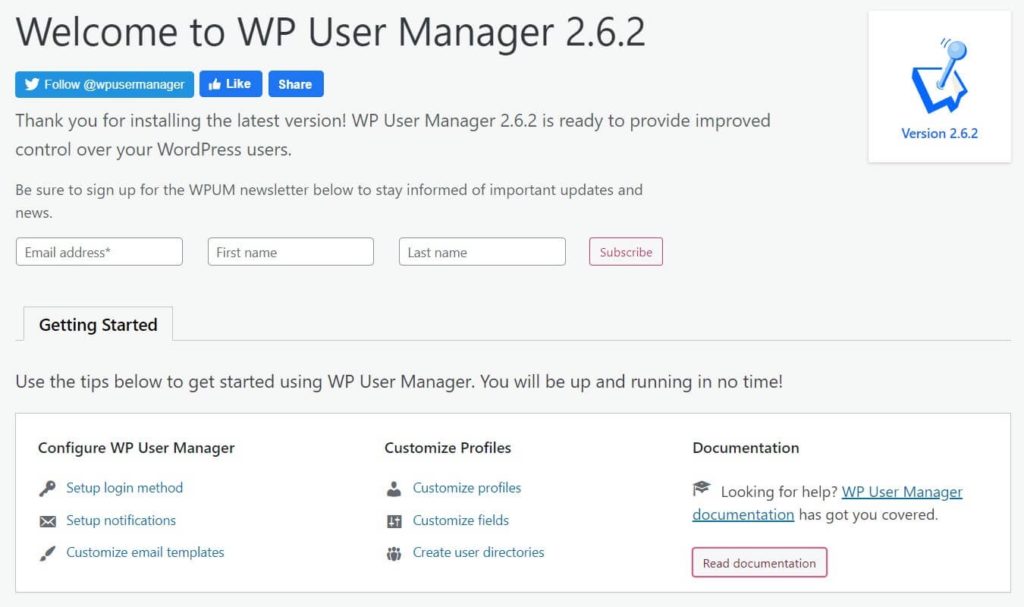 You get add-ons by purchasing the desired plan from the WP User Manager website, then downloading them. To install them, use the Upload Plugin option on the Plugins tab.
You can customize the login form with a simple drag and drop interface: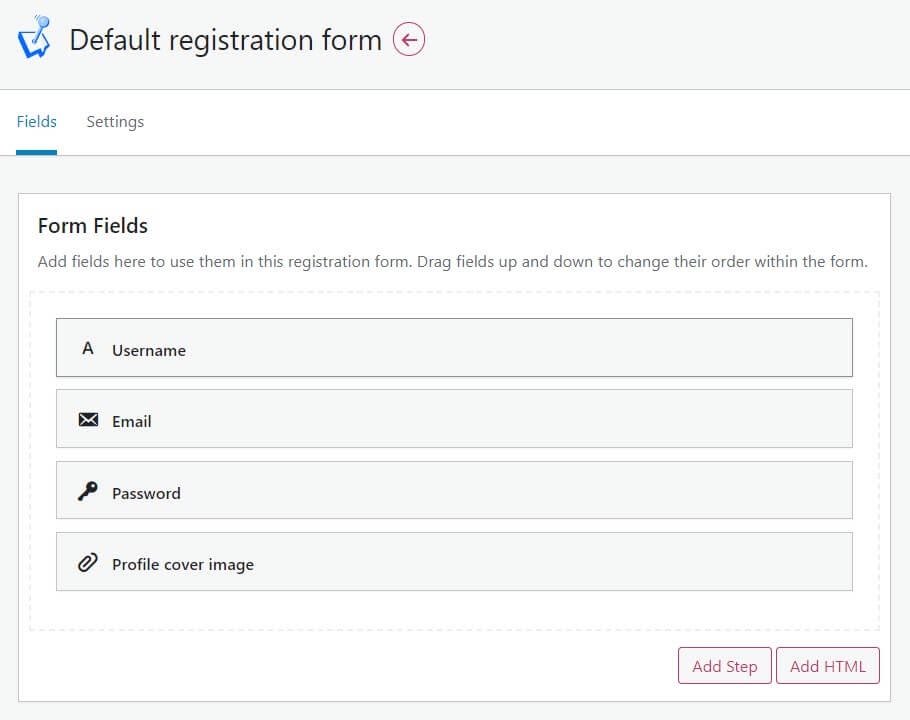 With the Content Restriction add-on, you can restrict content to logged-in users only or a particular user role: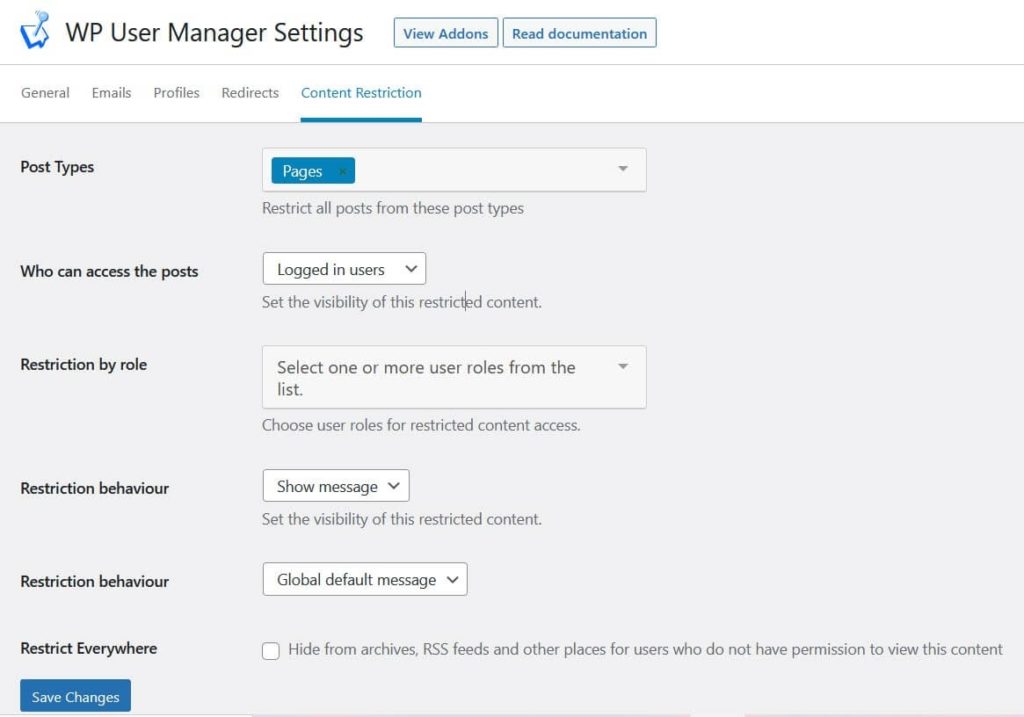 Anyone without access will see a message: "This content is available to members only. Please log in or register to view this area."
Among the Security add-on options are better password encryption, two-factor authentication for logins, and blocking deleted users from re-registering.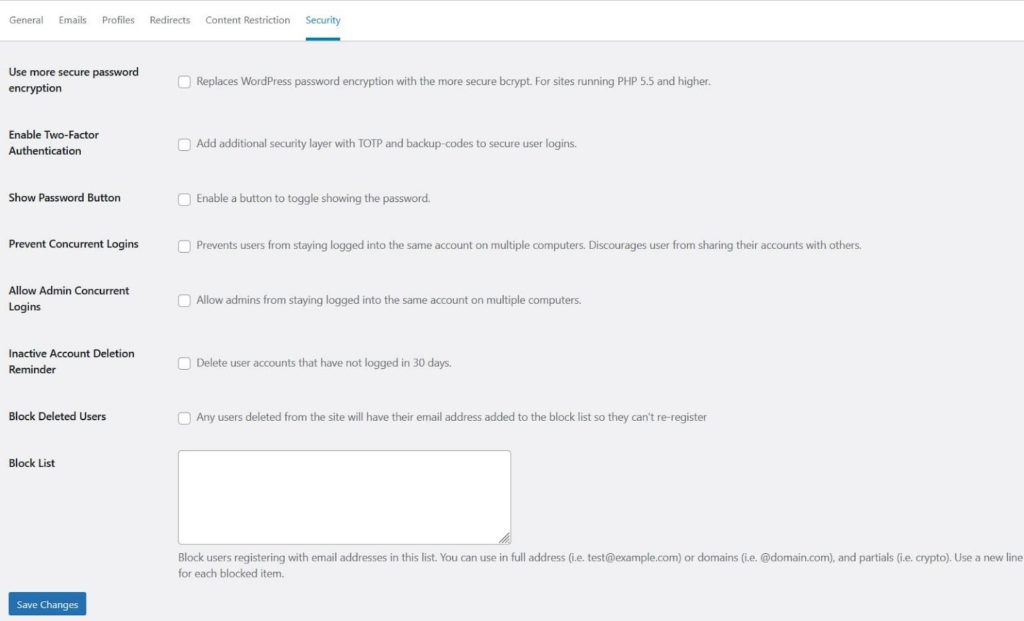 User Verification lets you approve users by email or manually. This prevents spam signups.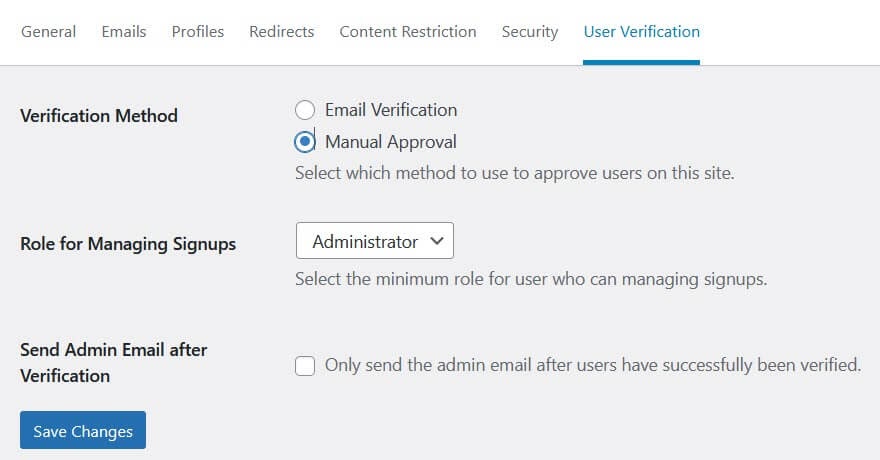 You can set up to 5 social networks for users to log in via – Facebook, Twitter, LinkedIn, Google and Instagram.

And with the Mailchimp add-on, you can automatically add users to your email list(s) when they register or let them opt-in.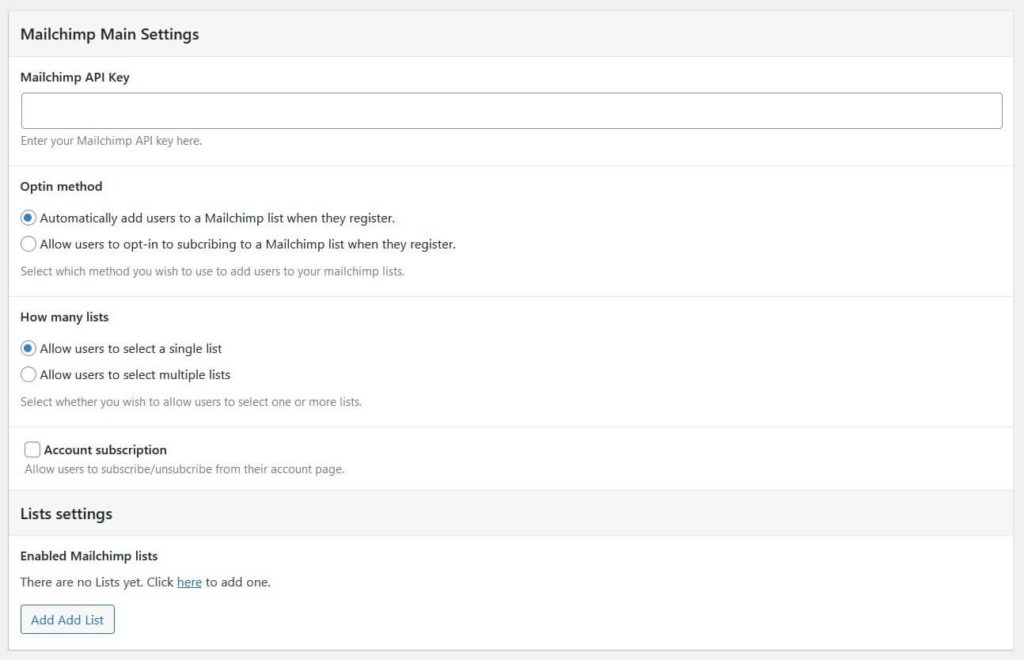 Summing up
In this article, we've explored the power of membership sites to attract and sustain a captive audience.
When building a membership site you want to choose a platform and plugins that are easy to set up and customize for your needs to create an end result that delights both you and your users.
You've seen that WordPress.com makes an ideal platform. As it is a stable and managed product, it takes the worry out of web hosting, leaving you to focus on creating and running the optimal membership site.
It's straightforward to WP User Manager to build your membership site as it handles all the features that a membership site needs:
Easy registration and login
Verification of users on signup
Hidden content for members only
Full control for users of their data
After the initial setup of WP User Manager, you can focus on creating great content and perfecting your membership offering. You might want to experiment with the following:
Free trials before charging for membership
Different membership levels with different access levels to content
A community forum
A points system to boost member interaction and engagement with the community
To get started on creating your membership site, sign up with WordPress.com and install WP User Manager today!