It's been a busy few months here! Whilst trying to survive lockdown in the UK, I've been working hard on the plugin and have a bumper release post for you. Last week saw a number of releases get shipped. 🚀
You might have also noticed a new look on this site too! 🎉
Let's dig in to what's new.
Advanced Custom Fields Integration
I love ACF, you love ACF, everyone loves ACF. ❤️
It's the most powerful custom fields plugin for WordPress and so many people use it to add custom data to posts, pages and indeed users. Until now, even if you used Advanced Custom Fields and have added lots of custom user meta, WP User Manager wouldn't use them.
Although our very own Custom Fields addon is pretty awesome and powerful, it just makes sense to have ACF and WP User Manager working well together. And that's what this new addon does.
With the addon installed and activated, any ACF field group that is for user fields (the user location rules) will have a new WP User Manager meta box where you can control what WPUM does with the fields.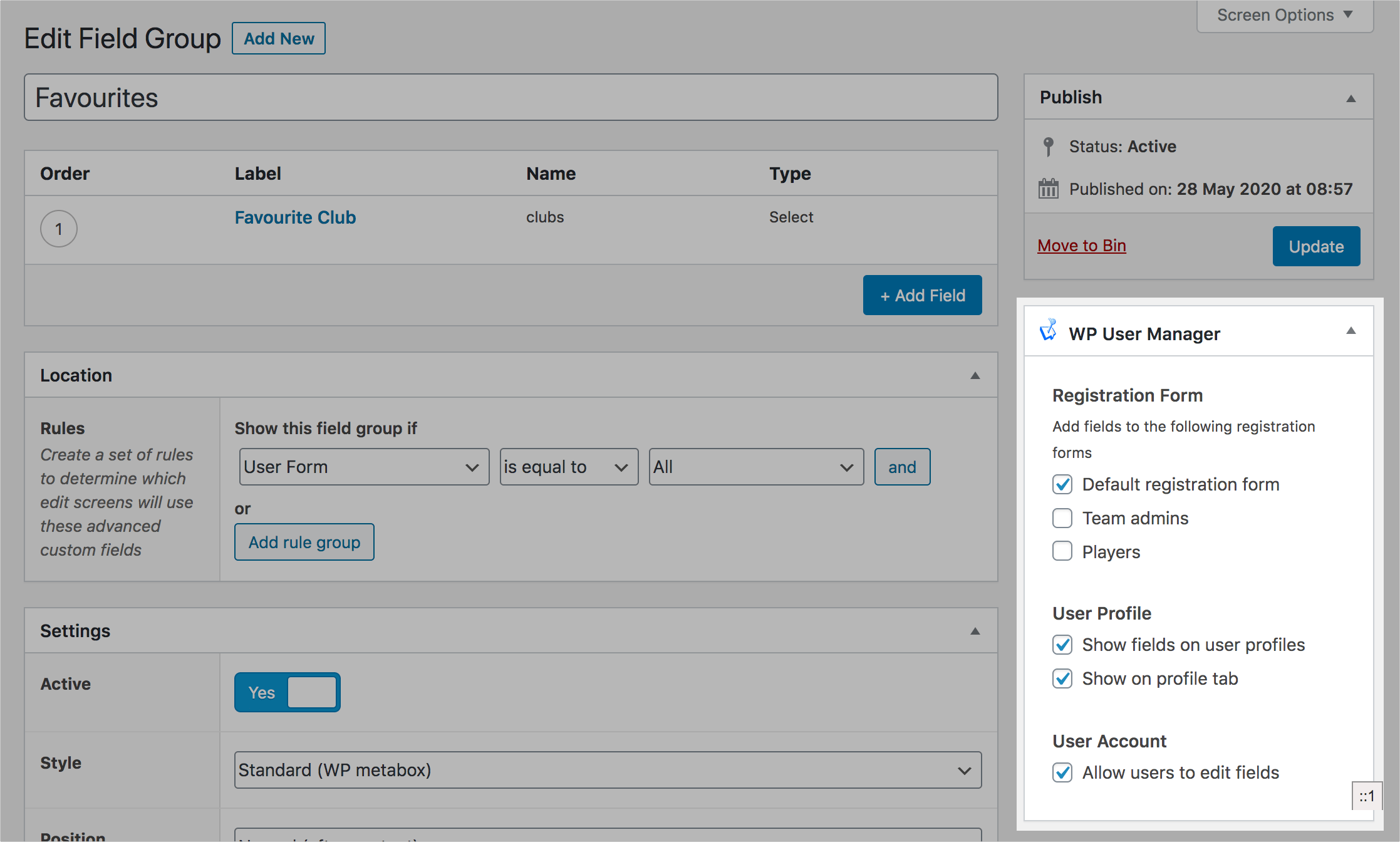 You can display the group's fields on the registration form, so the users data can be collected when they sign up.
If you have multiple registration forms using the Registration Forms addon, then you can select any number of forms to add the fields to.
Get Started with the Best WordPress Membership Plugin
Today
Connect, Manage and Build your Membership Site
You can choose to display the value of the fields on the user profile page, and allow the users to edit the fields from the account page.
If you want some fields in the group to be totally hidden from users, then there's a switch on each field setting to 'Hide from User'.
Pretty neat, right!
Custom Fields Version 2.1
I've been working hard to add some customer requested features to the Custom Fields addon.
Something that has been long a requested feature is the ability to select custom fields for the directory search field. So that when the people search for users in a directory, the custom fields are included in the search. Up until now you had to use a filter to add your custom fields to the search query.
The search settings of the directory in the directory edit screen have had a revamp, with a new multi select field to select the fields for the search query (more on that later). This is where you can select your custom fields to search in.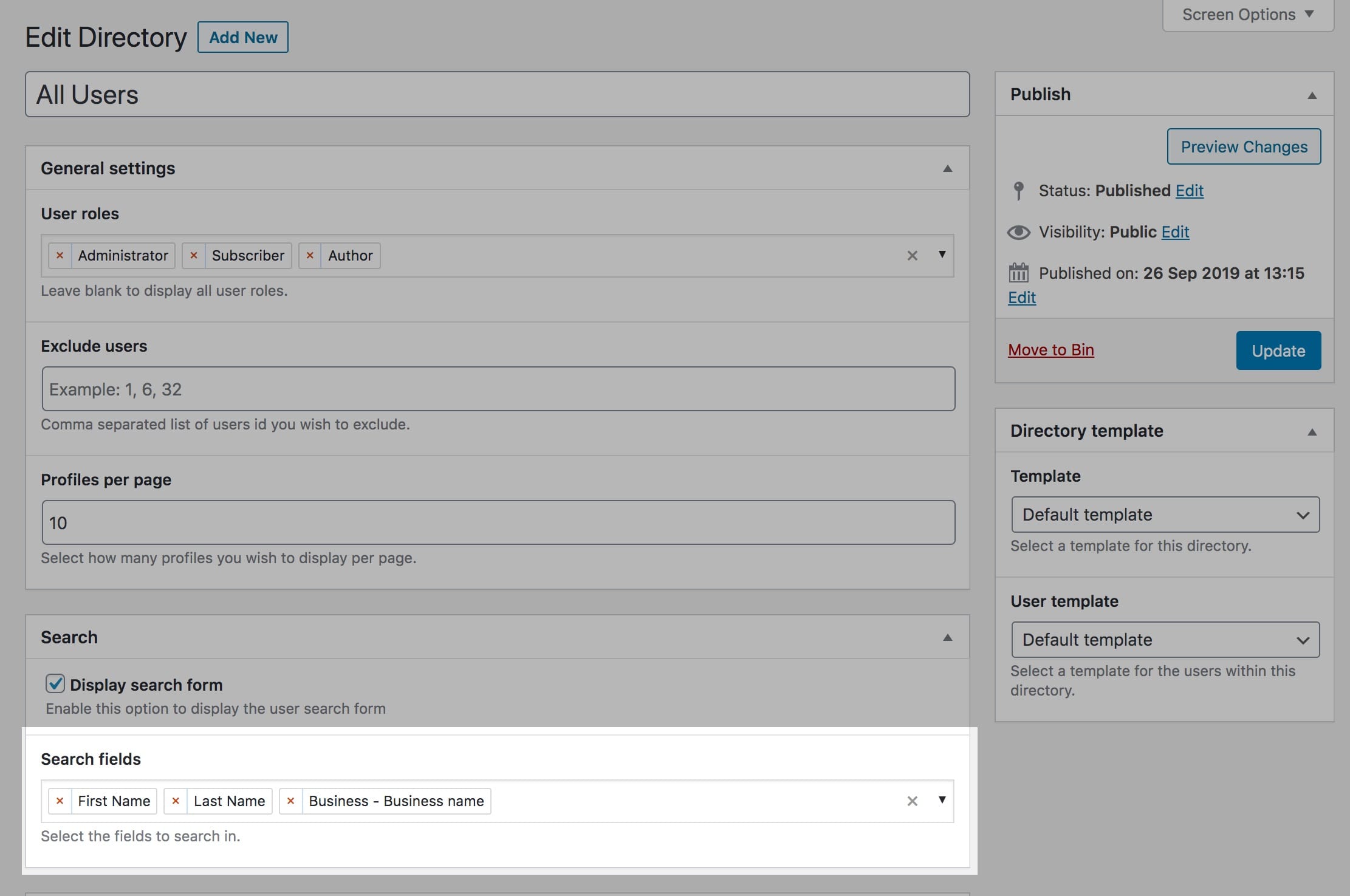 Adding a job description or location field for your users and want people to search by this type of data? Then this setting is for you.
This release sees the launch of four new field types 💪
Video: allow users to upload video files which will be displayed in a video player on their profile
Audio: allow users to upload audio files which will be displayed in an audio player on their profile
WYSIWYG: the supercharged text area, allowing users to submit formatted text
Telephone: collect users telephone numbers using common number patterns to restrict number entry
A number of improvements have been made, including adding a setting to the File field to set allowed field types. If you are using a Number field, you can now set a minimum, maximum and step size for the field.
Newsletter Plugin Integration
A new free addon has been released that connects WP User Manager with the Newsletter plugin, so that a checkbox is added to registration forms so users can opt in to email subscription lists configured by the Newsletter plugin.
WP User Manager Version 3.3.5
As I mentioned earlier, the new setting added to the edit directory page allows you to control what fields are included in the query when someone searches the directory for a user.
Previously only the users email, username, first and last names were searched in by default with no easy way to change it. The multi select makes it easy to change and it's now possible to select the description field as well.
Along with compatibility with the new addons and updates, there's a good number of bug fixes in this release as well.
What's Next
There's a lot of improvements in the works to the User Verification addon, and I'm also working on a long awaited feature, the ability to customize the registration forms with HTML, so you can add headings and other markup between fields.
I've had a good deal of people ask about creating paid membership plans for their users. Although there are a bunch of membership plugins available, having this handled by WP User Manager would be great. An addon is on the roadmap! 👍🏻
What missing features are most important to you? Please let me know in the comments below.