Here we are with a new major update for WP User Manager. As always, major updates bring new features together with some minor fixes. Let's go ahead and see what's new.
Export/Import email settings
Introduced in version 1.2, WPUM added the ability to import and export all of it's settings with the exception of the email settings ( your custom email messages ). The importer and exporter tool has been improved and it will now include the email settings too.
Set fields as read-only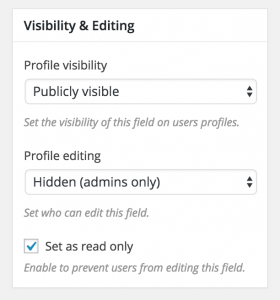 A popular request I've received in the past few months was the ability to set fields as read-only. A read only field is a field that can be seen within the user's account editing page but the user won't be able to edit the content of that field. This is useful if the administrator of the site needs to fill a field for users but wouldn't want users to edit that field. All text, number, email and textarea fields can be set as read-only.
Hide fields from account editing page
As it can be seen from the above screenshot, a new "profile editing" setting is now available for all fields. When a field is set as hidden, the user won't see the field into his account editing form. The form will still be accessible and editable by the administrators into the backend.
Names within the browser's page title
Prior to version 1.3 when visiting a user's profile, the page title into the browser would just display the title of the "profile" page. In v1.3, the browser will instead display the user's "display name".
Show password checkbox
In the past I've received a lot of requests asking me to add a "password confirmation" field when registering. I've always mentioned that I wasn't going to add such feature into the plugin due to the bad ux of such fields. Instead I've added a checkbox that once clicked, will unmask the password so the user can verify his password without typing it twice.

Developers can also disable this feature if they don't need it. Use the following filter and return it to false to completely disable the feature.
Directories can now search for first name and last name
Another one of the most requested features was the ability to search users within a directory by their first name and last name. Now it's possible. Directories will now search by username, email, first name and last name.
Full list of changes/enhancements and fixes
The above is a list of the most important new features that have been added to WP User Manager, other features, enhancements and fixes have also been added. Please refer to the full changelog here https://wordpress.org/plugins/wp-user-manager/changelog/ for more information.
If you want to see a specific feature added in WP User Manager, then simply send us a message or post it into the forum.
Enjoy.