If you want a way to organize your site with more efficiency, document management for your WordPress website should be top of your list. This is especially true if you often serve those documents to visitors, account holders, and team members.
Document management lets you control access and file permissions for your user base and team. If you store a lot of files and documents, optimized and organized management is going to give a boost to your site's security and navigation – not to mention the User Experience (UX).
For this tutorial, we're going to look at how to set up document management in WordPress. First though, we're going to look more at what document management is and how it can help you.
What Document Management Is (And Why You Should Use It)
On the whole, file and document management lets site owners better organize and share those files with others. This could be a visitor to the site, a team member, or someone else. It's a similar concept to the files and documents on your computer. If you know where to find them, you can carry out tasks faster, and spend less time on administration.
Document management can encompass a number of different facets and situations:
For example, you can make sure users can download documents and PDF files. This is going to be perfect for online course sites, or if you sell digital downloads.
If you run a membership or subscription site, you can control access to files and documents – often with fine-grained permissions.
Your WordPress website might store a massive number of media files, such as images and video. If you need to access these on a regular basis, proper document management can save you a headache.
You might also have a number of sensitive, private, or otherwise important documents that your team needs to access. It might only be certain users or roles that see these file types. You can often achieve this using password protection and custom content restrictions.
There are many more use cases when it comes to document management – WordPress has a few ways to implement it. We'll look at this next.
How You Can Use Document Management Within WordPress
Given that WordPress lets you access all of its files in various ways, it would seem straightforward to set up document management on the platform. While it's true that you get unrestricted access to your files, you'll find it harder than you'd expect to set up this level of file management without help.
One typical way to do this is to create a new page within WordPress that serves as the home page for your document management system. From here, you'll include upload and download functionality that hooks into the standard file locations within WordPress. This gives everyone a way to 'self-serve' their needs.
Of course, you can also use a third-party cloud service to store and retrieve files, just as your would for your personal documents. Lots of people use Dropbox or DigitalOcean Spaces to store files. Secure File Transfer Protocol (SFTP) is also another way you can transfer and manage your files.
However, regardless of your manual approach, you're going to need some disciplined management skills, along with the necessary technical knowledge. What's more, you'll also need to be able to troubleshoot any issues you have. This means you'll need in-depth knowledge of your chosen approach and workflow, along with expertise on the other cogs in the wheel.
Get Started with the Best WordPress Membership Plugin
Today
Connect, Manage and Build your Membership Site
Instead, there's a better way to set up document management within WordPress.
Why You Should Use a Plugin Instead of a Manual Approach
The manual approach gives you a way to set up a document management system in an exacting way, related to your needs. You can choose how it looks and operates, along with how secure and private the network will be.
However, the manual approach can be a tedious way to set up this kind of functionality. Here's why:
You might not be able to implement the functionality a WordPress plugin can offer. If you don't have coding knowledge, the manual approach is almost a non-starter in any case.
What's more, if you do succeed in setting up a manual document management system, you might not have the skills to troubleshoot any issues. Your 'repair' time could skyrocket and negate any of the benefits you envisaged at the start.
Because there are lots of moving parts involved in the system, you can chase your tail when it comes to maintenance and resolutions. In fact, this is why dedicated jobs in the IT industry exist – systems have bugs and require constant maintenance.
A set-and-forget option that you set up as a manual system is a practical pipe dream. Instead, you'll want to consider a WordPress plugin with a strong development team. In the next few sections, we'll take a look at some of the best.
3 of the Best WordPress Document Management Plugins Available
The next three sections will cover some of the better plugins that will help you create and maintain a document management system. We'll start with our top pick, but we encourage you to look at all of the solutions, in order to compare and contrast.
1. WP User Manager
If you want an all-around and complete use management solution that can also help you organize document management within WordPress, WP User Manager should be your go-to plugin.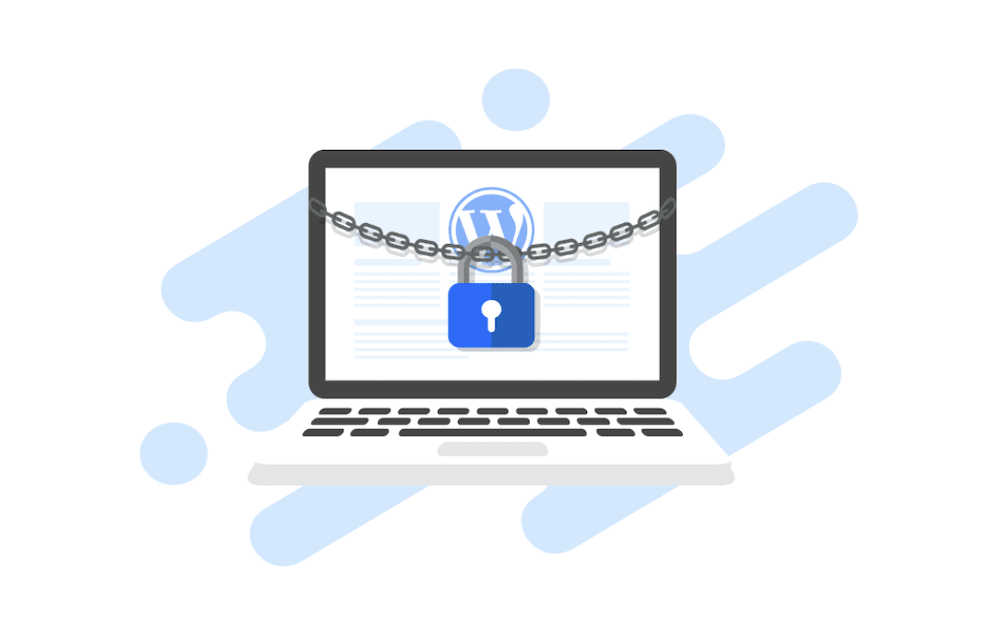 It offers a number of essential features to help manage WordPress users and the files they need to access:
Straightforward registration form implementation.
The ability to log in and out of accounts on a user-wide basis, with password recovery options available too.
A way to connect to your favorite page builder plugins, such as Elementor.
Of course, a leading solution needs to do more than this, and WP User Manager delivers. It's an end-to-end solution that can form the backbone of your user and document management, in a number of ways:
You have the ability to create custom user roles that have only the access provisions and permissions you set.
Your custom login system can include further security features, such as Single Sign-On, general purpose password protection, and Two-Factor Authentication (2FA).
While WP User Manager offers a free version, you'll access different blends of WP User Manager's functionality based on your chosen premium tier. Pricing starts from $149 per year, but the best value is from the Pro tier at $299. This includes the full WP User Manager experience, and gives you licenses for five separate sites.
2. Document Library Pro
The WordPress Media Library is the typical way that most website owners will access and work with media files. If you often use the Media Library, but want better organization, Document Library Pro should be on your radar.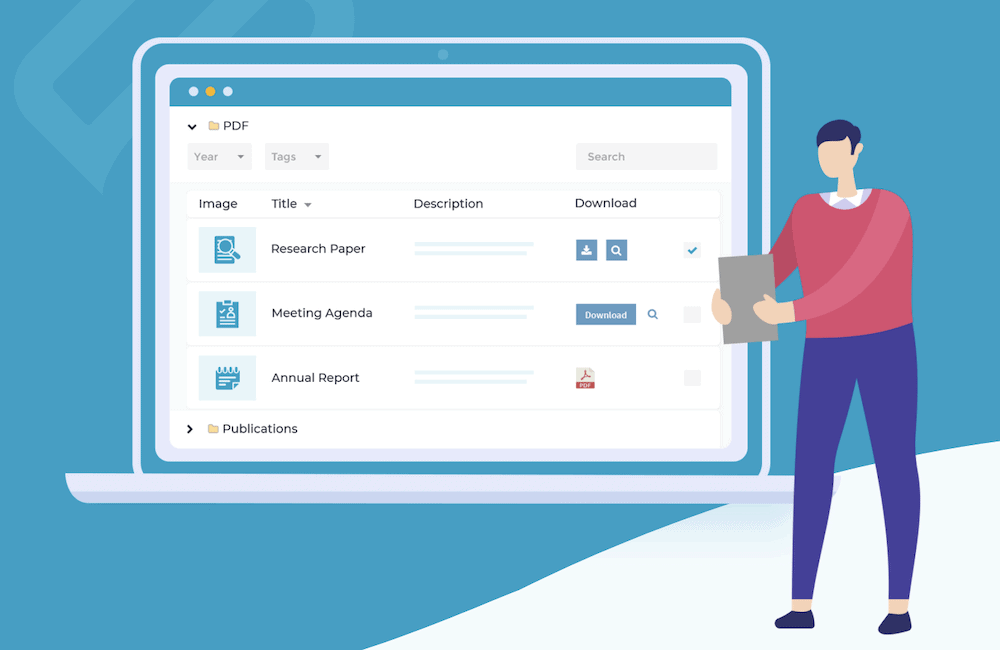 It works through drag-and-drop functionality and a custom interface to give you a clean and fuss-free way to get media into your library. During the upload process, you can also add extra metadata. For example, you can specify a new title, add a description, and more.
There's also the ability to embed your documents, audio, and video. From there, you can showcase them using dedicated download links. Note that if you also need to bulk import items, you can do this using a CSV file – handy for site migrations or new product lines.
What's more, Document Library Pro has compatibility with WP User Manager too. For example, you can show the downloads for specific user in their profile, given a few tweaks.
Document Library Pro costs $99 for a single-site license. However, this tier offers the least value – the $349 Agency plan also includes a free plugin, priority support, and a professional site audit.
3. Download Monitor
Download Monitor is one of the more popular WordPress download manager plugins, owing to its good blend of features, functionality, and pricing. If you have lots of downloads to manage, this plugin could be your primary option.

You'll use the familiarity of the WordPress admin screen's interface to manage your download files, and create the forms you need to interact with users. The plugin is good at helping you to organize downloads, and it will do this through archive pages, and extensive editing options.
As with Document Library Pro, you can also integrate WP User Manager into the mix, through some additional customization. This means you can show downloads attributed to a user on their account page if necessary.
While you can also achieve setups such as e-commerce or tracked downloads, you'll find lots of value in the way it helps you manage your files. The price is also good, as you can have a single-site license for only $39 per year. However, higher tiers provide more functionality for a greater price ($99–149 per year).
How to Enable Document Management for Your WordPress Site
Next up, we're going to show you how WP User Manager can help you create document management within WordPress. You'll want to consider two parts: the system itself and user registration.
We'll cover both of these throughout, but first, let's discuss the setup process.
1. Download, Install, and Set Up the WP User Manager Plugin
Of course, you'll need to install and activate WP User Manager before you begin. The fastest way to do this is from your WordPress dashboard, through the Plugins > Add New page: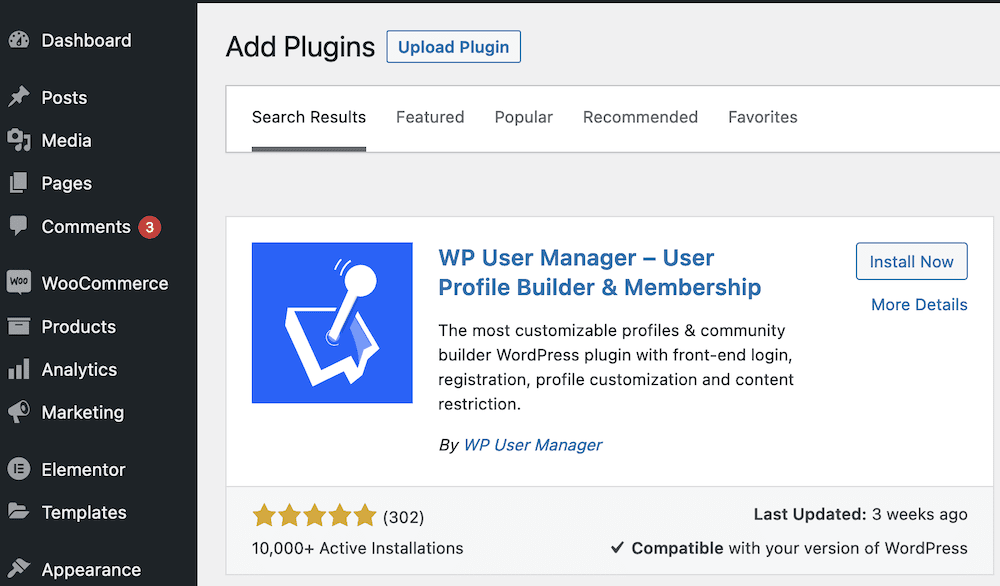 From here, click the Install Now button, wait until it turns into a blue Activate button, and click that too. Once WordPress completes the process, you'll come to the Getting Started screen for WP User Manager: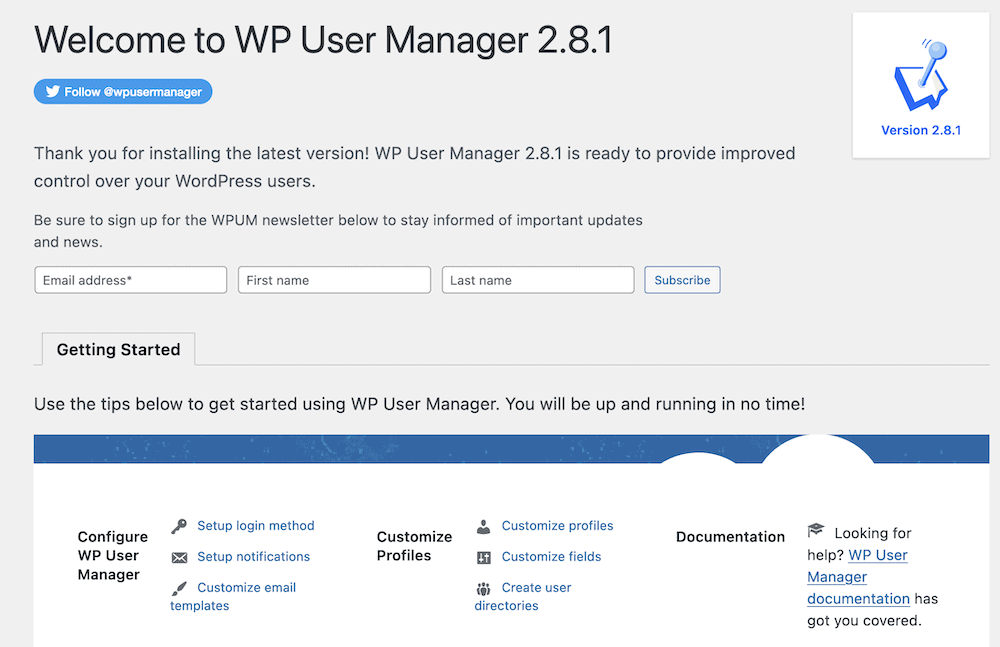 While WP User Manager is ready to rock without any further input, you might want to configure some aspects of it. For example, you'll spot some initial configuration suggestions, such as setting up a login method, notifications, and email templates. In fact, you can find all of these within the Users > Settings menu: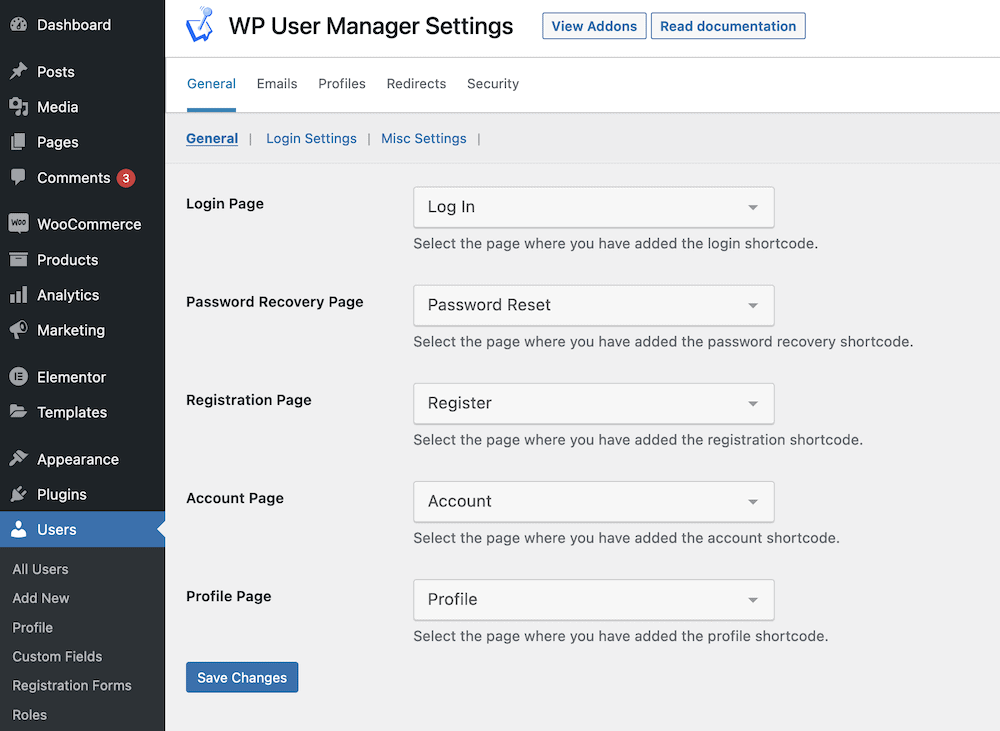 You'll find that WP User Manager will carry out some administrative tasks for you, such as creating password recovery, registration, account, and profile pages. However, you'll likely want to run the rule over aspects such as your login settings: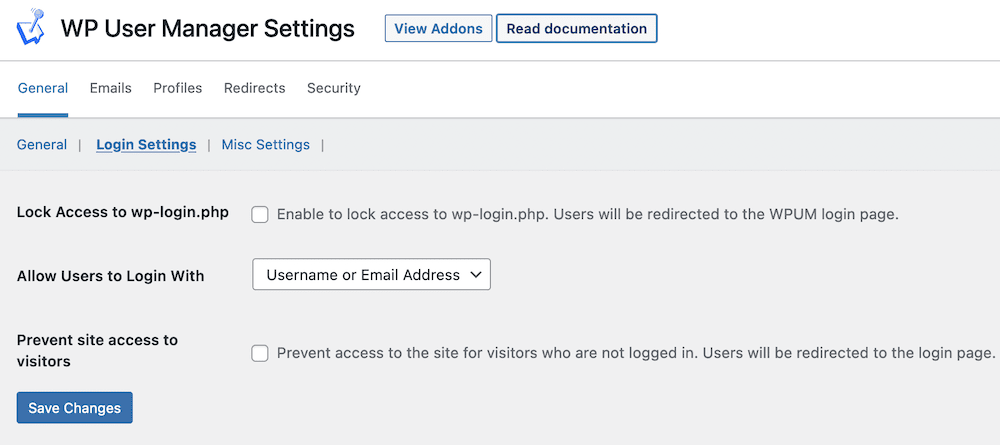 Of course, your choices here will be subjective and personal to your document management system. While explaining all of these settings is beyond the scope of the tutorial, you'll want to reference the WP User Manager documentation. This will explain everything you need to know about how to set up the plugin for your needs.
2. Use WP User Manager's Features to Build Your Document Management System Within WordPress
WP User Manager offers lots of flexible scope when it comes to how you create your document management system. In fact, you'll want to lean on many of the WP User Manager add-ons, as they will boost the functionality of the plugin.
For example, the Custom Roles add-on lets you go beyond what's on offer within default WordPress to create your own user roles for your system: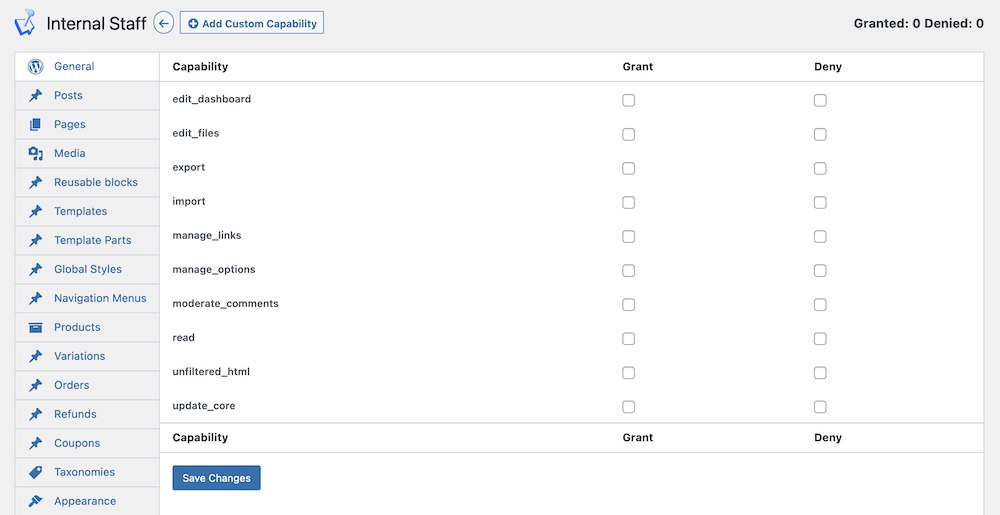 Content, document, and file restriction is an important component of your system too. WP User Manager can provide a few ways to achieve this. For example, the Security add-on gives you the ability to secure and encrypt user passwords through the settings menus: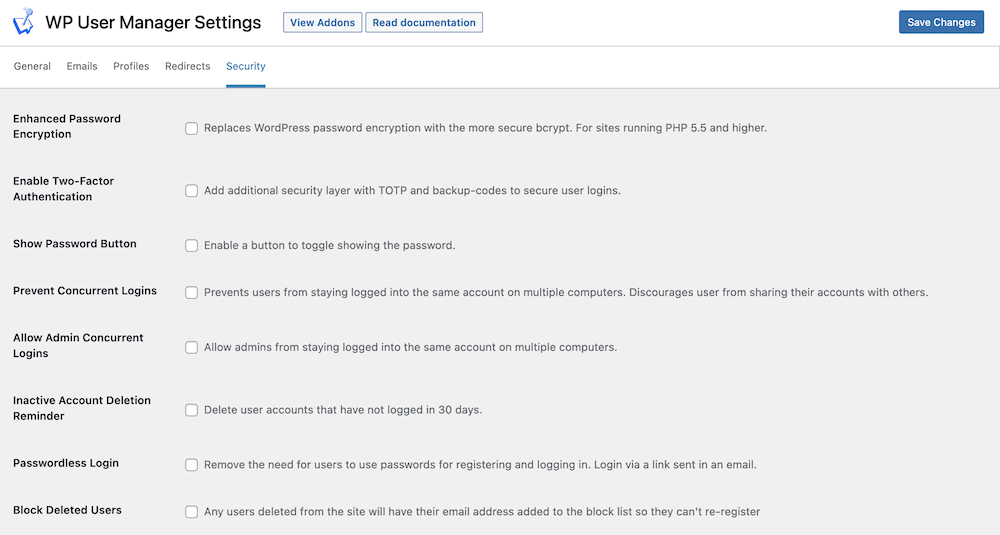 You also get some robust back-end management functionality, such as a blocklist, and the ability to clear inactive users.
When it comes to restricting access, WP User Manager once again has your back. You can combine the functionality of the Content Restriction and the Private Content add-ons for full-featured user and document management.
While the former gives you a one-click way to restrict access to certain posts, pages, and media, the latter is the best way to restrict content to certain users only. This lets you give access only to the files a user should have, for which downloads are a perfect use case.
You're able to designate that specific content is private to certain user roles, this add-on goes further. For example, you can use shortcodes to place private content almost anywhere on your site. What's more, you can show accessible files from a user profile.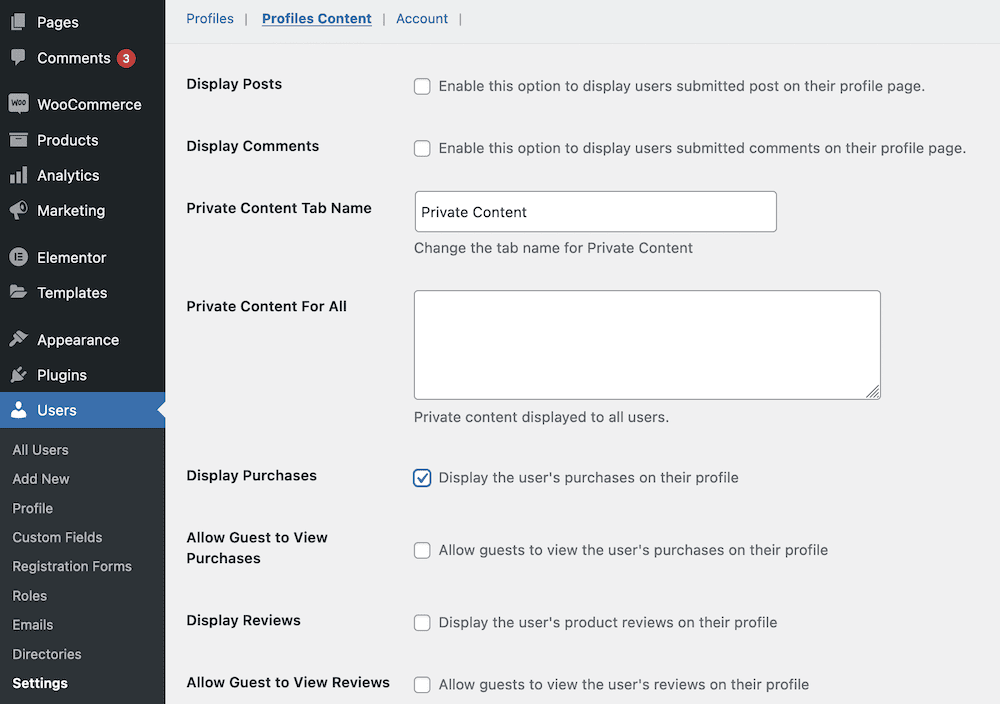 This is great in order to provide easy document management for users, and increase the all-around experience.
3. Build a Registration Form to Help Users Create Accounts on the System
You'll also need users to register for document management functionality, and WP User Manager provides a ready-made template for this. You'll find it on the Users > Registration Forms screen, although you don't have to use it. You're able to create your own form too if you have unique requirements and want to preserve the default form.
If you click through to an existing form, or create a new one, the dashboard will show a drag-and-drop editor along with a number of fields: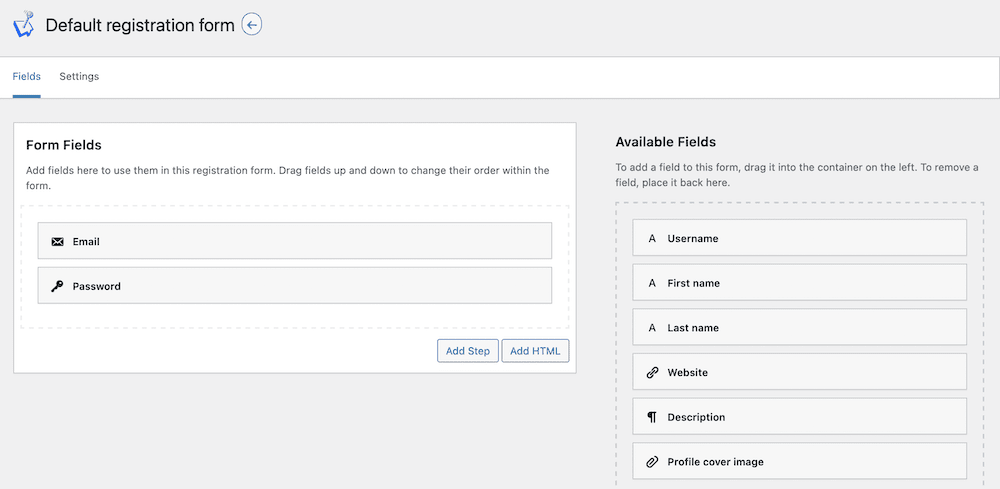 This works as you'd expect – drag fields onto the canvas to build your form. However, the Settings tab gives you a few more options to work with: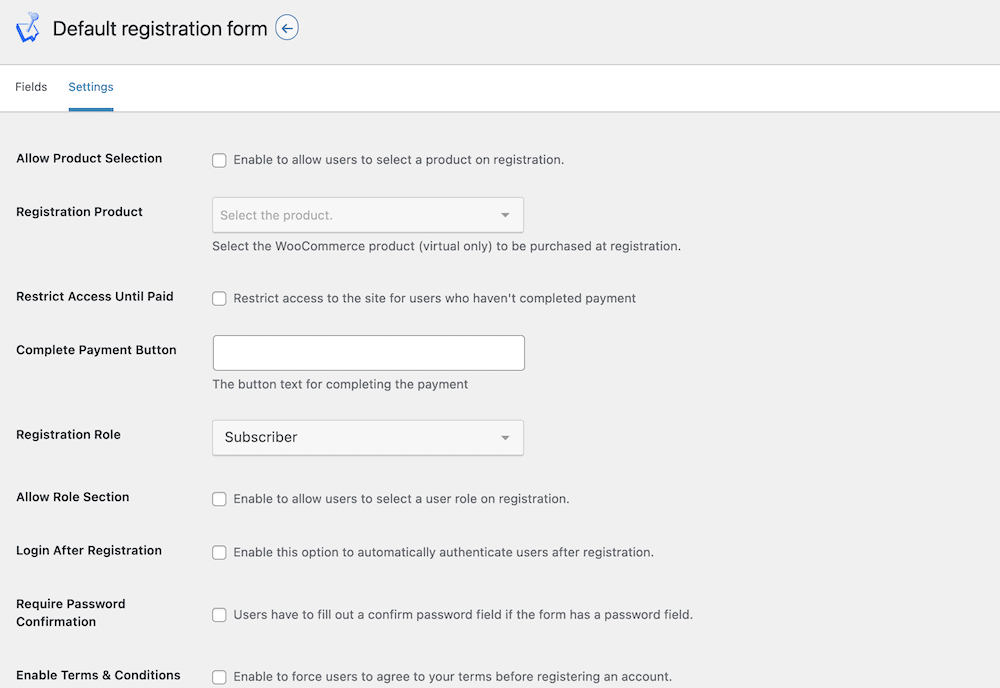 Some of these relate to WooCommerce stores, but you can also use them for a document management system too. For example, you might choose to run memberships and subscriptions, and it's here you'll set up that functionality through the premium WooCommerce add-on for WP User Manager.
This will let you take payments at registration using Stripe, PayPal, and more gateways. You're able to connect this functionality to WooCommerce Payments to create a full-featured subscription site. What's more, you can collect billing and payment information within your registration form through the same drag-and-drop functionality.
Conclusion
If your site deals in a lot of files and documents, you'll want to set up a way to organize them. A WordPress document management system is possible through dedicated plugins. With the right one, you can supercharge your document management, cut down your maintenance and administration time, and keep your users and team happy.
WP User Manager is one of the best WordPress document management plugins available. In fact, it ticks all of the boxes you'll need in this type of solution:
You can choose to make documents available for download, and set up a number of access methods. For example, you can implement payment gateways, content lockers, and more.
You're able to set up advanced file permissions and restrictions to help organize which users can access your files. This benefits your security, keeps your data safe, and protects your business' assets.
A plugin can help you to better manage documents on the WordPress dashboard, without the need for additional search functionality or extra work.
Your team also has a much better way to access the documents they need without the need for your input. This keeps everyone away from administrative tasks, and focused on growing the business.
WP User Manager can be your ticket to a full-fledged document management system within WordPress starting from $149 per year. What's more, each purchase comes with a 30-day money-back guarantee.