If you want to build a membership website using WordPress, checking out Elementor will be a high priority. It's the most popular website builder plugin for WordPress, and can help you build out a gorgeous site that rivals a top professional offering. However, you'll also need an Elementor membership plugin that has compatibility with both WordPress and the page builder.
You'll find a number of options on the market, but each Elementor membership plugin has strengths and weaknesses to consider. What's more, you'll want to take into account your own needs before you choose an option. A flexible plugin with great functionality is essential.
For this tutorial, we're going to look at some of the best Elementor membership plugins on the market. First though, let's discuss what your membership website could achieve once you get things right.
What You Can Achieve With a WordPress Membership Site
One of the major plus points for a WordPress membership site is how you can foster and grow an online community. While you want to offer inclusivity and a warm welcome, your site also needs to present some areas of exclusivity too.
For example, WordPress membership sites can offer the following pros:
Custom perks that they can't find anywhere else.
Paid member subscriptions to online courses and digital products, with the ability to pay for them all on site.
The ability to personalize and customize the experience through member avatars and profiles.
However, non-members of your membership site shouldn't have access to any of these features. Your site will need some way to implement those restrictions based on the subscription level.
You might even want to implement further private areas of your membership site. This will enable members to showcase and sell items that aren't appropriate for general public viewing, such as private artwork, and conduct events such as exclusive auctions.
To do all of this, you'll need a two-pronged approach. First is your site's design. A WordPress site builder plugin such as Elementor Pro will do the job and much more: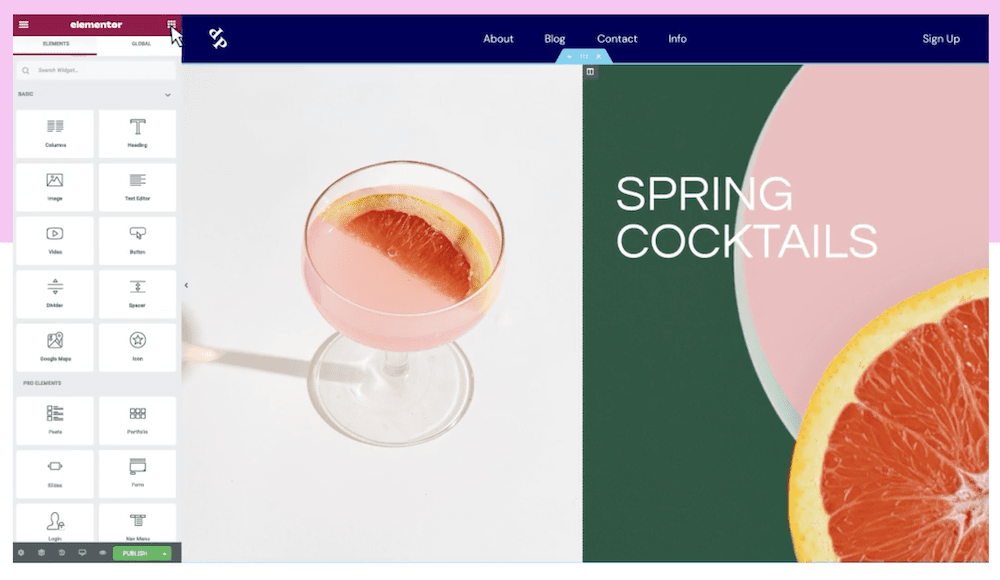 This provides a drag-and-drop interface and editor to help you create a WordPress site that matches your exact requirements. You'll use it to build your member areas, registration pages, private sections of your site, and more.
The second aspect is your site's functionality. A compatible Elementor membership plugin will provide you with the ability to set membership levels, create access restrictions, and accept payments. It's this aspect that will be the focus of the rest of the article.
Get Started with the Best WordPress Membership Plugin
Today
Connect, Manage and Build your Membership Site
Choosing the Best Elementor Membership Plugin: 4 Examples
In the following section, we're going to look at four Elementor membership plugins. Of course, they will also be suitable WordPress membership plugins too, with or without the Elementor page builder.
For each plugin, we're going to talk about its key features, pricing, and anything else relevant so you can make the right decision. At the end, we'll show you how to use our favorite Elementor membership plugin in brief to build a site.
1. WP User Manager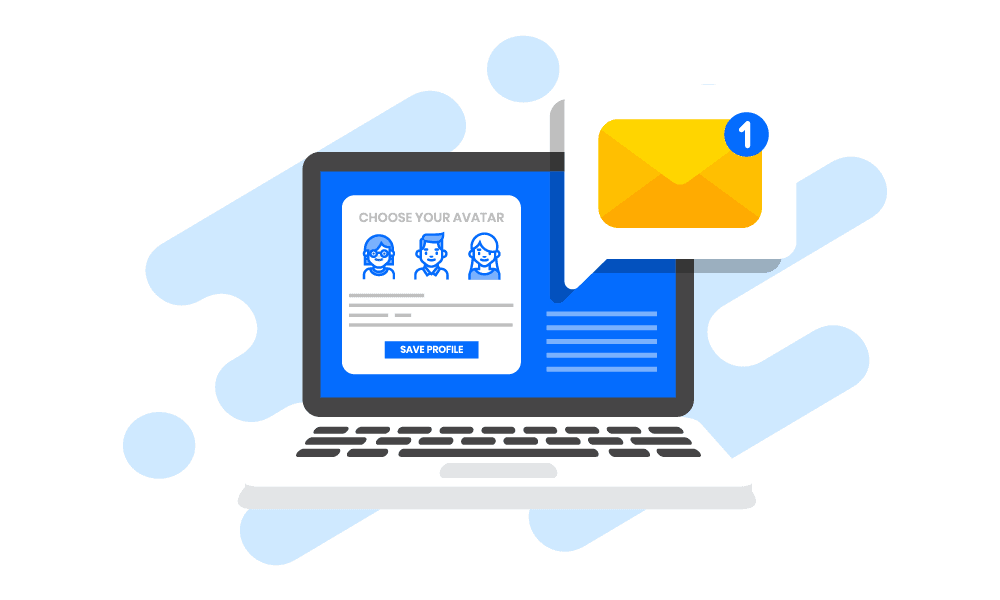 First off we have WP User Manager. This is one of the leading Elementor membership plugins around, for a number of reasons:
The plugin provides the tools you need to create and grow your membership community, such as avatar management, user-friendly directories, and more.
If you choose to use the leading plugin for e-commerce sites, WooCommerce, you can also collect payments through Stripe and PayPal. This gives you an even easier way to apply content restriction to paying users.
You can integrate a number of third-party services, such as Mailchimp, into your membership site.
You're also able to connect members through the use of groups. This lets you create complex sub-communities and grow your site further.
You'll also find lots of customization options within WP User Manager. For example, there's seamless compatibility with WordPress. You have full scope to create customized membership rules with user access roles and rights. You're also able to add your registration forms almost anywhere on your site using shortcodes, Blocks, widgets, and more.
The core WP User Manager plugin is free forever, although a premium subscription will net you the most value. You can begin your journey from only $149 per year, and upgrading provides more features to work with based on the tier you choose.
2. MemberPress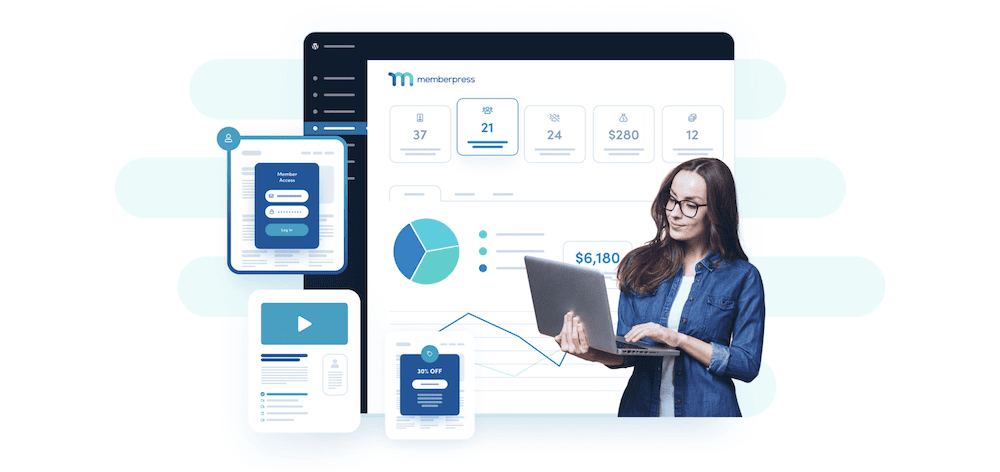 If you search for Elementor membership plugins, MemberPress will almost always be one of the perennial options. It has a massive user base, and plenty of functionality under the hood:
It provides the ability to set up paywalls, membership sites, premium content, and even a Learning Management System (LMS) if you wish.
The plugin provides a minimal setup procedure that involves adding products and a payment gateway at a minimum.
MemberPress provides robust access rules that let you create unique and custom roles based on your site's requirements.
There are also a bunch of add-ons that help to expand the scope of what MemberPress can do. For example, you can add courses to MemberPress, or even provide the ability to offer gift memberships.
Each MemberPress pricing tier has lots to offer, although higher plans have more in the box. You'll pay at least $179 per year for a subscription, and the Basic plan could be all you need in an Elementor membership plugin.
3. Ultimate Member
Ultimate Member an 'outlier' Elementor membership plugin, mainly because most users will head for one of the other prominent solutions. However, it's a super-strong WordPress membership plugin that offers a lot under the hood, especially with regards to user management:
You have a wide scope for creating user profiles that look just as good as some of the leading social media websites.
There's a powerful user role manager in the box that lets you create custom roles, apply content restriction, and more.
You get strong conditional logic integration. This lets you show or hide information based on the user's input – helpful for boosting your conversion rate.
If you want a strong Elementor membership plugin, Ultimate Member could do the job. The core plugin is free, but premium pricing starts from $249 per year. This nets you the full feature set of Ultimate Member, although the companion WordPress theme only comes with the highest membership plan.
4. Paid Memberships Pro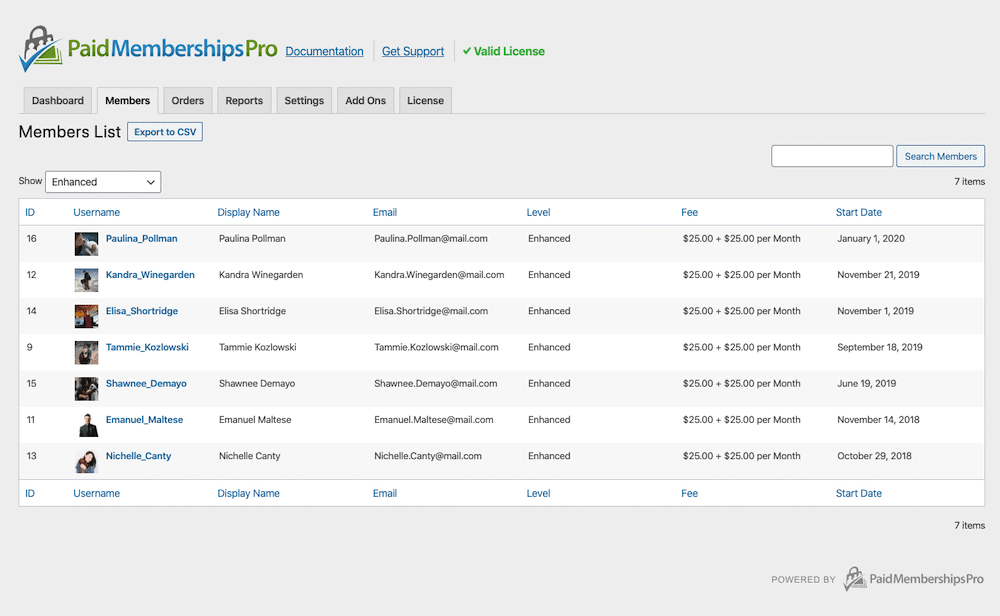 Paid Memberships Pro is another perennial Elementor membership plugin that stands the test of time. The clue of its main focus is in the name. However, it can also provide a few other ways to develop your site:
You get basic yet powerful ways to restrict your site's core content. Through this, you have different ways to help users preview your content.
There's robust user profile management, and the ability to create and search directories.
Content dripping is how you deliver a series little-by-little based on the member's start date. Paid Memberships Pro lets you do this on higher tiers.
Speaking of which, Paid Memberships Pro provides a lot across its four different price plans. The free version comes with an astounding 31 free add-ons to enhance its functionality. For $247 per year, you can get on board and experience what the premium version provides. The Plus plan at $397 per year offers the most value, in our opinion.
How to Build an Elementor Membership Site Using the WP User Manager Plugin
WP User Manager is the standout Elementor membership plugin on this list. As such, let's show you how to use it to build a membership site within WordPress. We'll go through a number of steps, and begin with the installation process.
1. Setup and installation
First, you'll need to install and activate both Elementor and WP User Manager. The process for each of these plugins within WordPress is similar. First, head to the Plugins > Add New page within WordPress, then search for both "Elementor" and "WP User Manager":

For each, carry out the following:
Click the Install Now button, and wait for WordPress to do the necessary.
When the button changes to a blue Activate one, click this and wait for WordPress to finish.
Note that you might need to head back to the Plugins > Add New screen in order to start the process again. Regardless, once you install WP User Manager, you'll come to the plugin's Getting Started page: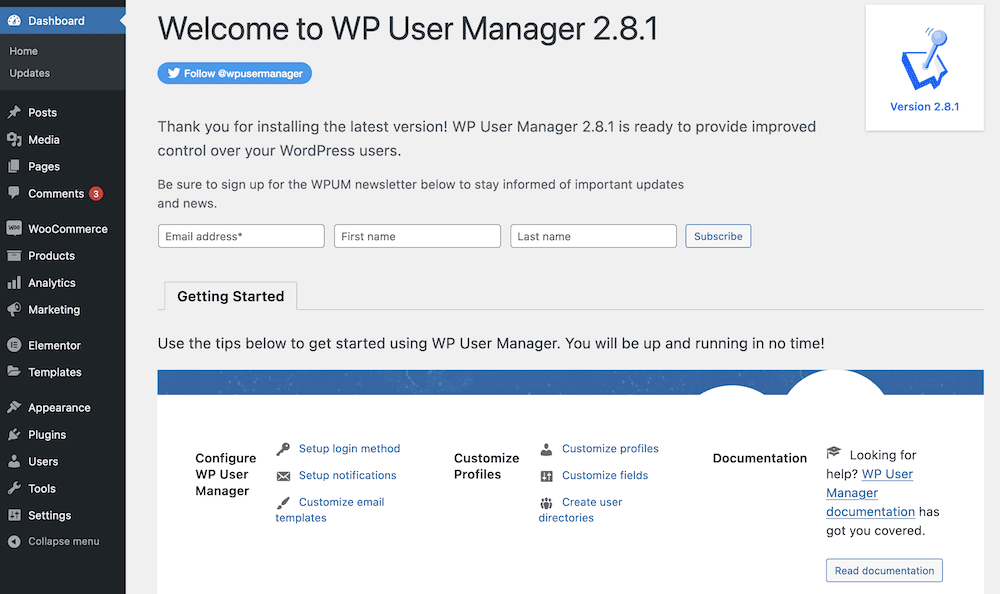 This is good to read and digest. However, we'll start with creating and displaying a registration form.
2. Create Your First Membership Registration Form
WP User Manager provides a ready-made template for your registration form. This means it's simple to add to your site and sign up new members. To find the settings you need, head to the Users > Registration Forms page within WordPress:

While you can add a new form here if you need to, the default form provides everything you need to start. If you click through the form, you'll see a drag-and-drop editor: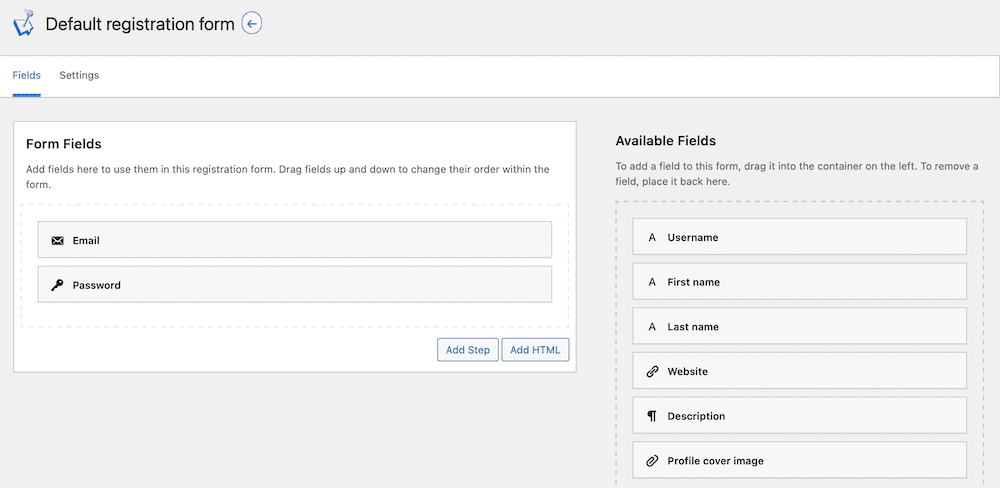 You'll drag the relevant fields onto the canvas and re-order them as you need. The fields you choose here are how a user will create their profile, but you can speed up the purchasing process with both the main Woo plugin and the WP User Manager Woo add-on.
This lets you add the option for the user to choose a product at registration and buy it there and then: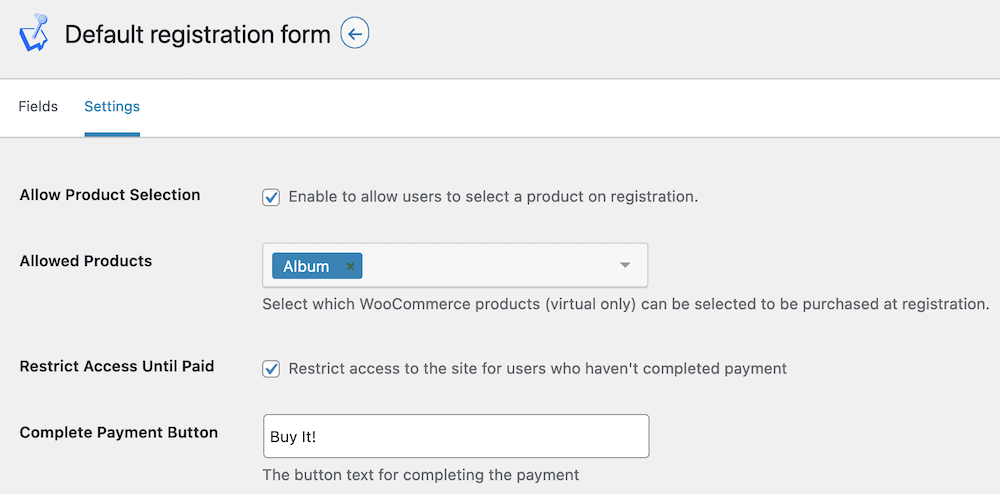 The Settings tab also gives you a way to customize the experience. For example, you can choose a default registration role, let the user choose the role themselves, and more: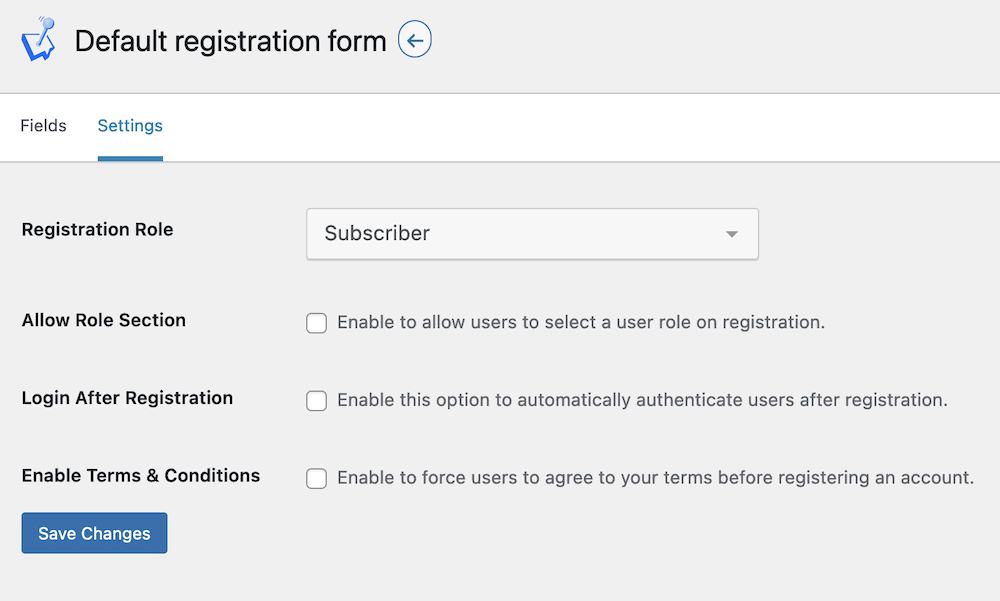 From here, you can look to add custom roles and set up your membership levels.
3. Add Multiple Membership Levels (And Set Up Custom Roles)
WordPress user roles have immense flexibility and power. For instance, you can use them to create membership tiers and levels through the permissions you set. This lets you apply upgrade levels, restrict content for lower tiers, and much more.
The current WordPress user roles might not offer everything you need, in which case you can set up something custom for your site. You'll do this through the Users > Roles page.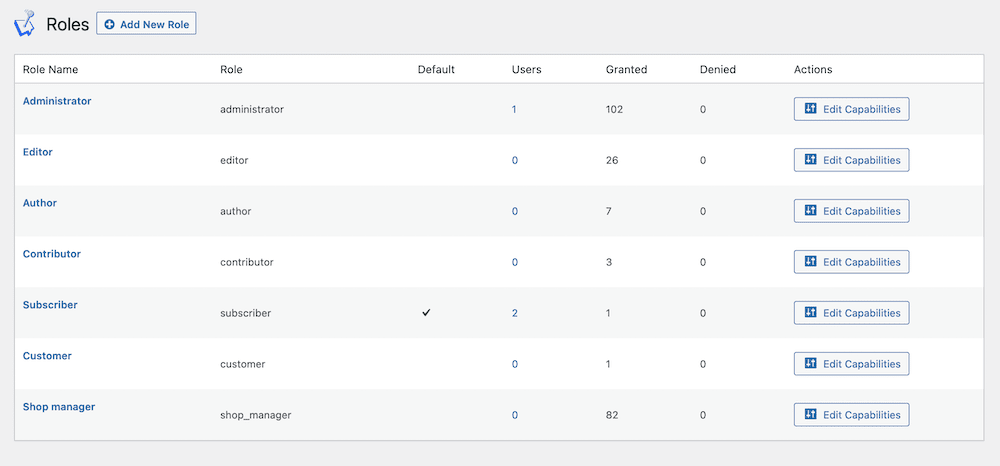 If you click Add New Role, you can set up a new one from scratch: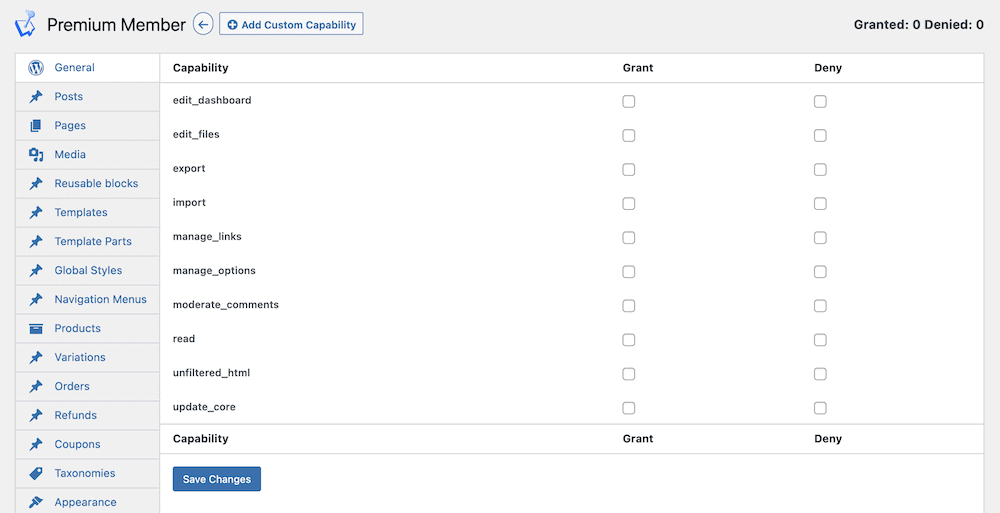 Conditional logic is a fantastic way to grab only relevant information from your users. This improves their experience, and the good news is WP User Manager can implement this through the Custom Fields add-on.
If you head to the Users > Custom Fields page within WordPress, then click the option to customize the fields, you'll come to a list: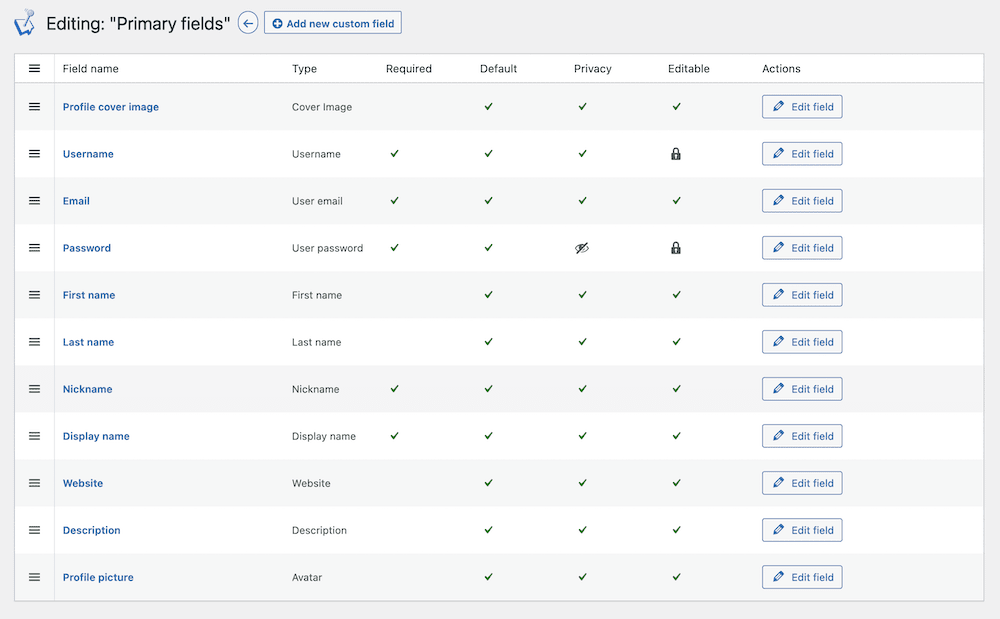 From here, you'll look to edit the relevant field, and work with the conditional logic options: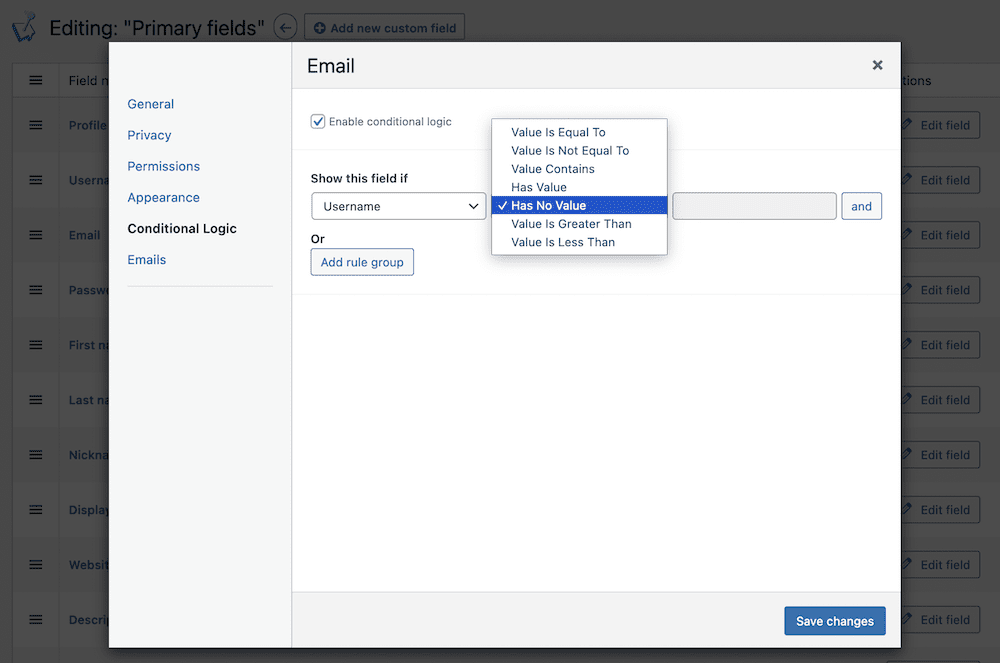 If you want to enhance your user's security, you can do so with the Security add-on. This adds password login protection to your site, among many other extras:
This will let you set up enhanced encryption for your passwords, Two-Factor Authentication (2FA), ways to halt concurrent logins, blocking tools, and more. Overall, WP User Manager is an Elementor Membership plugin that looks after you and your users.
4. Send Personalized Emails to Your Members
WP User Manager gives you a way to personalize and customize the mass emails the system sends. You'll achieve this through the Users > Emails page:

You can enable each email here, and also edit it using the appropriate Customize button. This will open the email with a version of the Block Editor. The Email content settings sidebar lets you alter the contents of the email template: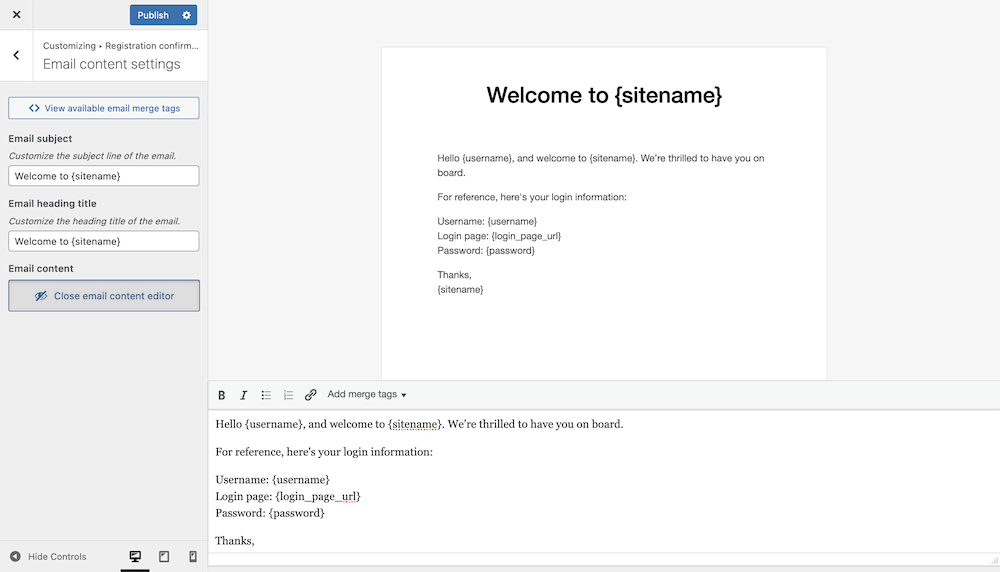 You can work with the email template in a deep way, although you can access a range of simple-to-use template tags through the Add merge tags button in the rich editor: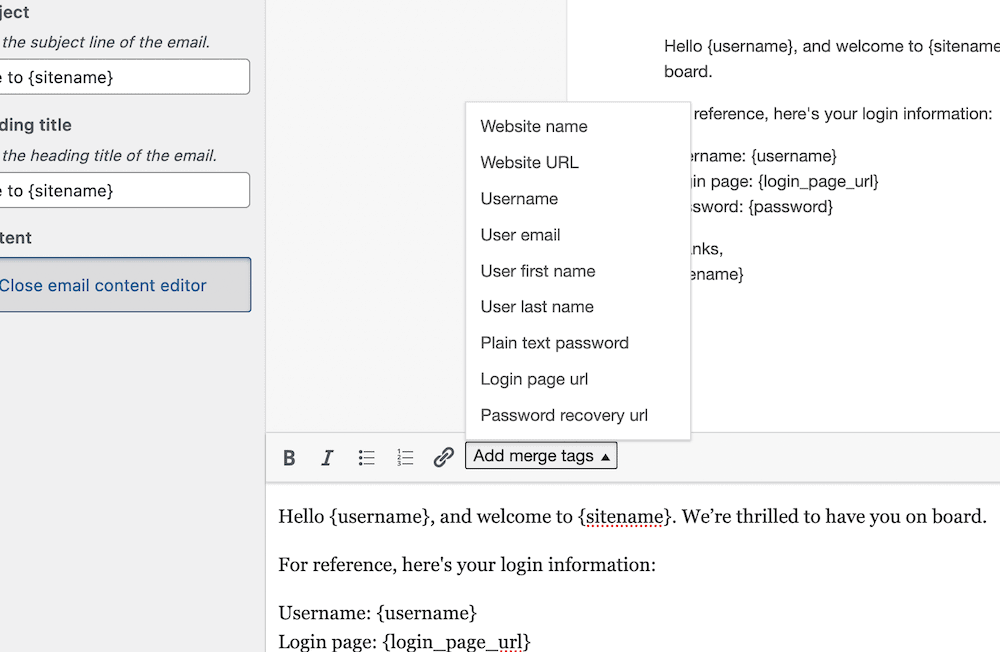 Once you finish, clicking Publish will save those changes to your email.
5. Display Your Membership Content Within Elementor
WP User Manager has lots of flexibility when it comes to how you display your membership registration forms and other related information. The most flexible for this Elementor membership plugin is with a shortcode.
Using this will give you the ability to create a page design for users who don't have a current subscription or membership.
WordPress works under the hood to show the private content to relevant users. Within Elementor, you can use a Shortcode element to display the WP User Manager forms and content: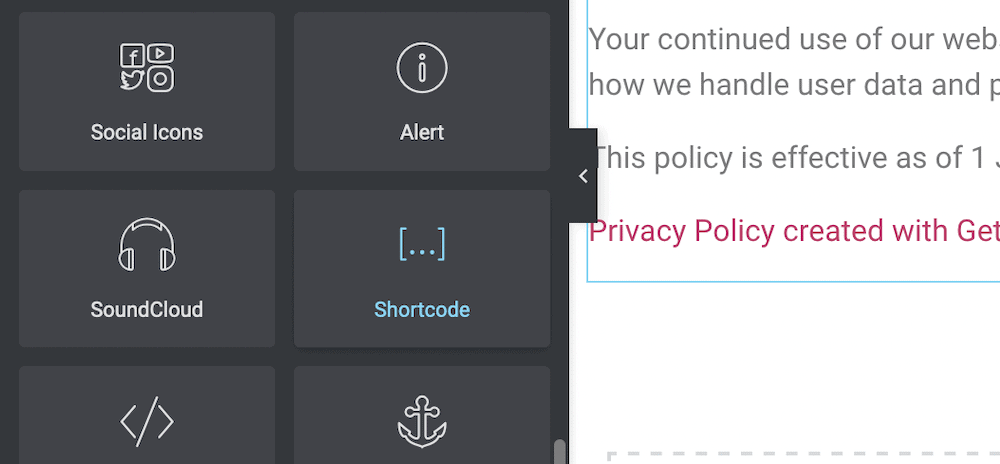 The wpum_register shortcode will show the registration form…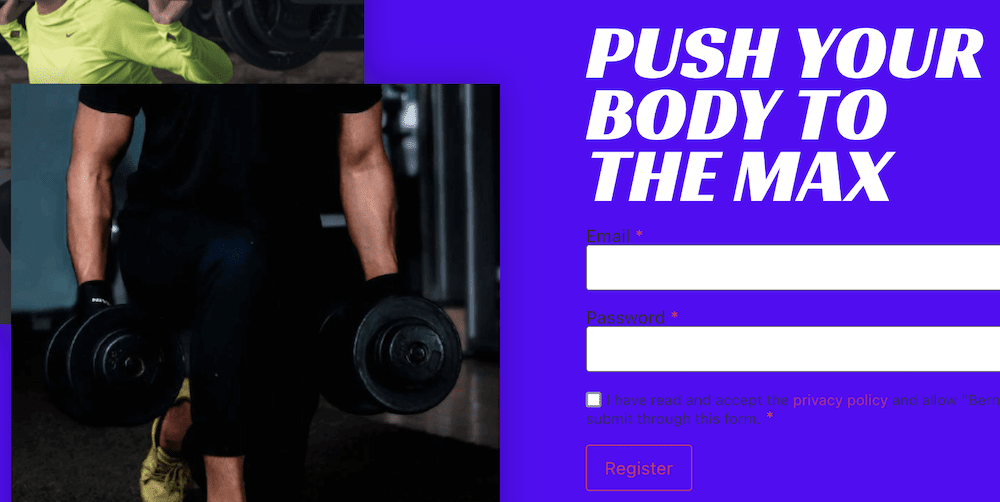 … and once you have this in place, you can add in private content using the [wpum_private_content] shortcode. This gives you a quick and painless way to display your content, without the need for further design.
Conclusion
WordPress is (of course) a fantastic platform for many different types of websites. Membership sites are one such case, because you can design it using a website builder such as Elementor, then bolster the functionality with a plugin. WP User Manager is arguably the most comprehensive and robust Elementor membership plugin for WordPress.
The plugin provides smooth integration and plenty of capability. You're able to create membership forms with ease, add in functionality based on user roles and membership levels, and more. You're even able to integrate a number of third-party services, such as Mailchimp and Advanced Custom Fields.
Do you need an Elementor membership plugin, and if so, does WP User Manager offer everything you need for a WordPress membership website? Let us know in the comments section below!