The WP User Manager plugin codebase is generally well translated and can be
translated using a plugin like Loco Translate, what about the data that you create with WP User Manager, like custom fields?
For a true mulitilingual site, you will want users to register in their chosen language – but the fields on the registration form need to be translated to the various languages your sites supports.
WPML is one of the best translation plugins for WordPress sites, allowing you to translate posts, pages and other post types. With the WPML addon for WP User Manager you can translate the following data:
Field Groups

Name
Description

Custom Fields

Label
Description
Placeholder
Option labels (for dropdown, checkbox and radio button groups)

Registration Forms

Names
The addon also allows you to translate the subject and message of any email sent by WP User Manager. That includes but not limited to:
Registration confirmed
User approved
User Rejected
Email verification
Group approved
Group rejected
Some of the above emails require other addons.
Prerequisites
Before starting, you must have the WPML Multilingual CMS, WPML String Translation, and WPML Translation Management plugins installed and activated:
Translating
Once you have installed and activated the WPML addon, if you navigate to WPML > String Translations you will see strings that need translating from your existing WP User Manager data: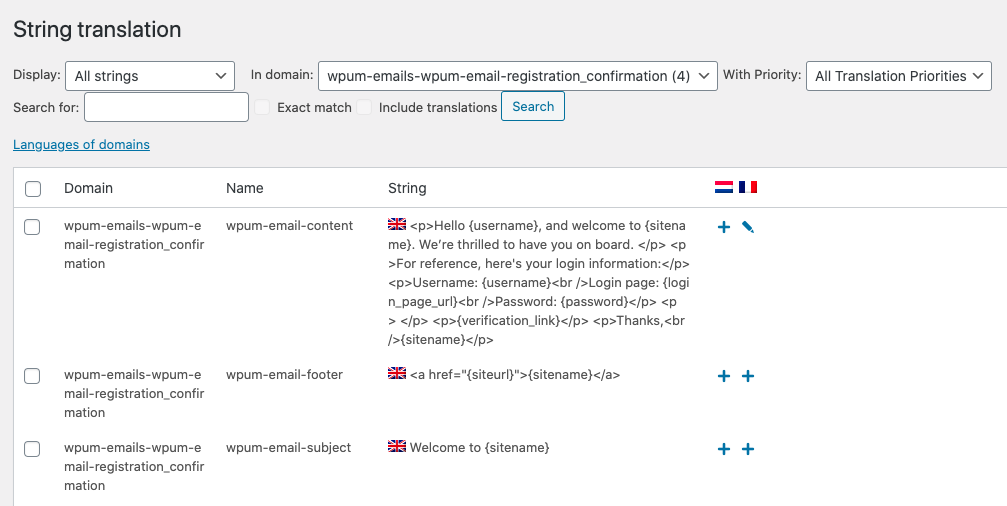 Here you can add language translations for all the different types of WP User Manager data listed above.
Any new data you add, like adding a new custom field, will appear in this table ready to translate.
Get Started with the Best WordPress Membership Plugin
Today
Connect, Manage and Build your Membership Site