Today I'm thrilled to announce that version 1.1.0 has been released to the world! Version 1.1 includes several notable new features and a significant number of important improvements. Let's have a look at the highlights.
Users registration overview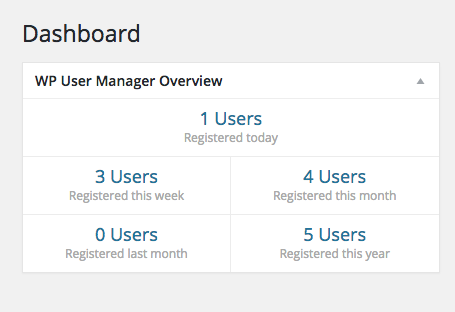 With the release of version 1.1.0, WPUM now ships with a new dashboard widget for administrators. The "Overview" dashboard widget will display the total amount of registered users on your website across 5 different timespans. This includes users registered: today, current week, current month, previous month and current year.
Members only menu links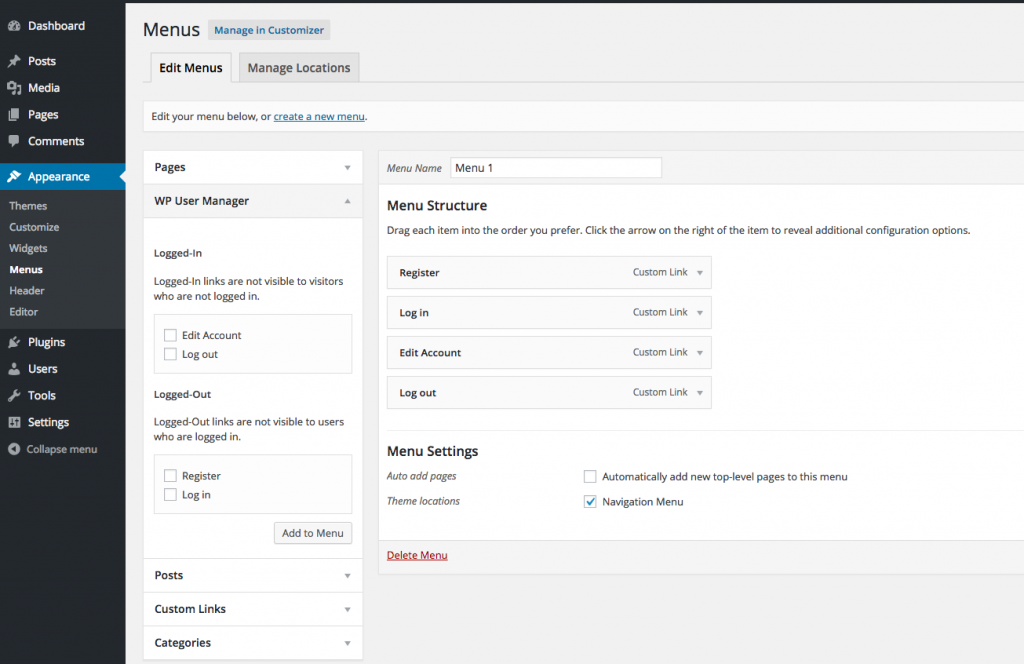 WP User Manager 1.1.0 marks the first step towards a series of improvements I will be applying to the WordPress menu manager. I have added a set of WPUM powered links directly into the menu manager interface. These are dynamic links that hide and display based on different conditions.
Logged-in links are not visible to visitors who are not logged in. Once logged out, the links will automatically hide. Logged-out links are not visible to users who are logged in. Once logged in, the links will automatically hide.
Improved login form redirects
The WPUM login form now supports multiple redirect methods. By default, every login form will now redirect to the previously visited page on your website, if the user hasn't visited any other page, he/she will be redirected to the page you have selected into the admin panel. Developers and advanced users also have access to a new redirect method through query string. For more information about how the login redirects work please review this new documentation article.
Custom login link shortcode
Together with the new login redirect methods, WPUM now comes with a new shortcode that allows you to create a custom login link together with a custom redirect. More information about the new shortcode can be found into the documentation.
New redirect options

New redirects settings have been added in version 1.1.0. You can now redirect users to a new page after a successful registration. This was one of the most popular feature requests and it's now available. Furthermore you can now also redirect users who try to reset their password through the wp-login.php page.
Custom Email Logo
Emails are now more important than ever. We have now added a new option to add a custom logo on top of your emails. The logo will be displayed above emails sent to your users. The logo will only appear when you're not using the plaintext email template. It looks very good, try it out!
Quickly access your users profile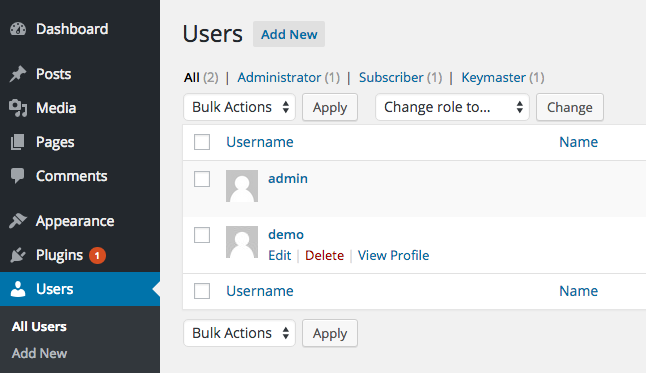 We have added a new link to the users table into your WordPress administration panel. The "view profile" link will allow you to quickly view the user profile on the front-end.
Other tweaks and fixes
We have applied a serie of different minor fixes and adjustments. Here you can find a list of these adjustments.
Visually highlight required fields
Password meter to password recovery form
Password strength meter will now show different colors based on password strength
Simplified Chinese translation
text spacing in plaintext emails
simplified description of options into plugin settings panel
removed duplicated code
users unable to view their own profile pages when members not allowed to view other users profiles
For developers:
We have introduced a list of new functions, filters and hooks for developers to customize the plugin even further. For a list of the new functions and hooks, please review the changelog here https://wordpress.org/plugins/wp-user-manager/changelog/ we will soon publish a full list and explanation of functions and hooks into our documentation, meanwhile you can check the source code of the plugin which is well documented.
What's next?
I'm working on some really awesome features that will further improve the workflow and make managing your community even easier. If you want to see a specific feature added in WP User Manager, then simply send us a message using our contact form or into our forum.
Get Started with the Best WordPress Membership Plugin
Today
Connect, Manage and Build your Membership Site