It's been a busy month and a bit since I launched the new addons and pricing back in October. Since then I've been working hard on integrations with other plugins to make WP User Manager the best membership WordPress plugin around. 🚀
Let's dig into what's new.
WPML Integration
WP User Manager is used by folks from all around the world on sites in many different languages. There are numerous plugins that turn WordPress into a multilingual site, and one of the more popular ones is WPML.
There's been quite a few user of WP User Manager ask about WPML compatibility and up until now it's not been easy to use the two together.
WPML allows you to translate your posts, pages and other content into all the various languages your site supports. But WP User Manager stores its data in custom tables. This includes custom fields for user data, field groups and registration forms.
By default WP User Manager itself is translation-ready but now I'm pleased to say that it integrates fully with WPML with the new WPML addon 🎉
You can now translate the strings for your custom field names, descriptions, placeholders, options labels (for dropdowns, checkboxes etc) and more. The WPML addon also allows you to translate all the subject and messages for the emails WP User Manager sends to users. This includes the verification emails sent by the User Verification addon.
When a user registers, WP User Manager records the language they used and will then send emails in that language.
Along with the WPML plugin, you will need to the String Translation and Translation Management plugins for WPML, then you can access the WP User Manager strings to translate them from the WPML > String translation menu: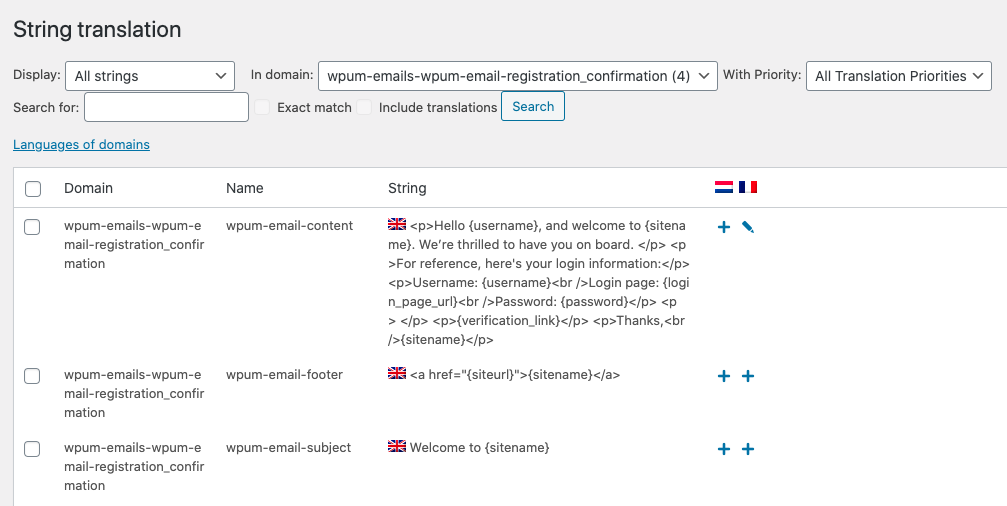 Read more about translating WP User Manager data with WPML.
The WPML addon is available to buy separately or with the Plus and Pro bundles to get huge savings on multiple addons.
AutomatorWP Integration
WP User Manager has always been a very developer-friendly plugin, with a large number of well place hooks and filters that allow for customization and extending of the plugin's features, interface and behaviour. This also allows other plugins to integrate with WP User Manager, including the types of plugins that automate WordPress actions by connecting plugins together.
I'm pleased to announce that WP User Manager has been fully integrated with the AutomatorWP plugin! With AutomatorWP and the WP User Manager addon you can automate tasks that happen from your WP User Manager powered site.
For example, when a user verifies their email address add them to a MailPoet list.

As you can see from the list of triggers and events for WP User Manager, the possibilities to connect WP User Manager to other plugins is endless!
Releases
Due to updates needed to be compatible with the WPML addon and the AutomatorWP integration, there's been a number of releases for WP User Manager and it's addons:
✅  WP User Manager v2.3.13
✅  Custom Fields v2.1.1
✅  Groups v1.0.1
✅  Registration Forms v1.1.2
✅  User Verification v2.1.3
WP User Manager v2.3.13 also contained a handful of bug fixes and some improvements to the styling of the profiles and directory listings.
Up Next
Last time I wrote I was finishing up the Frontend Posting addon – I'm still in progress with that, but it got slightly delayed by WPML.
Work is also underway on a Repeater field for the Custom Fields addon, which will make the addon even more useful for collecting custom data from users.
What do you think of the new integrations? What missing features in WP User Manager are most important to you? Please let me know in the comments.
Get Started with the Best WordPress Membership Plugin
Today
Connect, Manage and Build your Membership Site