The web democratizes content to a certain degree; you can find almost any piece of information you need within the click of a button. However, some information will be too valuable to give away. Gated content is one way to monetize your site, and with WordPress, it's straightforward to set up.
Most of WordPress' extra functionality comes from plugins, and in order to set up content restrictions, you'll use one here. However, you'll also want to make sure that you can manage users too, which means you'll need a quality plugin with the right blend of features.
For this post, we're going to show you how WP User Manager can help you implement gated content within WordPress. First, let's talk more about what this tactic is.
What Gated Content Is
Without some kind of direct involvement, content on the web is free to browse to and interact with. After all, this is one of the core tenets of the social web. This trinity of "free, open, and participatory" makes lots of sense, but clashes with the desire to monetize your site and its content. This is where the social web and business web diverge.
Gated content lets you restrict as much of the content on your site as you want unless the visitor hands over remuneration. This is often money, but data can also offer value.
You'll often see a site ask you to sign up for an account to keep reading, for example. News sites do this as a way to obtain some level of information about you in order to sell to you in the future: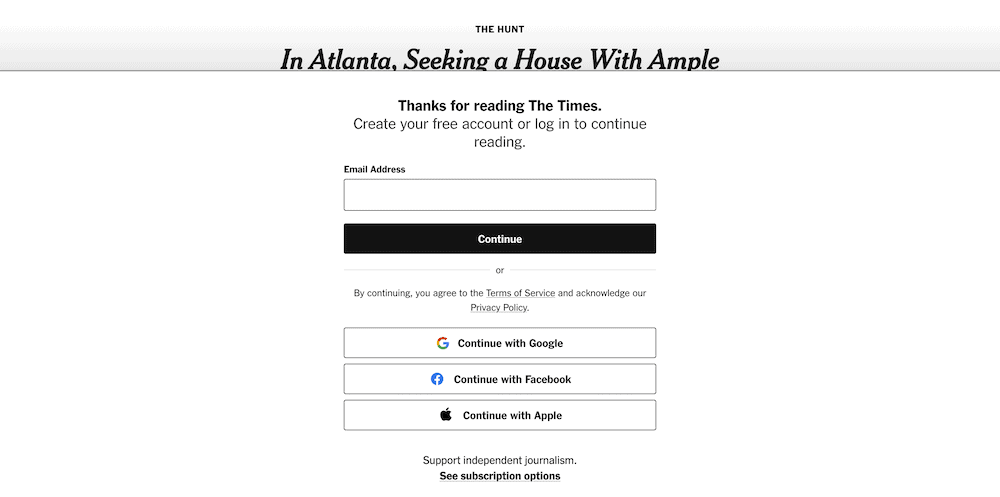 You'll also see variations on this. For instance, social media can be a powerful ally for many businesses. As such, you may only get access to your content if you choose to send out a Tweet, post, or Pin first.
Why You'd Want to Restrict Content on Your WordPress Site
Given that information on the web is often free and easy to access, it does seem futile to try and charge for some of your own content. After all, a visitor could head elsewhere and find the information without troubling their bank accounts or social media following.
We'll admit that this is true for lots of sites where the information and content is similar in nature. For example, it's hard for those news sites who do want to gate content. This is because other sites will see an opportunity to win the traffic a gated site could lose. This is one big drawback of implementing gated content.
Even so, the benefits of the strategy far outweigh any negatives – and there are plenty to talk about:
Get Started with the Best WordPress Membership Plugin
Today
Connect, Manage and Build your Membership Site
Given the right implementation, the strategy is straightforward to set up and understand. While there may be complex code under the hood, the concept of gated content is something a visitor can understand too.
If you have content and information that is of immense value, users will pay to see it. This makes gated content one of the best money-spinners around.
You can grow a community through using gated content. For subscribers (or paying customers,) they'll be part of a small group with a vested interest in your site, business, and content.
By extension, those paying readers can sit on your 'pre-qualify' list. This gives you a way to market to them further, without the need for extensive outreach.
In fact, we'd go as far to say that if you feel your site offers content of value, it would be a mistake to not restrict it in some way, regardless of the competition. In the next section, we'll look at some use cases and situations you'd set up gated content.
The Times You'd Use Gated Content on Your Site
So far, you'll know that gated content is a good idea in lots of situations. However, you might not know whether your content is worth placing behind a paywall.
Our advice is to consider the goals for your site. Gated content doesn't work well if you want high traffic numbers, for example. What's more, a lifestyle blog wouldn't earn too much if it decided to gate the content itself.
However, the most ideal type of gated content offers something to the visitors that they won't be able to get elsewhere, or without hard work. Here are some ideal types:
You could provide templates (say for graphics, web layouts, image collages, and more) or tools (photo editing plugins, for example.) This can net you high revenue, because people will often pay for something that can enrich their own projects.
If your site produces guides and how-tos, this could be another area to gate. Your in-depth and long-form guides could start as a free article, but transition to a premium one after a few pages.
You'll find white papers and reports can often hide behind gated content sections too, but only if that research is of high value to the reader.
Special event situations, such as live webinars, streams, and more are all ripe for restriction. Think about these like a concert, where you'll pay for the attendance ticket to access the show.
Most sites could benefit from restricting content in some form. This is good news for WordPress users, as plugins can add in this complex functionality without the need for code or technical knowledge.
How to Add Content Restriction to WordPress
In a technical sense, you could code a manual solution in order to add gated content to WordPress. However, we wouldn't recommend this unless you're a top-tier programming whizz.
Instead, WordPress plugins can bridge the gap you need, include a greater level of functionality, and come with much better support and integration. While you could opt for a dedicated content restriction solution, it might not have the flexibility you need to handle both the content and your users.
WP User Manager could be a better fit:

Here's what the plugin offers:
Functionality to help you grow your community, through personalized profiles, groups and user directories, social login options, and more.
The ability for you to customize the experience to your site and the needs of your visitors. For example, there's full-featured User Roles and Capabilities Manager, and plenty of ways to create custom fields and registration forms.
WP User Manager also includes plenty of security to help keep your users safe. There's comprehensive user management, Google reCAPTCHA integration, Two Factor Authentication (2FA,) and much more.
Even better, you can set up gated content without spending a penny on a premium subscription. In the next section, we'll show you how, and also mention what the Content Restriction add-on can do.
How to Implement Gated Content for Your WordPress Website (Using WP User Manager)
Before you look at any functionality, you'll want to install and activate the WP User Manager plugin. For this initial look at gating content, you can use the free edition on WordPress.org.
WP User Manager provides dedicated shortcodes to help you restrict or gate content based on user or role. You can choose to restrict by role, user, and the login status. To use it, wrap your content in the shortcode in question.
You'll notice that some shortcodes use parameters to determine user IDs or roles. For Block Editor users, you can set these parameters on a Block-by-Block basis. Simply highlight a Block and choose your options from the sidebar:

The premium Content Restriction add-on lets you set gated content with a single click from any WordPress post or page. Once you install and activate the extension, head to a post or page, and scroll to the bottom. There, you'll see a Content Restriction metabox with a waiting checkbox: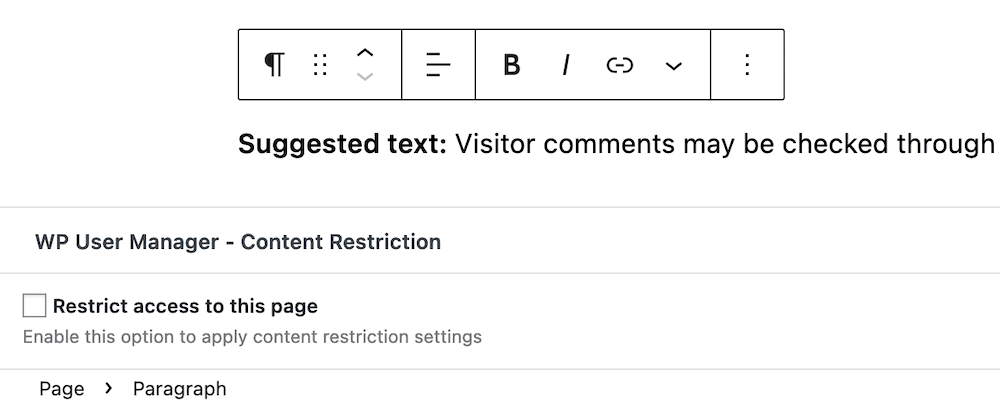 Once you check this, it will open up a vast array of settings and options that dives deeper than the standard content restriction settings:
This gives you the ability to also restrict full-page content for those who have purchased a specific product from your store. There are also a few more options to help you keep these restricted pages from menus, archives, and RSS feeds.
You can apply these same restrictions to child pages too, if necessary. The Content Restriction add-on gives you the ultimate in flexibility when it comes to gated content.
Conclusion
There are lots of ways to monetize a site. If you have content that offers value to the traffic on your site, you could gate it off and charge for access. It's a common tactic for all sorts of sites (such as subscription platforms) and is a fantastic business model if you produce a lot of niche content with a following.
WP User Manager can help you set up gated content through its free features (such as shortcodes) and its premium ones (the Content Restriction add-on, for example.) You have a foundation that includes one of the best content and user management platforms for WordPress. What's more, you won't need any code or technical knowledge to set up these powerful features, as you can control it all from the WordPress dashboard.
Do you have any questions about gated content, or how WP User Manager can help? Ask away in the comments section below!