If you've ever run a WordPress site before you're more than likely familiar with the prevalent issues of spambots and fake user signups while not harmful they are a pain and bloat your WordPress user list which is more annoying than anything.
In this guide, I'll show you a way you can require the approval of new user accounts and block logins until the account is approved.
Let's get started!
Contents
Why Require the Approval of User Accounts?
Verifying User Signups with WP User Manager
Verifying users with User Verification from WPUM
Managing Singups with User Verification
Why Require the Approval of User Accounts?
Curated User Accounts
Whether you run an exclusive private members club or are head of a department, the chances are you only want to allow certain members to have user accounts.
By requiring manual approval of any registered account you can weed out the users you don't want and only accept the users you do want.
It's also perfect for wholesalers who need to only allow access to registered businesses, this allows someone to make an application to become a member and the wholesaler can easily reject or approve the application with a click of a button.
Email Verification
Let's say you're using the Mailchimp add-on to sync your new WordPress users to your Mailchimp list and you don't have signup verification enabled.
You get 100 new fake signups, they sync to your Mailchimp list and before you know it your Mailchimp account is blocked due to sending to invalid/fake email accounts.
That's where email verification comes into play by having the user click on a link in an email to verify their account (automatic approval). Saving you the headache of dealing with fake emails being synced into your other systems.
Data Accuracy
At some point let's say you want to sell your company and the party who's interested in buying does a deep dive into your business and they find hundreds of fake accounts! Setting alarm bells ringing they pull out of the deal.
With verifying your user signups you mitigate the risk that fake data can have further into your business's lifetime.
While it may not seem like a "now" issue. It's still an issue and needs to be solved.
Verifying User Signups with WP User Manager
The easiest way to verify your user signups is with a plugin called WP User Manager and its addon called "User Verification".
But what is WP User Manager (WPUM)?
Simply, WP User Manager is one of the most straightforward to use WordPress membership plugins available.
If you've ever tried membership plugins before you'll often find them cumbersome and difficult to use but WP User Manager makes the experience a breeze.
In short it can:
User directories
Restrict content
Mailchimp integration
And so much more.
Verifying users with User Verification from WPUM
Step 1: Decide if you want to manually approve or not
With user verification, you can either have manual approval or automatic approval. Automatic approval works by sending the user an email in which they have to click a link (to verify the email address) and then the account is approved and the user can log in.
Manual verification mode requires you to manually approve or reject a user's account from the registration management screen (you can also approve and reject accounts in bulk).
Once you've divided which method you want to go with it's time to set up the plugin!
Step 2: Configuring User Verification Emails
User Verification comes with 3 new emails that you can set up.
In your wp-admin > Users > Emails, you'll see the three new emails:
Account approved.
Account rejected.
Account re-verification.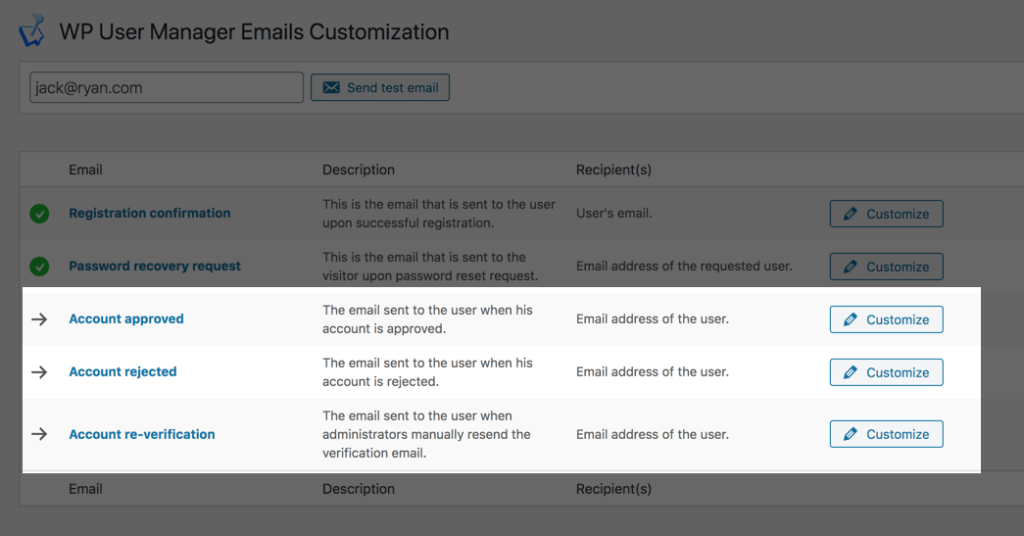 Click on "Customize" and then you can edit the email as you want.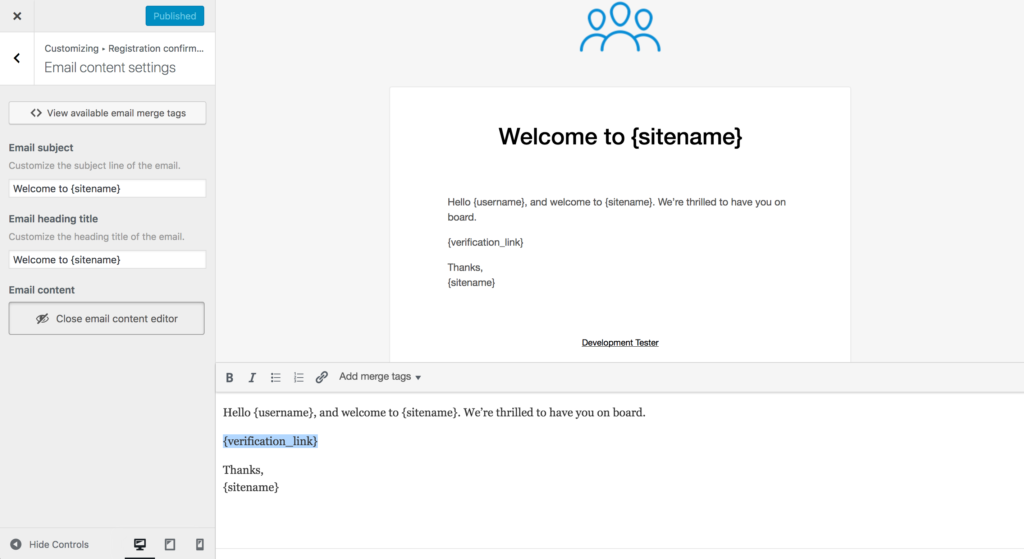 Once you're happy with everything save your changes and the initial set up is complete! Back to top
Managing Singups with User Verification
WPUM makes managing signups a breeze — head over to your wp-admin > Users > Manage Signups and you can approve and reject accounts all from one easy to use interface.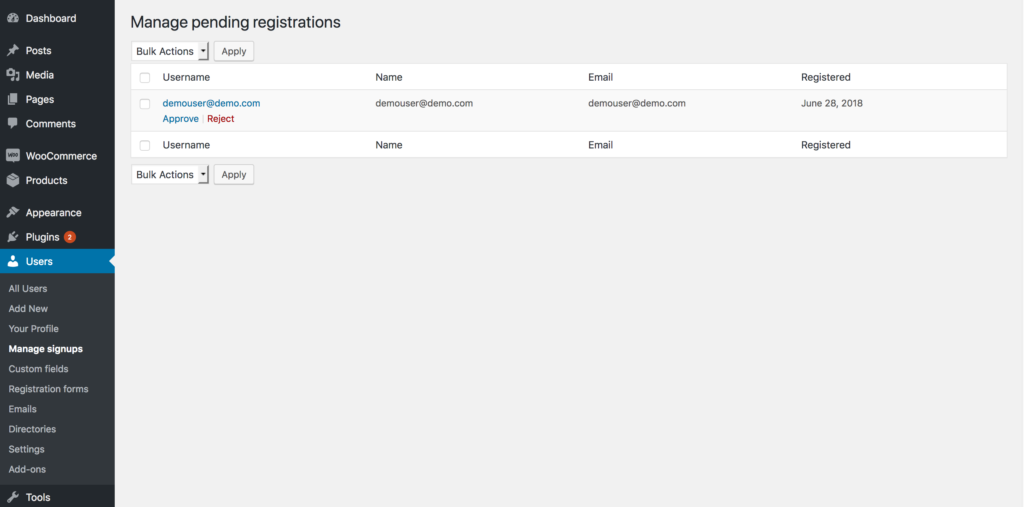 Finally for accounts that still require manual approval WPMU shows a friendly message on the login form letting the user their account is pending approval which is why they can't currently login.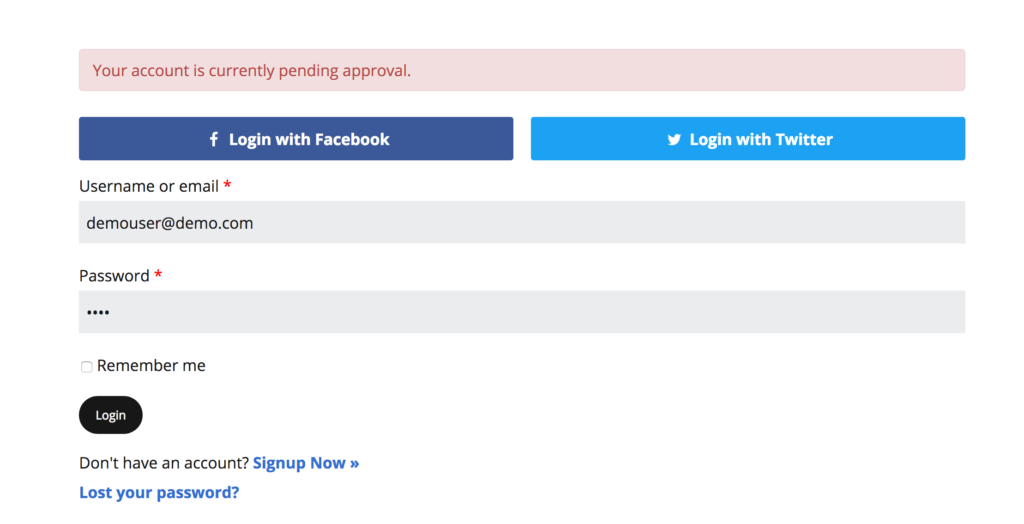 Conclusion
WPUM in combination with the User Verification addon makes it easier than ever to make sure only those who should have access do have access.
Taking the stress away from having to combat fake accounts, users who shouldn't have access, and more.
Combined with the reCaptcha addon it's the ultimate way to control and lock down your registration processes.
Have you been looking for a verification solution? Maybe you have experience with fake accounts before? Got any questions about user verification?
Let me know in the comments below.
Get Started with the Best WordPress Membership Plugin
Today
Connect, Manage and Build your Membership Site