A community-based website will want to prize the experience its users have. One way to do this is make sure that while users are on your site, you make them feel almost at home. However, you'll also want to ensure you can manage the profiles on your site to help facilitate the experience. You can achieve both of these tasks through good user profile management.
There are lots of ways to implement solid user profile management on your site. Some, such as Two-Factor Authentication (2FA,) help keep your site safe. However, there are also cosmetic additions, such as personalized avatars, that can help to give users ownership of their profiles.
For this tutorial, we'll look at user profile management in greater detail. We'll cover why this is vital for your site, some ways to give users the opportunity to self-serve their needs, and more. At the end, we'll discuss how to use a WordPress plugin to manage user profiles within WordPress.
An Introduction to WordPress User Profile Management
If your site requires users to log in, they will need a profile. This should be central to their experience, and as such, has to be easy to use and comprehensive with regards to features.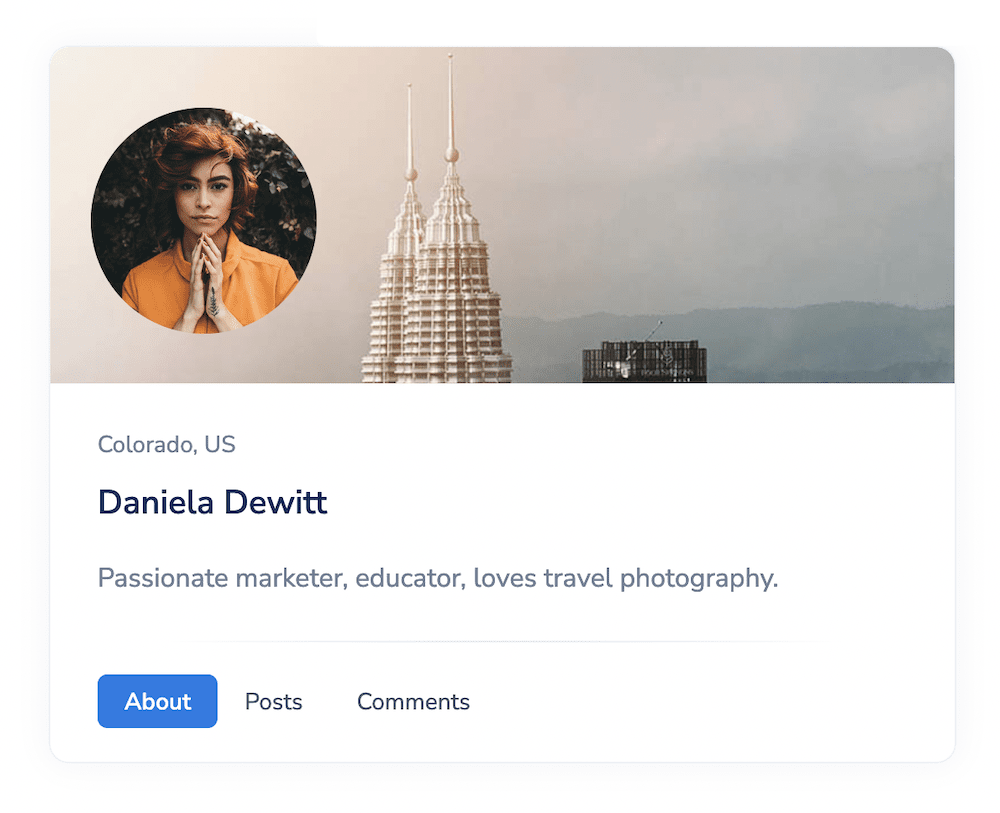 However, there are two sides to this valuable coin. While users will have a good experience, you will need to make sure it always runs smoothly. To do this, you'll need your own set of tools to help. Managing these profiles will include a few different tasks:
Organizing suitable login types and variations, for not only current solutions, but those in the future.
You'll want to make sure you assign the right WordPress user roles, and update them as and when you need to.
New signups may not always be 'good actors' and this means you'll need some form of verification to only let non-malicious users through.
You'll constantly refine the overall interface and usability of profile pages. This can include account management options for users, the ability to personalize profiles, and much more.
In short, user profile management is key for a good experience on both the front- and back-end of your site. Across the rest of this article, we'll look at both of these aspects in greater detail.
How to Give Users Ways to Manage Their Own Profiles
Of course, a site user will need a profile page of their own. WordPress is fantastic for this, as it comes as standard with the core platform: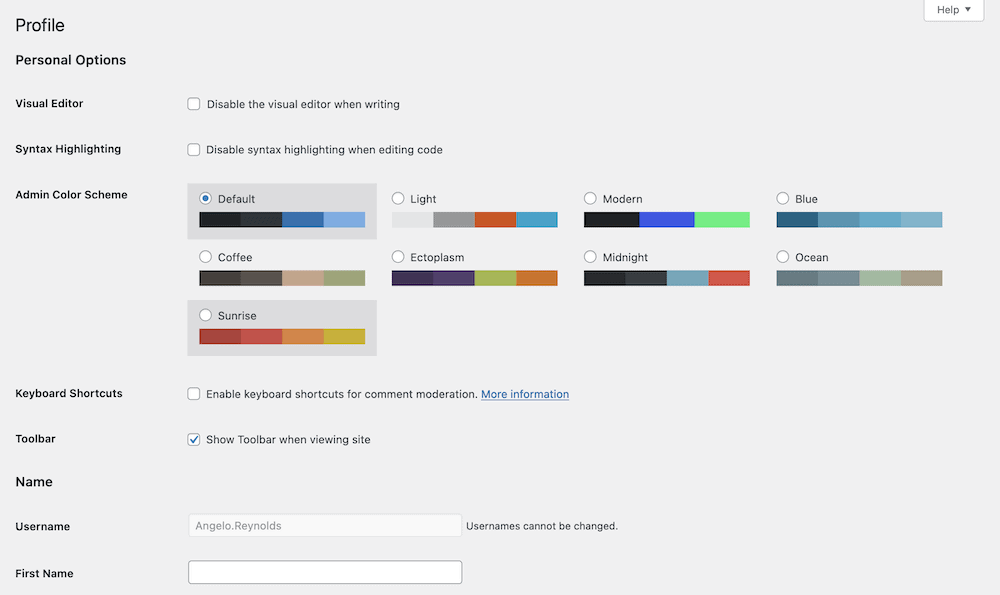 This gives you a good opportunity to work with some of WordPress' own functionality and enhance it to provide a better experience. For instance, you will be able to add profile avatars using the Gravatar service…

…however, you might also want to include a way to add personalized avatars that don't rely on a third-party service (albeit a valuable one):

WordPress also includes user roles as standard too, which can help set the right permissions and access across your site. This is something you don't have to restrict to the management process, as you might want to give users a way to set their own roles at user registration.
Get Started with the Best WordPress Membership Plugin
Today
Connect, Manage and Build your Membership Site
However, you don't want to consider only cosmetic or direct on-site features and functionality. Instead, you can also give users ways to register and log into your site. For example, social logins can keep the need to remember fresh credentials to a minimum. What's more, you can open up your registration to users of a particular social network with ease.
In fact, you can add all of these (and much more) using a dedicated WordPress plugin. Let's discuss this next.
Using a WordPress Plugin to Manage User Profiles Within WordPress
While you could create manual solutions for almost anything on your WordPress website, you'll need dedicated knowledge, time, money, and other resources to pull this off. Instead, other developers do the work for you and release WordPress plugins to help you achieve almost anything on your site.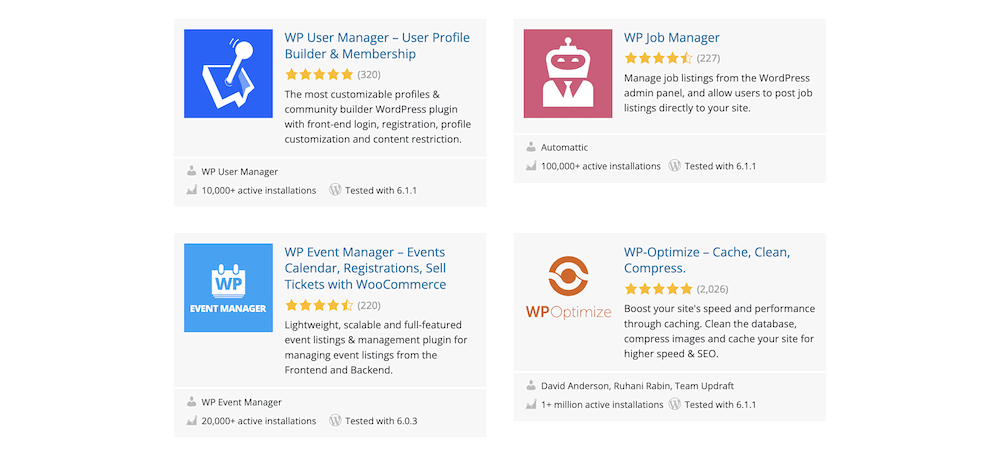 Even better, you can download the core functionality of many plugins for free from the WordPress Plugin Directory. This means you can begin without risk or obligation to buy, then upgrade to a premium plan to get more functionality, better support, and updates at a more frequent pace than the free edition.
Next, we'll talk about a plugin that can achieve everything we outline so far in the post, and also help you implement good user profile management on the back end too.
Why WP User Manager Is the Best Way to Manage User Profiles
If you want to manage user profiles on your WordPress website, WP User Manager should be at the top of your list. It includes almost every tool you'll need to create and manage profiles, and gives you access to features that users can harness to improve their own experience.

Here's what the free plugin offers:
The ability to upload custom avatars to a profile page.
Comprehensive user accounts and profile options for users that includes password management and custom email notifications.
You're able to display users in a dedicated directory, which helps to turn your site into a community.
You have a full user role editor to manage them from the WordPress back end.
The free version might provide everything you need for your site. However, you can also upgrade to a premium version that includes the following (and more):
You're able to add custom fields to user profile pages for specific use cases on your site.
There are tons of security features, such as password protection, 2FA, passwordless login options, and more.
On the back end, you can clean up inactive users with the touch of a button, stop users from logging into your site from multiple machines, comprehensive block and allow lists, and lots of other ways to retain the integrity of your site.
Premium WP User Manager plans begin from $149 per year. What's more, each purchase comes with a 30-day money-back guarantee, no questions asked. This means there's no risk involved, and no reason to take the plunge!
How to Manage User Profiles from the WordPress Dashboard
Using WP User Manager to carry out user profile management is straightforward. You could be up and running in mere minutes.
To begin, you'll need to install at least the free version of WP User Manager as it contains core functionality relevant to the premium version. We'll use the premium edition here, which means you'll also need to install this.
From here, head to the Users > Settings screen within WordPress, then look for the Profiles tab. This will bring up a few basic options to begin to customize profiles: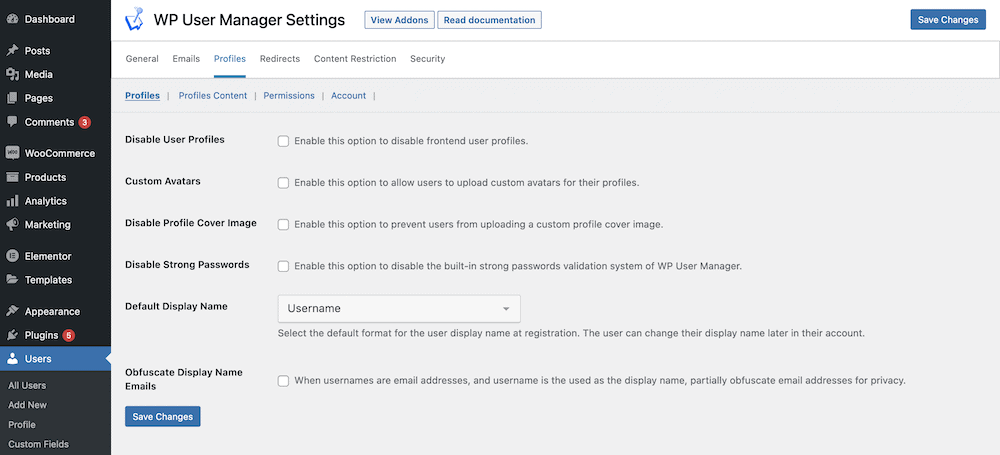 Here, you'll find options to add custom avatars to profile pages, set default display names, and more. There's an option here to obfuscate display names that contain an email address, which is helpful for both security and privacy.
The Profiles > Permissions screen also gives your users greater security, as you can toggle whether others users can view profiles:

You'll find more options on the General tab too. For instance, you can let users log in using a display name or email address, restrict dashboard access for specific user roles, and set up social login options, among others: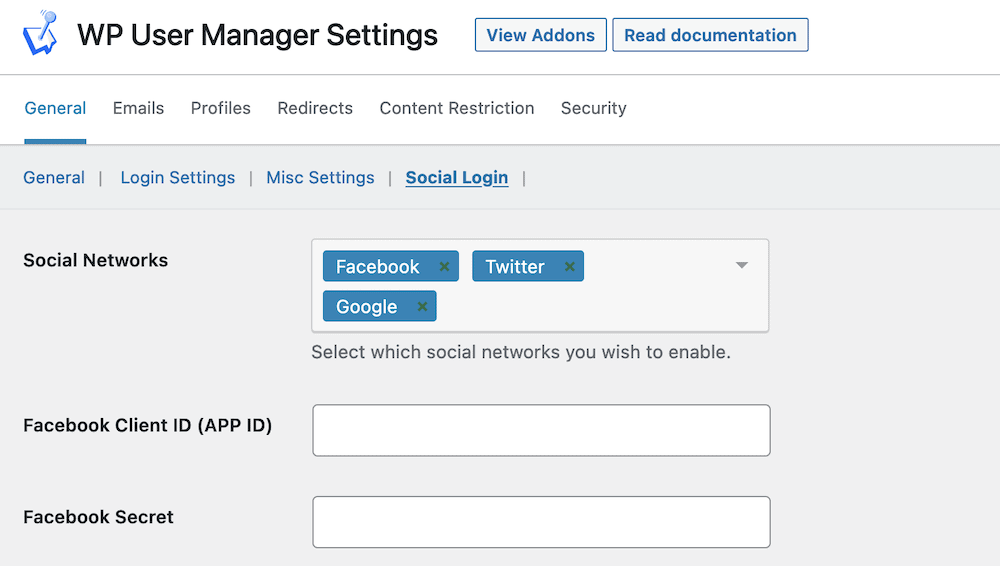 Finally, you'll use the Users > Roles screen to add, edit, and delete specific user roles on your site: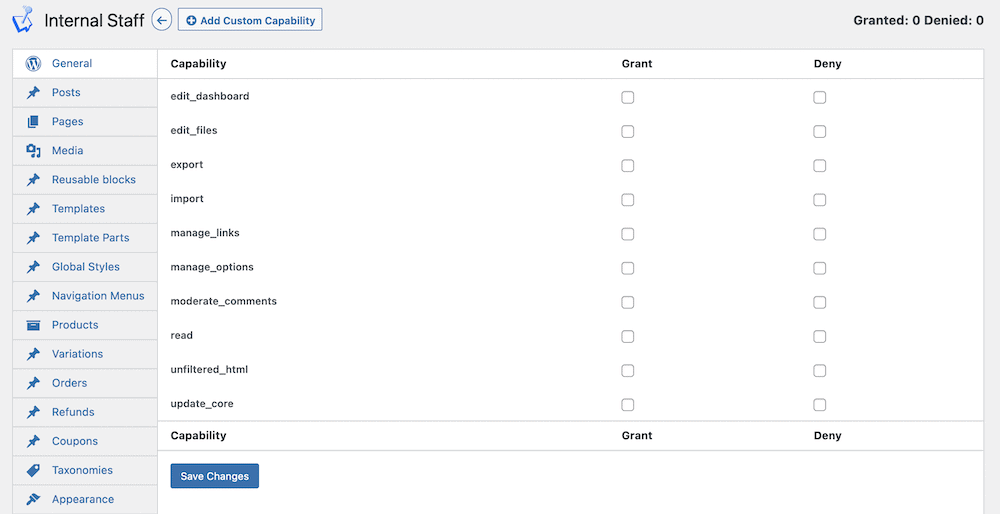 You'll be able to set permissions and access for almost every area of your WordPress website. This means WP User Manager can let you create custom user roles, specific to your site.
Conclusion
Your site's users are super important, especially if you need them to have a login profile. In these cases, you'll often look to make your site the hub of a community. As such, you'll want to exercise fantastic user profile management in order to help everyone use your site in the most optimal way.
Not only that, you'll also want to make sure you can manage profiles as and when you need to. To do this, you might want to consider a plugin such as WP User Manager. This is the number one way to work with all of your users from the WordPress dashboard. What's more, premium subscriptions begin from $149 per year.
Do you have any questions about how to implement good user profile management on your site? Ask away in the comments section below!