No person is an island, and neither is a WordPress website! As such, you'll want to make sure there are lots of users hitting your site. To extend this further, you want lots of these users to return on a regular basis, as this can net you greater gains than 'churning' through new custom. A community website is a great way to achieve it.
There are lots of ways to present a community website, such as a blog with an active comments section. You could also implement a forum or bulletin board. Regardless, a dedicated user management plugin should be on your list of essential tools, such as WP User Manager.
We'll talk about what makes WP User Manager an ideal plugin to help you set up a community website later on in the article. First, we'll go over what a community website is, and what it brings to the table.
What a Community Website Is
A "community website" is a broad term that may not do your specific site justice. It's a catch-all description of a site that bases its functionality and presentation around its users.
There are a few different types of community site you could set up:
A social network is technically a community website.
Bulletin boards, forums, and other online discussion platforms have an obvious need for user participation and community.
Blogging could be passive for the reader, but if you staff the comments section and encourage engagement, you can turn those visitors into a loyal community that returns to your site over and again.
You'll find plenty of other types of community websites, all with the same focus of fostering engagement and community – an interactive, visitor-first approach.
The Benefits of Basing a Community Around Your Website
However, both sides of the equation – you and your users – need reasons to come back to your site and engage with others. The good news is there are lots of positives when it comes to creating a community website:
Your readers will find content that appeals to them, and will keep appealing to them. This can bring them back to your site in the future.
Depending on the topic and niche of your site, your user community can help and inspire each other through sharing ideas and advice.
In a business sense, a community website needs less marketing and traffic mining to stay afloat. This is a big benefit, because returning visitors will spend more and engage at a greater frequency than new ones.
By extension, those returning visitors will be more loyal, which makes it easier to sell to them if necessary. Even better, you'll 'pre-qualify' all returning visitors. This is a marketing term that means you're selecting them based on the data you have. In this case, they return to your site, so will already have an interest in what you offer.
So, there are solid business reasons to set up a community website, and benevolent ones too. What's more, if you use WordPress, you'll have a straightforward time when it comes to the setup of your site.
How to Build a Community Website Using WordPress
WordPress is the number one Content Management System (CMS) in the world, but it has a fantastic base for your community website too. For a start, you'll have content marketing – i.e. blogging – capabilities out of the box, including comment sections and moderation tools.
The platform also comes with basic user management tools. This lets you restrict what certain users can do based on a dedicated user role, and it's vital for a strong community website.
Get Started with the Best WordPress Membership Plugin
Today
Connect, Manage and Build your Membership Site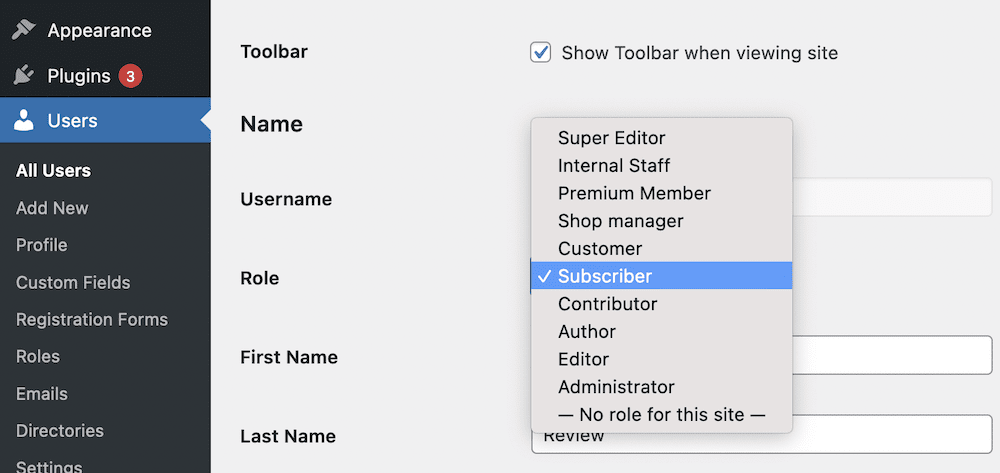 Also, while WordPress is a full-featured platform, you can extend it using plugins. When it comes to building a community website, you won't have everything you need at the typical standard you'll need. This is where plugins come into play.
You can find all sorts of plugins to help you implement forums, better manage users, and more. WP User Manager comes with features and functionality to help you look after users on your site.
We'll look at the plugin more throughout the rest of the article, but let's give you the lowdown before we look at where you can press it into service.
How WP User Manager Can Help You Build a Community Website

When it comes to user administration, WP User Manager is hard to beat. It offers a robust feature set that can cover a lot of different bases:
For instance, users have full control over their profile. This includes personalized avatars, the ability to login using social networks, and more.
You have administrative and security tools to help your users too. For example, Two-Factor Authentication (2FA) is available, the ability for the user to select a specific role upon registration, and automatic login and password management.
There's full-featured user management in the box to help protect users, prune signups, and more. There's even a powerful user role and capabilities editor if you need to create custom roles.
When it comes to community features, WP User Manager lets you implement elements such as groups, user directories, and even lets you collect payments if you choose to charge for memberships.
We'll have much more to say about WP User Manager across the rest of this article. However, from $149 per year, you can use the premium version of WP User Manager with a 30-day money-back guarantee.
The Core Features You'll Need for Your Website
While there are lots of potential features and functionality you can employ on your community website, there are five core aspects that you'll definitely want to cover.
Over the rest of this article, we'll look at them in brief. We'll also note what WP User Manager can do to help you implement each element.
Social Logins
Giving the visitor choice is an important aspect of your community website. For instance, the greater choice for logging in, the more visitors will want to do so. As such, social login functionality is key for both new and returning visitors.
WP User Manager lets you add Facebook, Twitter, Google, Instagram, and LinkedIn options on your login forms, complete with a good-looking design: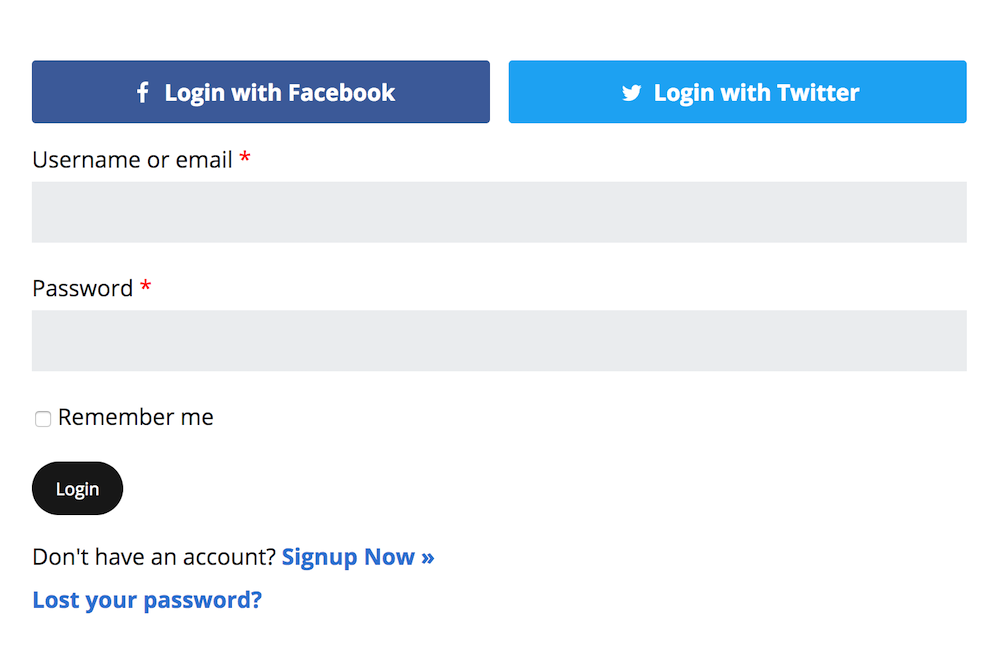 What's more, you can design the form to your own needs on the Users > Settings screen within the WordPress dashboard:
You're able to choose where the login buttons go on the page, and which social networks you'll cover. What's more, WP User Manager will pull the user's name from the specific social network, to help cut down on completing the form by hand.
Avatars and Profile Management
Giving users control over their own profiles is a big way you can develop loyalty. After all, if you trust the user with their own space on your site, they can trust you when it comes to potential purchases or membership subscriptions.
Personalizing their profile is a small but valuable step. WP User Manager features gorgeous custom profile pages for each user, with fields courtesy of the Custom Fields add-on: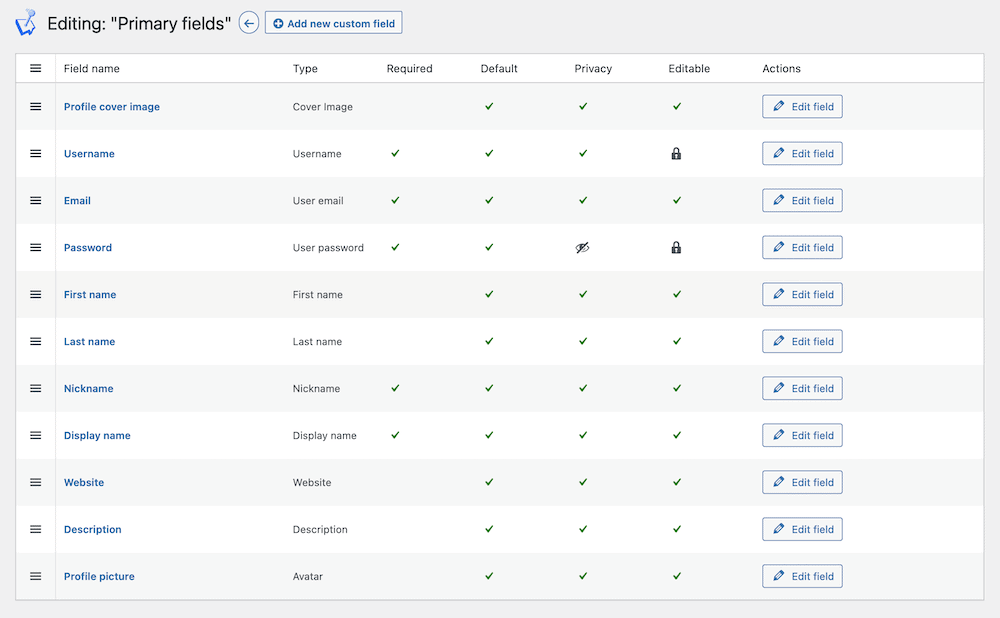 This lets them add a short bio, and showcases the recent posts and comments they make on the site. What's more, they can also add an avatar. All this happens through the familiar WordPress profile interface. This makes it straightforward regardless of the complexity of the profile page.
User Engagement Functionality
A community website wouldn't be much without a means to engage users and let them integrate with each other. This is one area where you might want a supplementary plugin alongside WP User Manager, depending on the site you choose to build.
For example, WP User Manager can't help you set up a form, but BuddyPress can:

WordPress (of course) gives you commenting functionality by default, which you'll find on pages: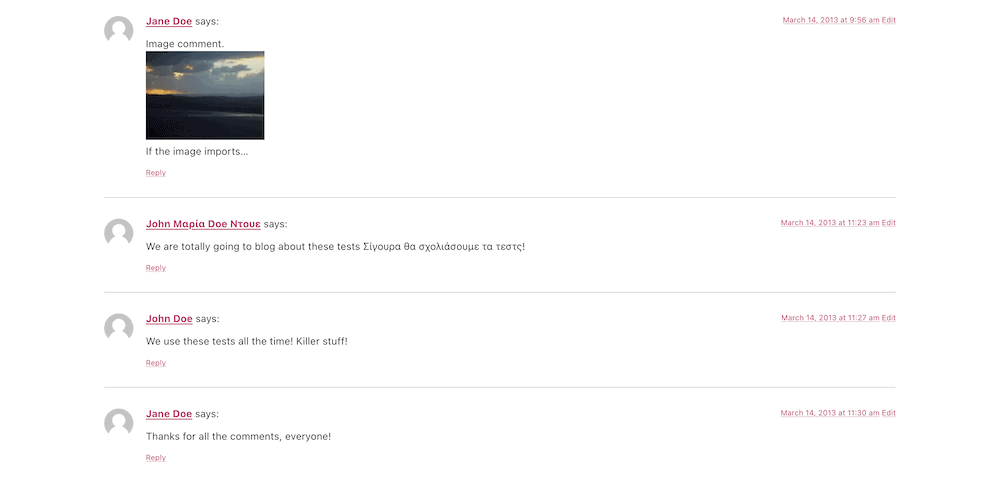 This is a good start, but WP User Manager can give you more. For instance, you have access to user directories that makes it a cinch to find each other among the hundreds and thousands of users.
You can also use the Groups add-on to let you create and manage specific niche and custom groups for your visitors to join.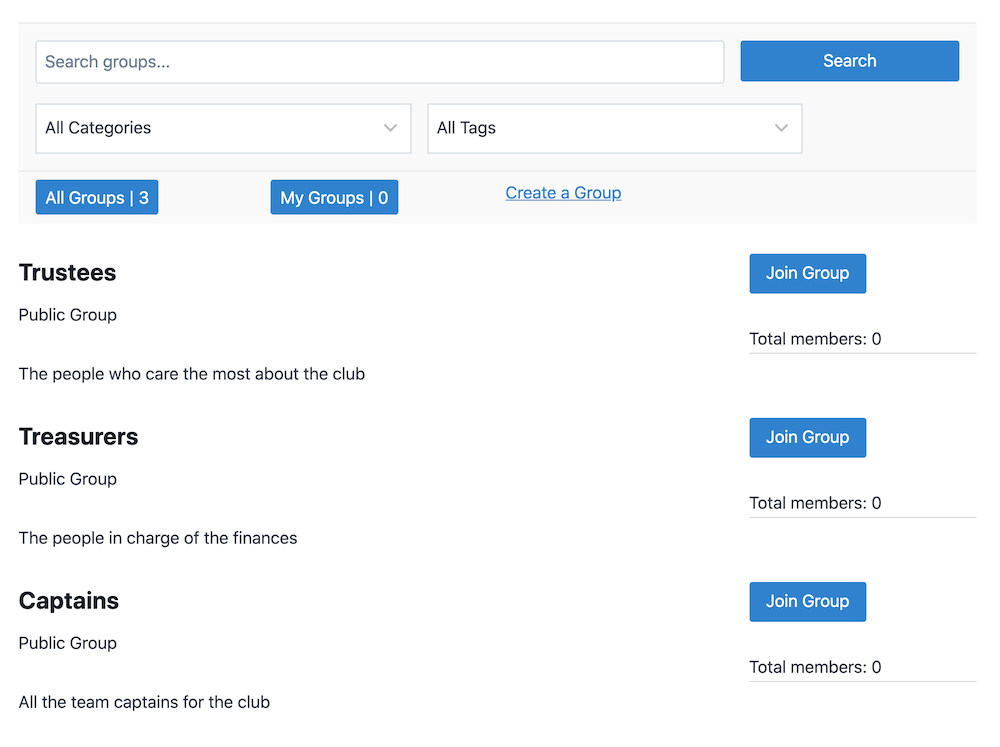 You can make them public or private, assign moderators and owners, and offer a searchable directory of groups too. Even better, you can display those groups on individual profile pages so other users can find those interesting to them.
Private and Public Messaging
Speaking of public and private groups, this also extends to messaging one another on your site. You'll want to implement this in some fashion, mainly because you won't want users to head offsite in order to converse. After all, a community website should provide myriad ways to connect.
Again, BuddyPress is a good way to implement private messaging functionality on your site if you need this. WP User Manager will let you implement public messaging to a certain extent through its Groups functionality.
For example, you could create the ability to set up groups, then offer gated content for each specific community using conditional logic (courtesy of the Conditional Blocks plugin):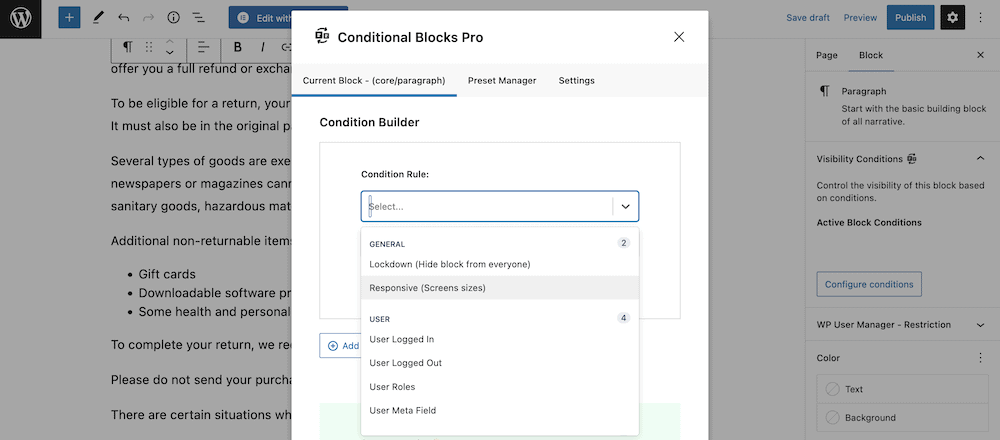 This could be a BuddyPress forum or private messaging setup, dedicated blog posts with restricted comments sections, or something else that suits your needs.
Moderation
With all of the user activity on your new community website, you'll want to be able to moderate the discourse. This will be necessary (and even legal) in some cases. In general, users will want the ability to control access to content, blog posts, and forms.
WordPress includes comment moderation settings within the Settings > Discussion screen. These are default, core options that will even be available if you choose to run no plugins at all: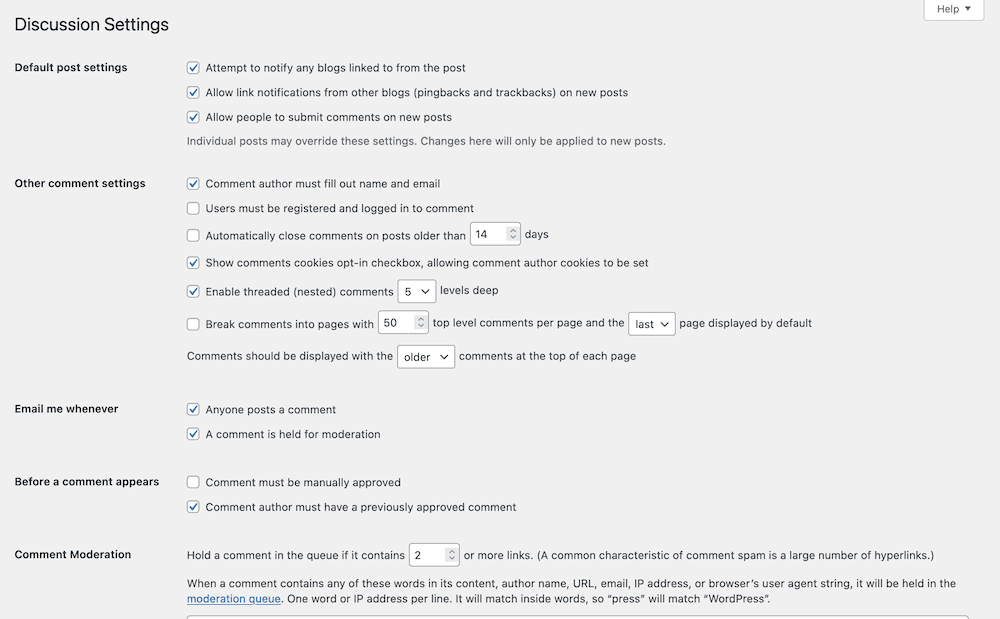 Group administrations also have the ability to moderate users who wish to join groups too. This ties into content restriction to some extent also. For instance, you can set specific groups when you look to gate content.
Even better, you have user moderation functionality within WP User Manager. On a site-wide level, WP User Manager implements block and allow lists to help you manage users who are a potential threat to your site.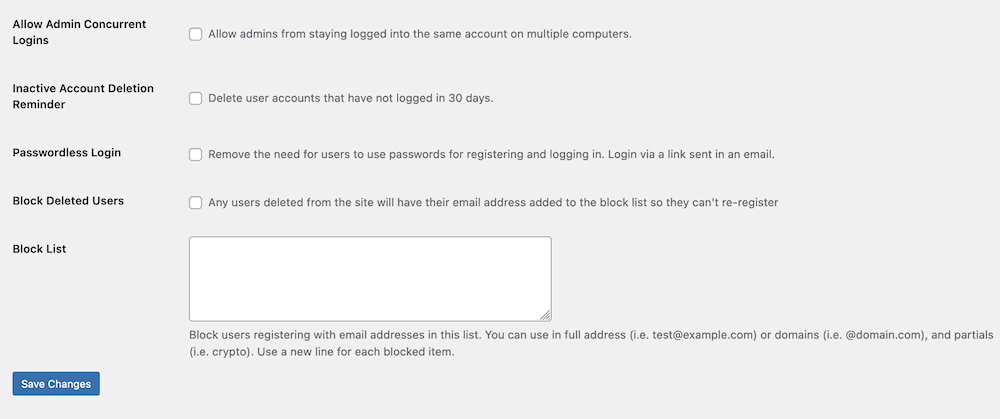 All of this is on top of whatever plugins you also use to implement community features which makes your setup flexible regardless of its makeup.
Wrapping Up
As Field of Dreams states, "If you build it, they will come." While this isn't completely true, focusing on building a community with your WordPress website will give you the best chance to harness returning visitors. A community website is a stellar way to engage with your users, and could also cut down the time and effort it takes to win new business.
WP User Manager is one of the best WordPress community plugins on the market. It gives you powerful tools to help you manage users and give them ownership over their corner of your site. What's more, you can keep those users safe, and offer them ways to connect with each other too.
Do you have any questions about building a community website using WP User Manager? Ask away in the comments section below!