Interactivity is core to the web. Letting a new user register for your site is a key piece of interactivity, and it's essential if you want to foster a community. WordPress user registration doesn't have to be a chore either, especially with the right plugin to hand.
There are a lot of plugins that can help you register and manage users, but not all will give you the functionality you need. While a form builder is required, you'll also want a system in place to manage your new users with ease. What's more, you should look for one that offers a minimal or no need for technical knowledge.
For this tutorial, we'll show you how to build an effective form for optimal WordPress user registration. First, let's talk a little about why you should worry about WordPress user registration at all.
An Introduction to WordPress User Registration (And Why You Should Care)
You likely already know about registering for websites, as it's a common and typical way to bring new users to you.
From a technical point of view, user registration lets people create personal accounts on your website. This will grant them various privileges and let them interact with your site's content.
Consuming exclusive content, commenting on articles, participating on forums, and making purchases are only some of the different ways a user can engage with your site. As such, interactive websites such as e-commerce platforms, discussion forums, or membership-based communities all require user registration functionality.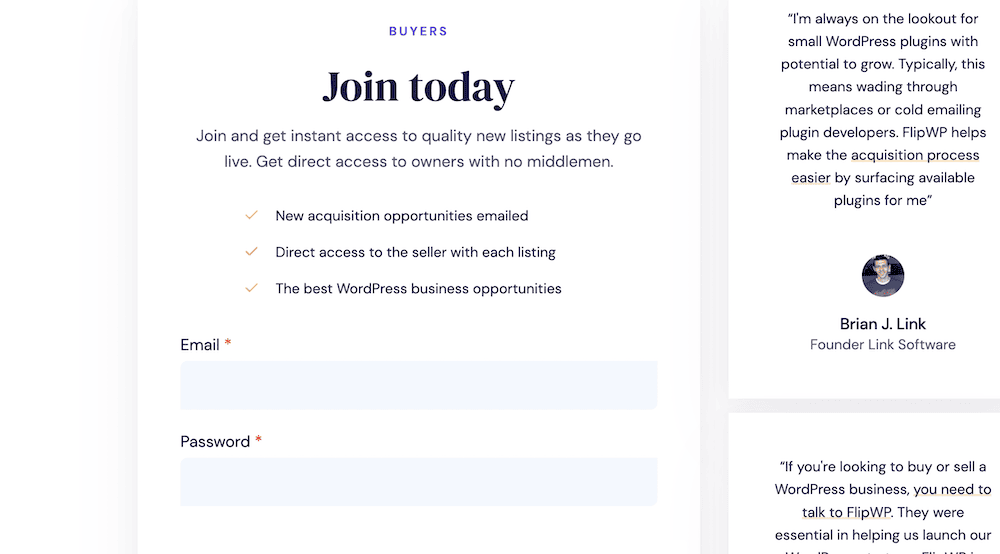 Letting users register for your site is a direct way to foster user engagement, enhance security, and tailor content and services to individual users, resulting in a more dynamic and interactive online community.
What's more, you can personalize content using the valuable information you obtain through user profiles and interactions. You might even set up a targeted marketing campaign, depending on the site and your goals. This is often a benefit for membership and subscription sites.
Of course, user registration fosters the development of an active and engaged online community. This builds loyalty to your site, and brings users into your 'sphere of influence' from which you can target them even further.
You'll also find that WordPress user registration lets you strengthen your site's security. For instance, you'll use password protection and user roles and permissions. It also lets you reduce spam given the right moderation system.
Get Started with the Best WordPress Membership Plugin
Today
Connect, Manage and Build your Membership Site
Why a WordPress User Registration Plugin Is a Good Idea
While you could implement a WordPress user registration for your site using a manual approach, this won't be the best use of your time. This has a few different drawbacks:
First, you'll need the technical knowledge to implement your system. If you don't have this already, it's not easy to obtain quickly.
You will need plenty of time and resources to not only implement your WordPress user registration system, but troubleshoot and maintain it too.
You can't hope to implement everything you need in a timely manner and have it bug free too. Instead, it's best to turn to the experts in the form of WordPress developers. The plugins they create can give you plenty of benefits:
Most of the hard work is already packaged up in a plugin. This means you can worry about how to bring users to your site rather than how to implement complex functionality.
A developer can offer you greater functionality in a plugin than you would be able to provide with a manual approach.
Using plugins is the typical way you'll implement WordPress functionality. This means if you do need support, you'll be in a good place to request it.
However, choosing a WordPress user registration plugin won't be as straightforward. Not every solution can provide the functionality you need, nor offer the same level of quality. Next, we'll look at this in greater detail.
What to Look for in a WordPress User Registration Plugin
There are two aspects to note when it comes to finding a WordPress user registration plugin: technical considerations, and feature sets. We recommend you begin with the technical considerations, as this will keep your site safe and the support provision high.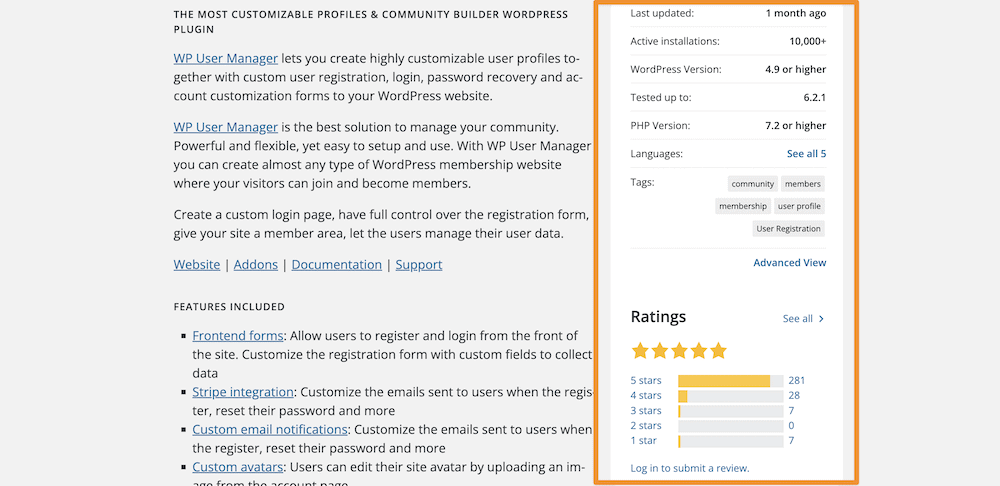 Here's what to look for:
Consider the average rating of the plugin from other users. You can dismiss any plugin that doesn't have over a 4.5 out of five star rating.
Speaking of reviews, take a look at the one-star examples, and see if any recurring themes stick out. You'll want to see that the developer spots and resolves those issues to your satisfaction.
Check also that the developer updates the plugin often. If the last update was longer than six months, you can dismiss the plugin from your list.
From there, you should have a selection of plugins to investigate. While we can't give you a definitive list of features and functionality, you'll want the ability to create registration forms, and a system to organize your signups and users.
In fact, it's a good idea to look at what a plugin can offer you, as this can give you an idea of the scope you can get. Let's do this next.
Introducing WP User Manager
When it comes to WordPress user registration plugins, WP User Manager is one of the best.
It offers extensive features for managing user registrations, and comes with hundreds of five-star reviews on the WordPress Plugin Directory.

You have some of the basic requirements for user registration, but a whole host of advanced functionality too. Here's a quick summary:
The plugin offers a familiar and straightforward User Interface (UI) that's simple to navigate.
You can set up powerful registration forms that look good, without the need for technical knowledge or complex settings.
You're able to grant different user roles and permissions using a dedicated editor. This lets you control access to site content and features. What's more, you can manage user profiles, update information, and even assign membership levels or subscriptions for premium content.
When it comes to user profiles, WP User Manager lets you implement profiles with avatar uploads, social media integration, activity tracking, and more.
The free version of the plugin includes a lot, but the premium plugin offers much more. A single-site license starts from $149 per year. However, the Pro tier also includes the Registration Forms add-on, which lets you create multiple forms for your site and provides more settings to tweak.
How WP User Manager Can Help You Create a WordPress User Registration Form
Across the rest of this article, we'll look at how you can create a user registration form with WP User Manager. This will likely be the hardest part of the WordPress user registration process, and even this is straightforward!
1. Install and Activate the Plugin
If you already have WordPress experience, the WP User Manager installation process will be simple. In fact, installing and activating WP User Manager is the same as almost every other WordPress plugin.
For the free version, you can do this from the Plugins > Add New screen on the WordPress dashboard. With the premium version, you'll need to upload the ZIP file to your site. The WP User Manager documentation has complete guides on how to install and activate the plugin in a number of different ways.
Once you do this, you can begin to create your registration forms.
2. Create a Form and Customize It
While the premium plugin lets you create multiple registration forms, you don't need this to create an effective system. The free plugin includes a default form for you on the Users > Registration Forms screen:

If you click through to this form, you come to its editing screen. Here, you'll see two sections: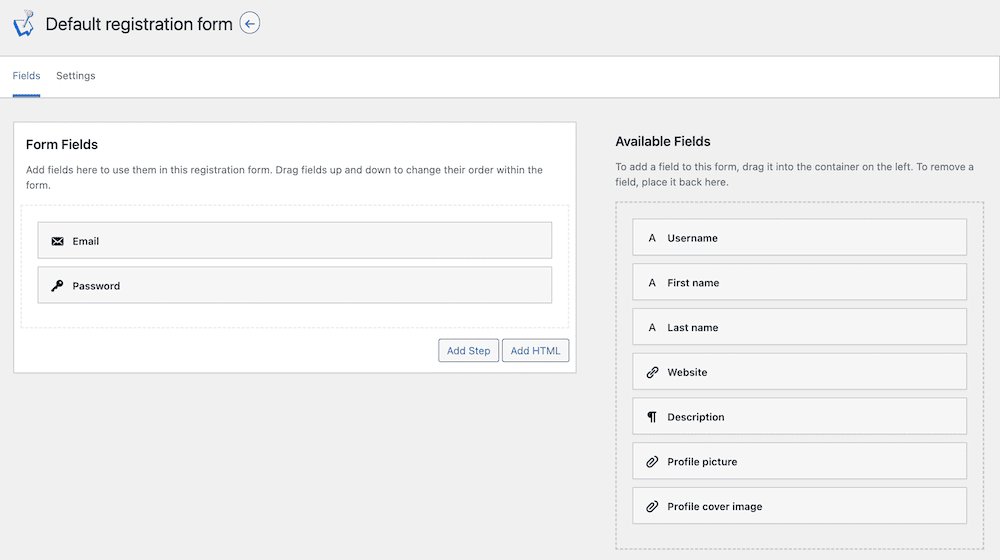 On the left are the fields that will show on your form. On the right, the form fields you have available. You can drag elements between these two sections to build your form.
It's a good idea to use as little fields as possible on your forms, to help with your conversion rate. However, with the Registration Forms add-on, you could make multi-step forms if you have to ask all of the questions upfront.
There are also plenty of ways to customize your form. We cover a number of ways in our post on how to create a custom WordPress registration form. Again, the Registration Forms add-on gives you greater options. One lets you add further HTML code to your forms. This means you can customize it almost in whatever way you wish.
3. Add Your Registration Form to Your WordPress Website
Once you save your form's changes, you'll need to add it to your WordPress website. How you do this depends on which editor you like to use. For Block Editor users, there's a dedicated Block to add your registration form: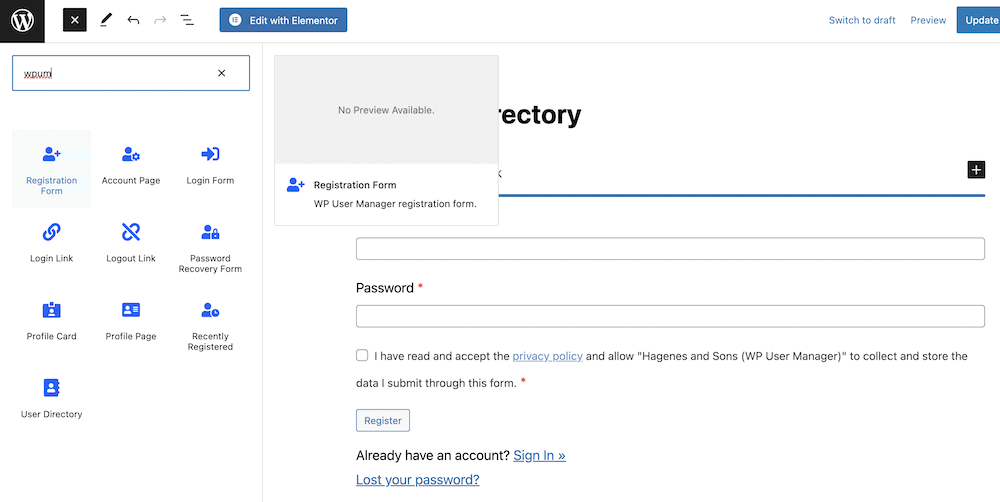 However, WP User Manager also offers shortcodes too. Once you place your form on your page, you can check it out on the front end. It will adapt to your current site styling without any need to make adjustments on your part. This means you can put up a registration form in a matter of minutes and carry on working on your site with no time lost.
Conclusion
If your site needs users, you'll have to have a way to intake them. WordPress user registration starts with an optimal form. If you include the right fields and wrap it in the right interface, you'll give potential new users a way to sign up fast.
WP User Manager can help you build gorgeous and effective registration forms. However, it can do much more. It's the best way to create a user management system on your WordPress website. It lets you administrate your user base, connect everyone in various ways, and integrate lots of third-party services. Even better, a single-site license starts from $149 per year.
Do you have any questions about WordPress user registration and how to achieve it on your site? Ask away in the comments section below!