Welcome to 2022 and another major update to WP User Manager 🎉
WP User Manager 2.7 introduces the ability to collect payment at registration using WooCommerce and the WooCommerce addon for WP User Manager, along with role improvements and a host of fixes and addon releases. Let's get into it.
Collect Payment at Registration
It's been a long-requested feature of WP User Manager – being able to take payment for the registration of users on your site. As of today, the WooCommerce addon brings checkout integration to the registration form.
Leveraging the ecommerce solution of WooCommerce, you can now use a WooCommerce virtual product to get users to purchase as part of the WP User Manager registration process, seamlessly integrating the checkout as a registration step.
You can choose one product to be purchased or allow your users to choose from a list of products. Payment at registration or later from the account page is possible. Site access can be completely restricted until payment is received, or you can restrict specific content to users who have paid with the Content Restriction addon.
This functionality requires WooCommerce and the WooCommerce addon. 
Learn more about collecting payment at registration with WP User Manager and WooCommerce
Role Improvements
This release brings a number of improvements to managing users and their roles.
User Role Field Type
There's a new field type available in the Custom Fields addon – the User Role field – which allows users to select their role when registering or from their account. Site admins can select a list of allowed roles for users to choose from.
Multiple Roles
WP User Manager v2.4 introduced the Roles Editor to view, edit, delete, duplicate and add new roles on your site. However, WordPress by default allows only one role per user. It's now possible to set multiple roles for users when the 'Allow Multiple Roles' is enabled via Users > Settings > General > Misc Settings.
Conditional Fields by Role
In the last of the role improvements in this release, it is now possible to make custom fields appear only to users with specific roles. This means you can create custom fields for specific roles. Only want to have you site authors fill out specific details about themselves? No problem.
The role(s) can be set when editing the custom field in the 'Permissions' tab: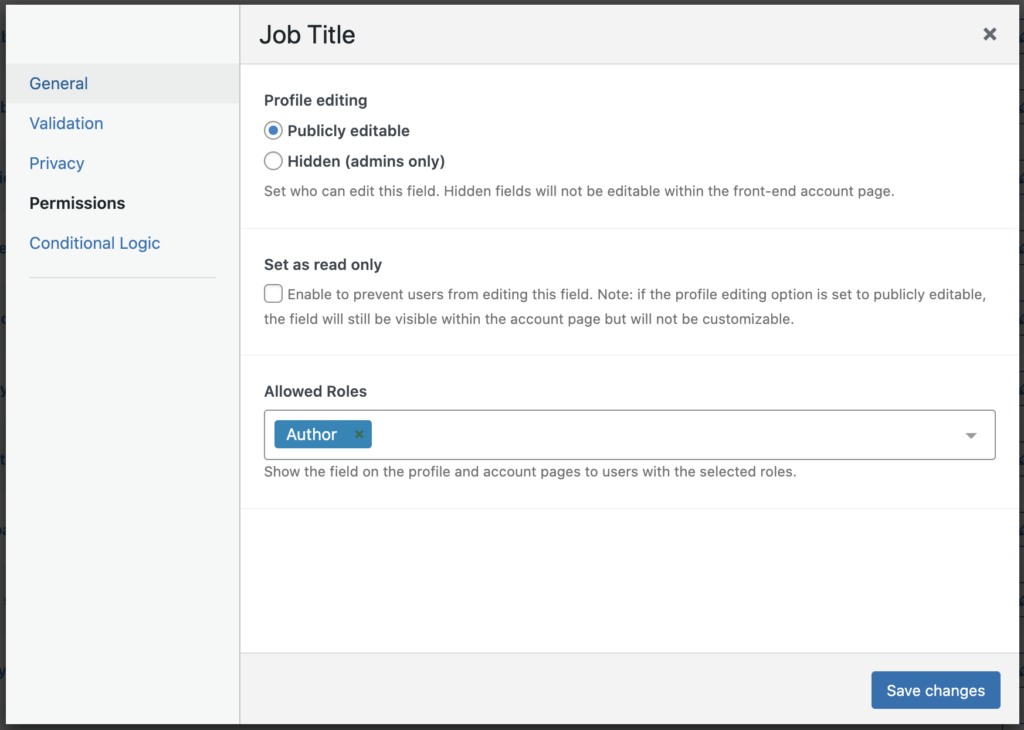 Releases
Due to updates needed to be compatible with the new features, there's been a number of releases for WP User Manager and its addons:
Checkout the full changelogs for all the details.
Up Next
The next release will focus on improvements to the WP User Manager image handling (avatars and profile cover images), updating the image editor and improving file sizes.
I'm also working on a dedicated Stripe addon that will allow you to use Stripe Checkout and Billing with WP User Manager.
What do you think of the new features? What missing features in WP User Manager are most important to you? Please let me know in the comments.
Get Started with the Best WordPress Membership Plugin
Today
Connect, Manage and Build your Membership Site