One of the main reasons WordPress has become so immensely popular is because it's very easy to use. You can build and launch a company intranet site, sports team site, membership site, or online community in no time. However, there's one thing that brings these sites together.
You need to allow visitors to register, create, and manage their accounts. Getting a WordPress member directory up and running is a question that can lead to many sleepless nights trying to configure your WordPress site. To help you out, we've put together an easy-to-follow step-by-step guide.
What Are Directory Listings in WordPress?
The directory is a common word you'll bump into if you take a close look at WordPress plugins. In its broadest sense, it refers to something that contains lists. The items on the list can be many. The most commonly seen ones are a business directory and a membership directory.
WordPress member directories contain the information on all users that have registered on your WordPress website. Users can register to get into your WordPress member directory, or you can add them manually.
A WordPress member directory is, therefore, an essential tool because you will be able to use it to build comprehensive lists of users and their details. You can create detailed site users' profiles and categorize them to improve their online experience.
How To Choose the Best WordPress Member Directory Plugin?
WordPress doesn't have a native tool that streamlines the member directory process. You'll have to use a WordPress plugin to enable user registration WordPress, which brings us to the next issue – choosing the best WordPress member directory plugin.
WordPress member directory plugins come in all shapes and sizes. However, they are not all created equal. Some come with beautiful WordPress registration form templates, while others enable smooth integration and provide complete control over user roles and capabilities settings.
When you are looking at WordPress registration plugins, you will need to pay attention to the following features:
Branding.

Can you customize the directory plugin to match your website theme and colors?

Easy installation

Is it hassle-free? Nobody wants to slave away having installed a plugin.

Affordable pricing

Here at WP User Manager, our plugin is free and always will be. Our paid extensions allow you to enhance the power of WPUM even more.

Good customer support

Is there comprehensive documentation and contact support?

Easy to Browse

Can you create pagination and avatars as well as the normal user details you would expect?

Social Login

The ease and simplicity of social logins are making them increasingly popular.
WP User Manager handles all of these with the following features:
Get Started with the Best WordPress Membership Plugin
Today
Connect, Manage and Build your Membership Site
Frontend forms: Allow users to register and login from the front of the site. Customize the registration form with custom fields to collect data.
Custom email notifications: Customize the emails sent to users when they register, reset their password, and more.
Custom avatars: Users can edit their site avatar by uploading an image from the account page.
Elegant user profiles: All users have a public profile page to display their data.
Shortcodes editor: Easily add the plugin shortcodes to pages or posts with the shortcode generator and editor.
Roles editor: Edit roles and their capabilities. Create new roles and duplicate existing ones.
Beautiful user directories: Display users in directories that can be displayed anywhere on the site.
SEO URLs: All the URLs are SEO friendly.
Content restriction: Restrict content for certain users by logged in status or by role.
Passwords management: Allow users to update their password from their account page.
Custom fields editor: Create custom user fields that can be used to collect data on registration.
Custom widgets: Display user data and forms in sidebars using widgets.
Custom redirects: Control where the users are redirected to on login, registration, and more.
Developer friendly: Customize and integrate with other plugins with a large number of hooks .and filters
Extensive documentation: Full documentation and expert support
Translation Ready – The plugin and addons are fully localized ready for translation
How To Create a Member Directory in WordPress?
To create a WordPress member directory, you first need to download and install a WordPress member directory plugin. Obviously, we recommend WP User Manager. You can find and download it on WordPress.org.
WP User Manager shines in all departments. It's easy to install, streamlines user registration setup, automatically matches your WP theme, supports customizations, and it's developer-friendly.
Step 1: Install the WP User Manager Plugin
Whether it is your first WordPress plugin you have to install manually or you are a WordPress guru, installing the WP User Manager Plugin is easy. Log into your WordPress dashboard, navigate to the "Plugins" page, and do the following:
Type "WP User Manager" in the search field and click on the "Search Plugins."
Select the "WP User Manager" plugin and click "Install Now."
Click "Activate" to finalize the installation and activate the plugin on your website.
That's it – now you can turn your WordPress site into basically any type of membership site. Before creating a member directory, you'll need to configure the plugin.
Step 2: Configuration
To access the configuration options, click on "Users," located in the left bar. Choose "Settings," and it will open General Settings for WP User Manager Plugin.
Pages Setup
Upon activation, the WP User Manager will create five different pages. The plugin uses them to process frontend profiles. These are plain WordPress pages. If you want to create your own custom pages, you can do it. To link them with the plugin, all you have to do is copy/paste the relevant shortcode for each one of them. We'll come back to the page setup in Step 5.
Login Setup
If you want a fancy login for your site, you can disable access to the default wp-login.php and redirect visitors to your custom WP User Manager login page.
You can also choose to enable users to log in with only their username, email, or both. Additionally, you can disable access to the admin bar to specific user roles and create a list of usernames your visitors can't use.
Step 4: Setup Profiles
To set up profiles, navigate to "Users > Settings > Profiles."
By default, guests are not allowed to view user profiles, and members can only see their profiles. The settings allow you to lift these restrictions if you want.
You can allow your members to upload custom aviators for their profiles by enabling the "Custom Avatars" option.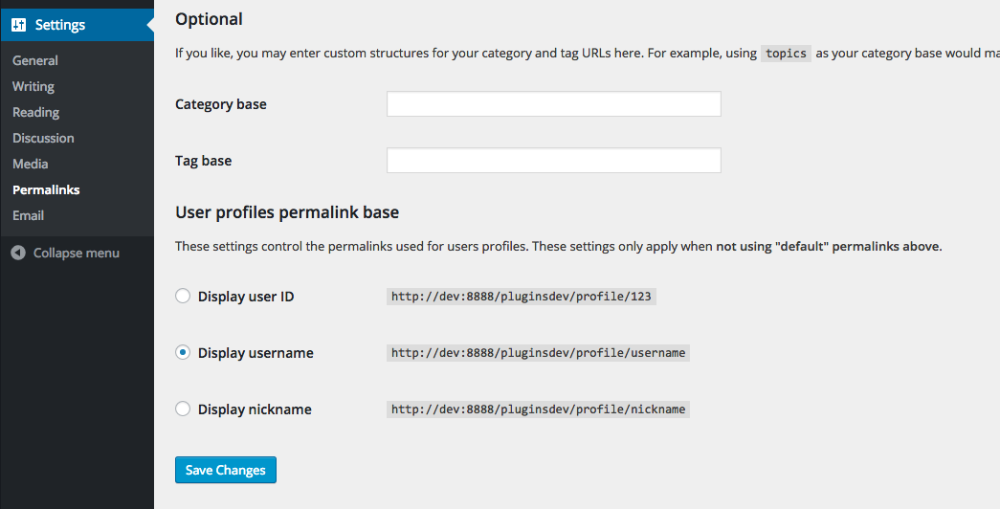 You can also customize the URL structure for your user profiles. Navigate to "Settings > Permalinks > User profiles permalink base" and choose one of the three options available.
Step 5: Setup the WP User Manager Pages
As we said earlier, WP User Manager requires five pages to work properly – account, profile, registration, login, and password recovery page. However, the plugin creates plain WP pages – if you want something fancier, you'll have to build each page manually.
Building pages on WordPress is easy – all you have to do is navigate to "Pages > Add New." Give your page a title and add a relevant shortcode to the page content for each of the pages. Once you create pages, go to "Users > Settings" select every page one by one, and assign it the relevant option (e.g., "Account Page" or "Profile Page")
Account Page
Your members will use the account page to manage their profiles, including changing their passwords and information.
Profile Page
Profile page enables your members to see profiles of other members, including their own profile.
Registration Page
The plugin will use your Registration page whenever a user decides to register with your site.
Login Page
All WordPress login plugins have a login page, so does WP User Manager. Registered users will be able to use this page to log in to their account on your site. You can find details on how to create a custom WordPress login page here.
Password Recovery Page
If members lose their password, this page will help them recover it and get access to their accounts.
Step 6: Create a User Directory
Finally, when you have it all set up, you can start creating lists of registered members on your website. You can group them by different criteria and build as many directories as you want. To create a user directory, navigate to "Users > Directories" and click "Add New." Give your directory a name and choose grouping criteria. Leave the rest to the WP User Manager plugin, and it will create beautiful user directories.
Step 7: Add the User Directory to Page
Your User Directory has been created, but it's still not up on your website. Your next step is to add it to a page. You have two options – create a new page, or edit and add it to an existing page. The option is available for WP users who either use the Classic Editor or the Block Editor.
Here is what you need to do to add the user directory to a page if you are using the Classic Editor.
Every directory you create via WP User Manager has a unique shortcode. To create a new page and add the user directory to it, you need to copy the shortcode. Head to "Users > Directories" to access the directory list page.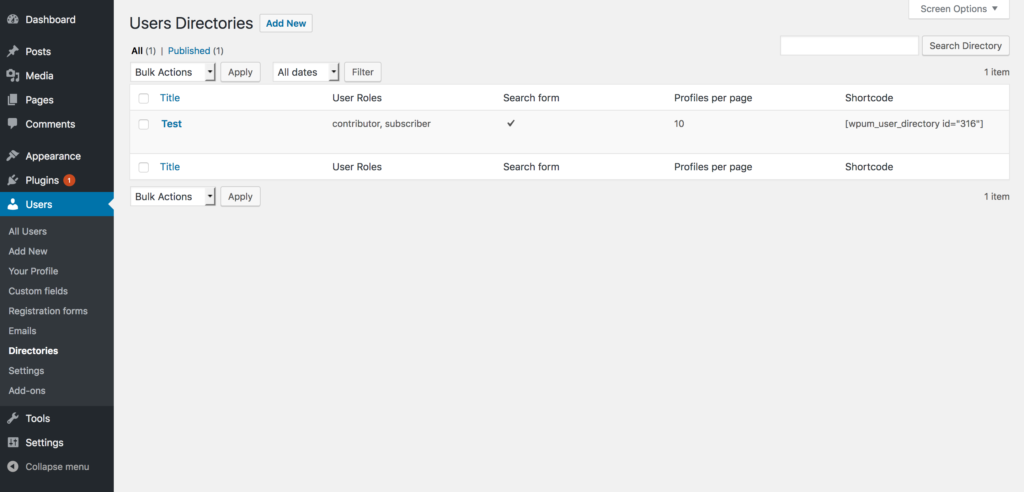 Copy the shortcode for your user directory. Then head to "Pages > Add new." Click on the page content field and paste the shortcode. Click on the "Update" button to complete the action.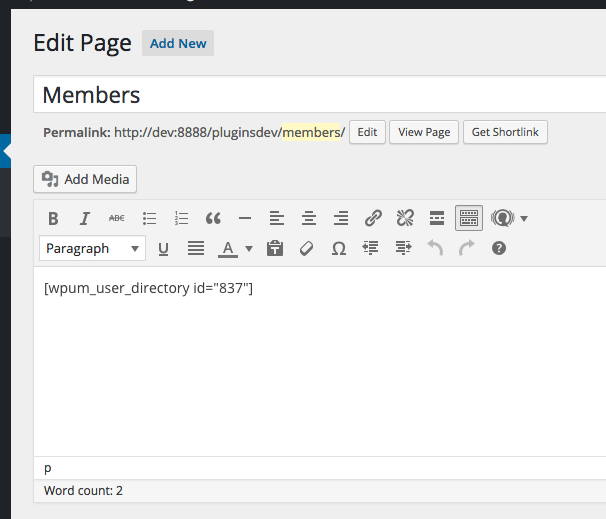 To add the user directory to an existing page, copy the shortcode following the instructions above. Then you want to head to "Pages." Click the name of the page you want to add the user directory to and paste the shortcode in the content field. Click on the "Update" button to finish the process.
If you are using the Block Editor, the process is much simpler. WP User Manager comes with pre-built ten custom blocks ready for use.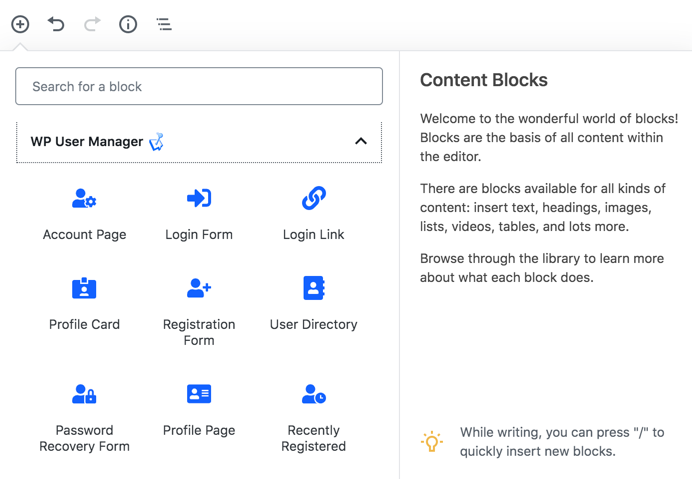 The WPUM directory block functionality is available via the block editor whether you want to add a new page or edit an existing one. You can select which custom block you want to add, customize it, and instantly add it to a page.
WP User Manager delivers outstanding functionality to end-users. It comes with an extensive list of settings both you and your website visitors can use to easily browse through a directory:
Searchability – every user directory created by WPUM is searchable. For instance, you can search users by name or location. The search results are compiled with readability in mind. You can enable or disable search for every user directory and choose which filters users can apply.
Display filter – display filter enables users to filter the search results and easily find what they are looking for. For instance, users can choose how many results they want to see per page. You have complete control over the display filters in the backend.
Sort by – users can sort the search results by various criteria or sort the results by date. Your visitors can change the sorting order from the frontend. The feature comes built-in, and you don't have to write a single line of code to implement it. You can enable sorting, display amount filter, and choose the primary sorting method in the backend.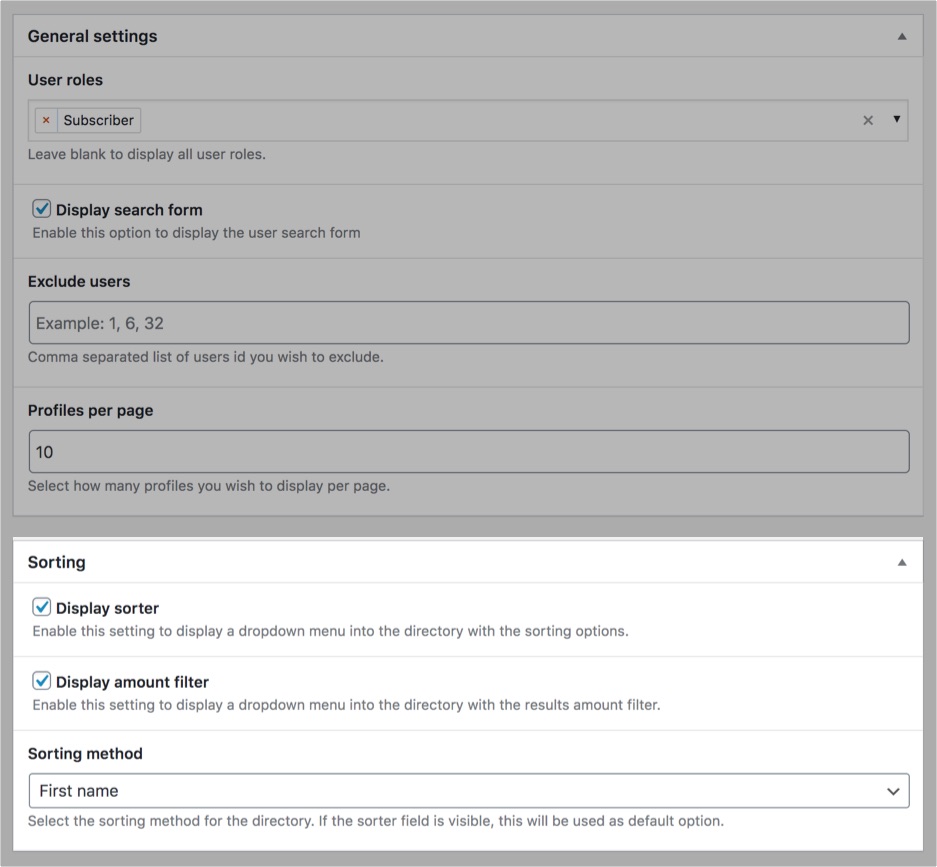 You should be aware of the common problems people face when getting a WP member directory. In their effort to make the profiles more engaging, WP admins often add post counters. These take a heavy toll on the site's database and can significantly impact the site's performance.
Page-builders can also affect the performance, especially if you use them for building five core pages of WP User Manager. They often contain chunks of unnecessary code and slow down the site's loading speed.
Hopefully, this answers your "How to get a WordPress members directory" question. As you can see, building something as complex as a membership directory is not as challenging as you've imagined.
Thanks to an all-around WordPress login plugin, you can do wonders and effortlessly connect, manage, and build your WordPress membership site.