When it comes to the best WordPress membership plugins, Paid Memberships Pro is always near the top of the list. It has good development, a rich feature set, and more. However, it's far from the only solution, and you'll find plenty of contenders for a Paid Memberships Pro alternative.
For this post, we'll look at one particular Paid Membership Pro alternative, but also feature some others for your consideration. First, we're going to talk about why you'd want to use a Paid Memberships Pro alternative.
Why You Might Want to Use a Paid Memberships Pro Alternative
Paid Memberships Pro is one WordPress subscription plugin that always features on 'best of' lists. This is because there's a free plan, it has a lot of the basic features you'd expect from a plugin like this, and it's robust.

Paid Memberships Pro doesn't sit near the top of the tree without having quality. Here's what the plugin offers as a solid option to implement subscriptions and memberships:
Given the focus of the plugin, you'll have all of the options you'll need to restrict content. For instance, you can choose to restrict, single pages, default content, and more.
You're also able to create whatever structure you'd like for your the tiers and levels of your membership site. There's also ways to link child and parent accounts if required.
We like the administrative aspects of the plugin, such as the signup management, and reporting tools.
On the whole, Paid Memberships Pro is a plugin we talk about elsewhere on the WP User Manager blog. It features on our list of best WordPress subscription plugins, and we mention it throughout many other articles. However, the plugin doesn't have a reputation without flaws.
For instance, it only has an average rating of 4.3 out of five on WordPress.org. What's more, around 15 percent of those ratings score either one or two stars. Of those reviews, some users complain about payment integrations not working as intended, some useful functionality being sold as an add-on, and general buggy behavior.
While we would be inclined to take a lot of the harsh words at face value, there's no denying that a Paid Memberships Pro alternative might suit your needs better. Next, we'll look at our obvious favorite, then run down some other options.
WP User Manager – An Ideal Paid Memberships Pro Alternative
If you want not only the best WordPress subscription plugin, but the greatest user management plugin for WordPress, WP User Manager should be on your list. It gives you the tools you need to build a community using WordPress.

The feature set includes ways to help manage your users and roles, set up restricted content, set up some essential user security, and much more. In the next section, we'll look at what WP User Manager will give you, then discuss the price.
What WP User Manager Offers
WP User Manager isn't only a WordPress membership plugin. It can sit wherever you would assign and create user roles, set up paywalls, and more. Of course, it can also fulfill all of these roles at once.
Get Started with the Best WordPress Membership Plugin
Today
Connect, Manage and Build your Membership Site
In a nutshell, here's what you get in the box:
There are plenty of signup methods on hand. You're able to use social media login options and on-site registration forms. The latter has complete customization using a drag-and-drop builder. You're even able to add custom fields to those forms and collect the data you receive.
Once the user registers, they will be able to customize their profile, which includes avatars.
For you, there are lots of ways to keep users safe. The back end gives you access to Two-Factor Authentication (2FA,) automatic logins for users, and even the ability for those users to select a defined role upon registration.
Speaking of which, WP User Manager gives you superb and comprehensive user role management.
Let's touch on some of these points further. You can find almost all of the options for WP User Manager within WordPress' Users > Settings screen: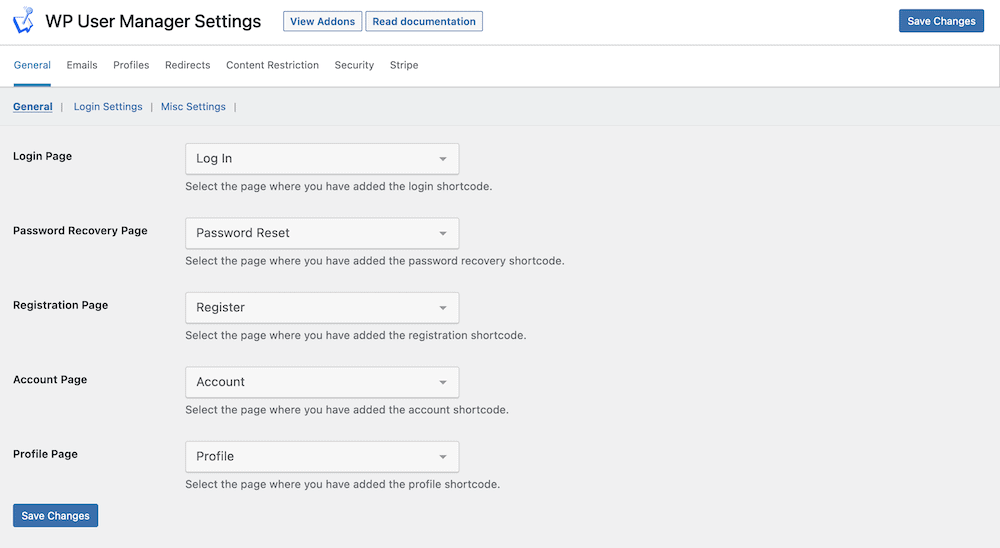 The available options will depend on which add-ons you install and activate. For instance, with the Social Login add-on, you'll see further settings on the General tab: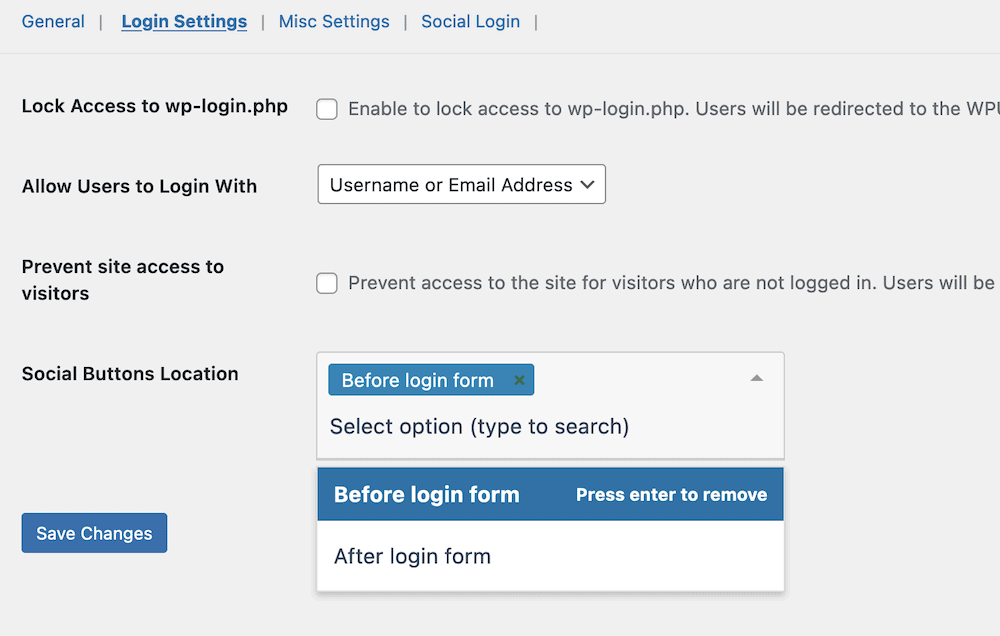 However, WP User Manager differs in subtle, yet important ways to Paid Memberships Pro. Let's discuss this next.
How WP User Manager Shapes Up as a Paid Memberships Pro alternative
Paid Memberships Pro offers plenty of quality when it comes to features, functionality, and support. However, the plugin has a greater focus on implementing memberships. In contrast, WP User Manager is more of a holistic tool to help in a number of situations. You'll also find direct integration of some key features.
For instance, Paid Memberships Pro offers social login functionality through an add-on. However, the add-on only connects to other services – it's a gateway to implement social logins. WP User Manager includes this as a direct integration, which saves you a plugin install, and reduces the chance of connectivity errors.
This trend continues with other Paid Memberships Pro features. For instance, if you wish to add directories and groups in order to foster a community on your WordPress site, both plugins can help. However, while WP User Manager offers direct implementation, Paid Memberships Pro only lets you connect with other services.
You're even able to charge for memberships with WP User Manager using built-in support for Stripe. With the Stripe Pro add-on, you can also remove the two percent fee you'd usually need to pay.
If this complexity doesn't interest you, Paid Memberships Pro might be a second-best alternative to a solution such as WP User Manager. In fact, one big area to compare both plugins will be on price. We'll look at this next.
WP User Manager: The Cost
Price is a primary concern for many site owners. This is especially true if you wish to create a WordPress membership site. As such, you'll want to make cost an important factor in choosing a Paid Memberships Pro alternative.
The good news is that WP User Manager blows away almost all of the competition. There are four tiers to choose from, and each offers greater functionality as they progress:
Starter. For $149 per year, you get the core functionality of the plugin, with a single-site license.
Plus. $199 per year gives you five licenses to use, and a selection of premium add-ons.
Pro. $299 per year provides the full WP User Management experience across ten different sites.
Agency. This plan costs $599 per year, and gives you 25 licenses to use along with all of the WP User Manager functionality.
Paid Memberships Pro offers three tiers, but the price of each is a lot more than WP User Manager. For instance, plans range from $247–697 per year. You could have the Pro WP User Manager plan for nearly the same price as a single-site license (with restrictions) of Paid Memberships Pro.
Speaking of licenses, we also think Paid Membership Pro is 'stingy' when it comes to how many sites you can use it on. Even the dearest Builder plan only gives you licenses for up to five sites. If you run a network of membership sites, Paid Memberships Pro might not be the best for your wallet.
4 Other Paid Memberships Pro Alternatives
By now, you'll know that WP User Manager gives you excellent and relevant functionality, top-notch integration, plenty of scope to run a network of sites, and more. The price is also second-to-none.
However, there is more than one Paid Memberships Pro alternative, and the rest of this article will look at four of them. Let's get to it!
1. MemberPress
You'll find a mention of MemberPress right across the WP User Manager site. For instance, it sits on our ultimate list of WordPress subscription plugins, our roundup of best Elementor membership plugins, and more. As such, we like it – especially as a Paid Memberships Pro alternative.

The difference between this and other plugins is its focus on the business aspects of running a membership site. For instance, lots of the functionality focuses on processing payments. In contrast, Paid Memberships Pro (and WP User Manager) offer more in the way of direct subscription functionality.
Price is also a concern here, as it is with Paid Memberships Pro. The tiers range from $359–799, and it means WP User Manager is a cost-effective way to implement complete membership functionality.
2. Easy Digital Downloads
Easy Digital Downloads is one of the longest-serving WordPress plugins for digital products. It carries on where WooCommerce stops, and we'd argue it's near-perfect if you don't sell physical items.

On the surface, Easy Digital Downloads doesn't seem like a Paid Memberships Pro alternative. However, you can implement subscription billing, which makes this a viable way to set up memberships.
As it's more of an e-commerce solution, Easy Digital Downloads can't cover much of the ground of Paid Memberships Pro, WP User Manager, and others. However, for digital download subscriptions, it might be the best fit.
When it comes to price, you have four tiers that range from $199–999 per year. For this money, you get a lot of functionality per tier, but not much in the way of licenses. This makes it almost prohibitive if you need to run subscriptions on multiple sites.
3. Ultimate Member
Ultimate Member could be one of the most popular WordPress membership plugins around. It offers lots of functionality, provides proactive support, and lets you extend what it offers using add-ons.
However, there are a few drawbacks to note here. First, the price is expensive at $249–299 per year – albeit cheaper than some of the other alternatives. What's more, it has a low rating on WordPress.org, and you can see reviews that talk about bugs and issues with feature implementation.
While this plugin can deliver the goods, we think WP User Manager beats it in all of the relevant areas you need to run a WordPress membership site.
4. LearnDash
The last Paid Memberships Pro alternative on this list is LearnDash. This is a different beast to the other inclusions too, as it lets you create a full-fledged Learning Management System (LMS) with WordPress.

This is another solution we include on our list of WordPress subscription plugins. It's because, if you want to create online courses, this is an excellent way to do it. The primary way to deliver content here is through drip-feeding it to users, although you get flexibility with regards to scope.
Even better, the price is fantastic and competitive. A single-site license is $199 per year, and this rises to $799 per year to use the plugin on (a theoretical) unlimited sites. Regardless of the tier, you get the full feature set of the plugin too.
Choosing a Paid Memberships Pro Alternative: Wrapping Up
WP User Manager is the best Paid Memberships Pro alternative on the market. It gives you functionality that doesn't rely on third-party services for the most part, and comes at a price your wallet will love. What's more, you get flexibility when it comes to creating membership sites across your entire network.
Paid Memberships Pro is still a solid way to implement subscriptions on your site, although it can't compete in certain areas. If your only concern is membership functionality, it could be perfect. However, most good sites will want to manage users and keep them safe. This is something WP User Manager excels at, starting from $149 per year.
Is WP User Manager going to be your choice of Paid Memberships Pro alternative? Let us know in the comments section below!