For those sites that offer registrations and signups, managing those users should be a priority task. As such, WordPress user management is straightforward even without the help from plugins. However, if you install the right solution, you'll have a wealth of functionality to help you manage users, set roles and permissions, and much more.
For this post, we'll start with a brief look at WordPress user management in general. From there, we'll roundup some of the best plugins for the job, then show you how our favorite solution can help you.
What WordPress User Management Is
In short, WordPress user management is how you'll set permission, manage user accounts, and organize it all on your WordPress website. The 'vanilla' version of the Content Management System (CMS) gives you tools to achieve this.
For example, you get the option to set a specific user role that already comes with a set of typical permissions: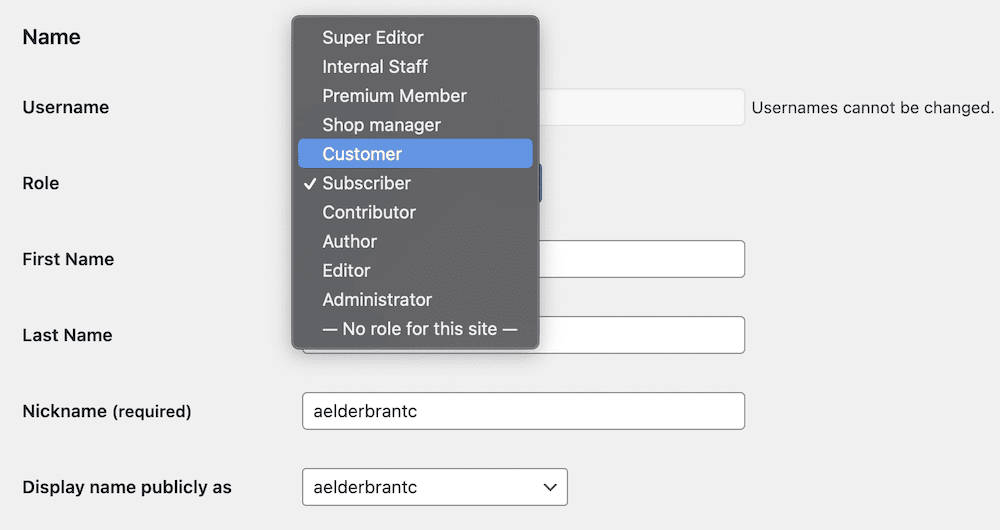 You also get basic management options, such as the ability to delete profiles, and send a password reset link: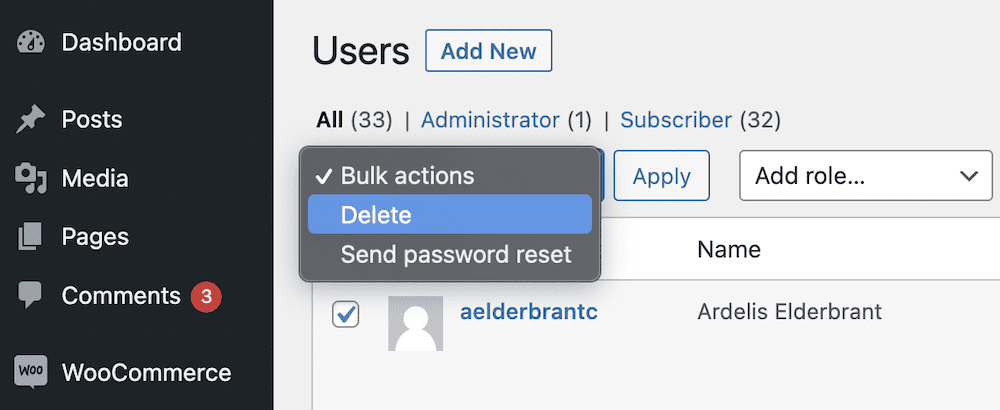 However, you can also use dedicated plugins to manage accounts within WordPress. These will often provide more management options that let you control various user WordPress user management aspects.
The Key Aspects of WordPress User Management
WordPress user management gives you a way to control user access, permissions, and capabilities in a number of ways. The following key elements let you maintain a secure and organized site, while letting registered users engage with the website as they need to:
Roles. WordPress lets you define user roles with different levels of access and capabilities. Each role has distinct permissions, which lets you control what users can do on the website.
Permissions. These define what a user role can do. You're able to fine-tune these permissions using plugins and control access to various aspects of your site.
Registration. With the right functionality, users can register on your website to create their own accounts. What's more, registered users can log in and perform actions based on their assigned roles.
User profiles. Each user will get their own profile pages. This gives them ownership over personal information, lets them set display names and avatars, and much more.
Access control. WordPress also offers options to restrict access to content or sections of your website based on the user roles. For example, you could create private content that's visible only to specific roles, or limit access to certain areas of the dashboard.
Already, you can see how WordPress is valuable when it comes to user management, but there are plenty of other positives. Let's look at this next.
The Benefits of Robust WordPress User Management
WordPress user management functionality will be a godsend if you take on subscribers, memberships, or any other user who has to register. In fact, there are a number of benefits to having this type of system in place:
You're able to make your site more secure. This is because you can assign specific roles and permissions that ensure you grant site access only to those who need it (called the 'principle of least privilege'). This helps keep unrestricted content accesses at bay.
You can set up multiple contributors for your site. Editors, Authors, and Contributors can create and edit content, while an Administrator has the oversight and control. This fosters collaboration and streamlines the content creation process for you.
With good WordPress user management, registered users can engage through leaving comments, participating in discussions, and interacting with your site. This is fantastic if you want to create a sense of community and foster user loyalty.
The User Experience (UX) could benefit through being more personal. You'll be able to create personalized content, provide custom access levels, and offer exclusive features to specific user roles. This enhances your user satisfaction, and could encourage return visits.
WordPress user management is also scalable, especially for Multisite installations or networks. You could manage users across multiple sites, assign roles to them, and control access from a central dashboard. This gives a boost to efficiency, consistency, and much more.
WordPress user management is one of the best ways to empower you and your team to control access, foster collaboration, personalize the UX, and streamline the administration of your website. The result is a secure, engaging, scalable, popular, and profitable website.
Get Started with the Best WordPress Membership Plugin
Today
Connect, Manage and Build your Membership Site
3 of the Best WordPress User Management Plugins Available
Next, we'll look at some of the leading WordPress user management plugins you can find. While we only showcase three here, there are plenty of others. However, these arguably offer the greatest set of features and functionality among all plugins.
Let's start with our favorite WordPress user management plugin, then move onto two other top drawer contenders.
1. WP User Manager
We think WP User Manager is not only the best WordPress user management plugin on the market, but one of the best for building a community with your site. However, its standout features all focus on user roles, permissions, and overall management.

Here's a quick overview of what the plugin does best:
You have a comprehensive Roles Editor that lets you create new user roles, set custom permissions, and more.
There's a form editor built into the plugin that lets you use drag-and-drop functionality to build signup forms. This is vital for accepting new registrations.
The user will have a lot of scope to select their own user roles, customize their profile (that includes using personal avatars,) and more.
You have ways to alleviate the tedium of user management too. For instance, there are options to prevent concurrent logins, clean up inactive users, prevent site access in bulk, and many others.
WP User Manager offers a free version, but the premium plugin is of immense value. A single-site license starts from $149 per year, although higher tiers include more functionality to play with.
2. User Role Editor
The User Role Editor plugin is one that many WordPress users turn to for greater scope with roles and permissions. It performs admirably, and has long set a standard for creating custom WordPress user roles.

You'll find that the plugin does much of what WP User Manager's Roles Editor can do. However, it doesn't have nearly as much scope to do anything else as WP User Manager. In reality, this is an unfair comparison as User Role Editor is not trying to be a holistic WordPress user management plugin.
Instead, if you need focused functionality to change user roles and permissions within WordPress, User Role Editor could be an ideal plugin.
3. Members
MemberPress has one of the better WordPress membership plugins on the market. They also offer a robust user management plugin too in the form of Members.

This takes the user role and permissions management from its parent plugin, and splits it into focused functionality. As such, it won't give you the same scope as WP User Manager, but you'll have a first-class way to change and create new permissions, user roles, and more.
For instance, you have the ability to clone roles to create new ones, set explicit 'deny' capabilities, and even give a user multiple roles – unthinkable with vanilla WordPress.
WordPress User Management: Setting Roles and Permissions
We touch on this aspect in a previous section, but let's summarize in brief:
Permissions are individual access settings for specific site elements. For instance, a permission could be to edit or delete posts.
User roles are collections of permissions that you'll give a specific name to. For example, a Customer or Subscriber user role won't be able to access most of the WordPress backend other than their own profile page.
Without any other functionality, you'll set a predefined user role at the point you create a new user: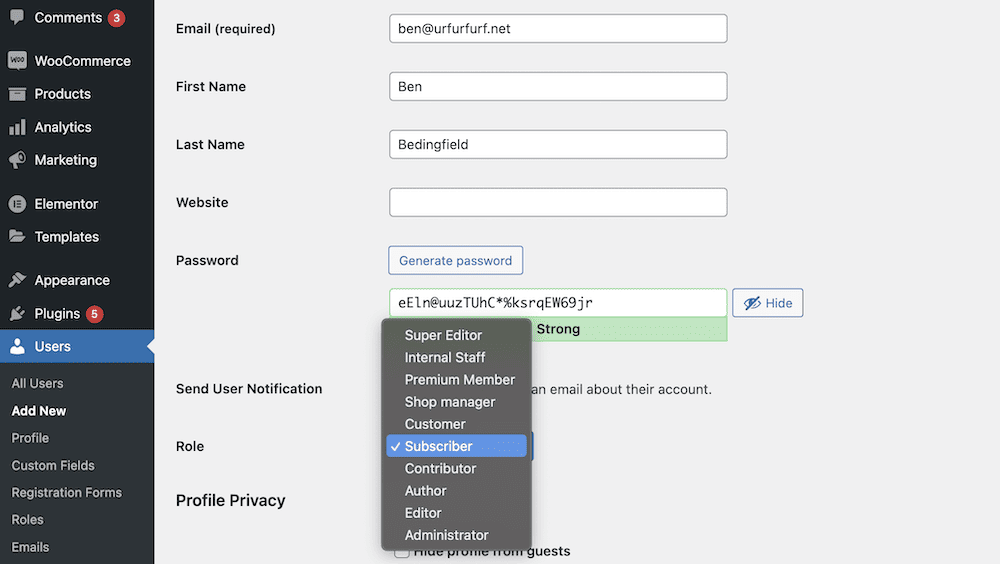 However, by default, WordPress doesn't let you change permissions or even add new user roles to your installation. Instead, you'll need to use plugins to do this. They will usually give you another set of predefined user roles for a specific focus. The leading e-commerce plugin for WordPress, WooCommerce, is a good example.

This gives you the ability to assign users to a Customer or Shop Manager role with specific permissions relevant to who would take on those roles. WooCommerce also gives Admin users a few other relevant and specific permissions.
If you want more scope from your user roles, you're in luck. WP User Manager is an ideal way to not only change the permissions of current user roles, but create brand new ones to your exact specification. In a few moment's time, we'll show you how to do this.
WordPress User Management: How WP User Manager Does It
WP User Manager is a bit of a chameleon when it comes to managing users. It can handle typical user role and permission changes, but also help you set up memberships. What's more, you can manage user data in a number of ways, set up registration forms, and more.
Across the rest of the article, we'll look at a few of the ways you can carry out WordPress user management using the WP User Manager plugin.
Manage WordPress User Roles and Permissions
The WP User Manager documentation covers a lot about how to edit WordPress user roles and permissions. It offers plenty of power to change the scope of your permissions and roles, but doesn't need technical knowledge to use.
You'll find the Roles Editor on the User > Roles screen within WordPress: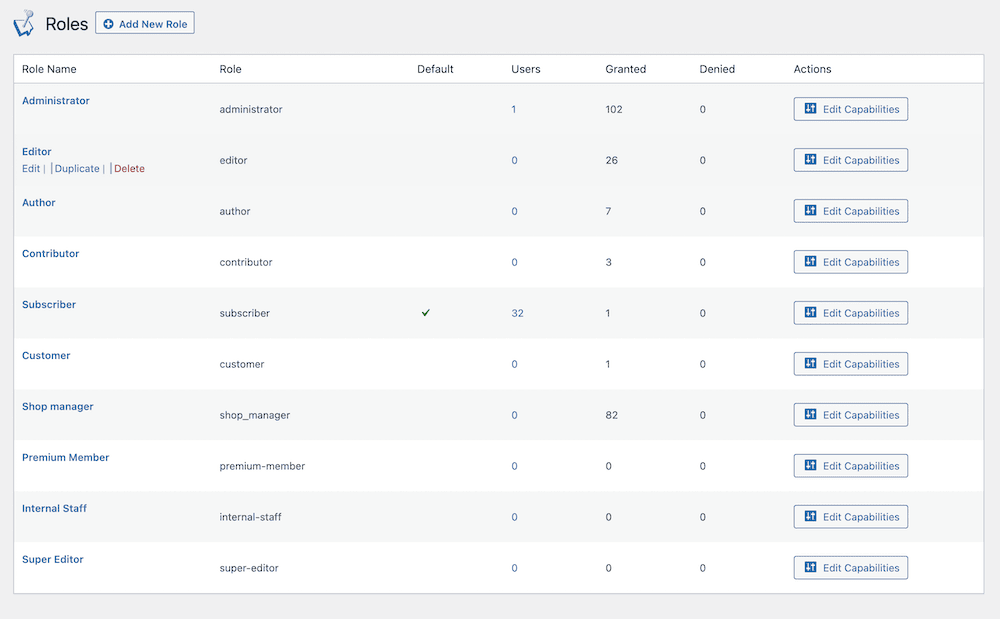 This will list all of the current roles for your website, along with links to further edit permissions and capabilities. Regardless of whether you choose to use the Add New Role button or the Edit Capabilities button, you'll see a screen that lets you set up those capabilities: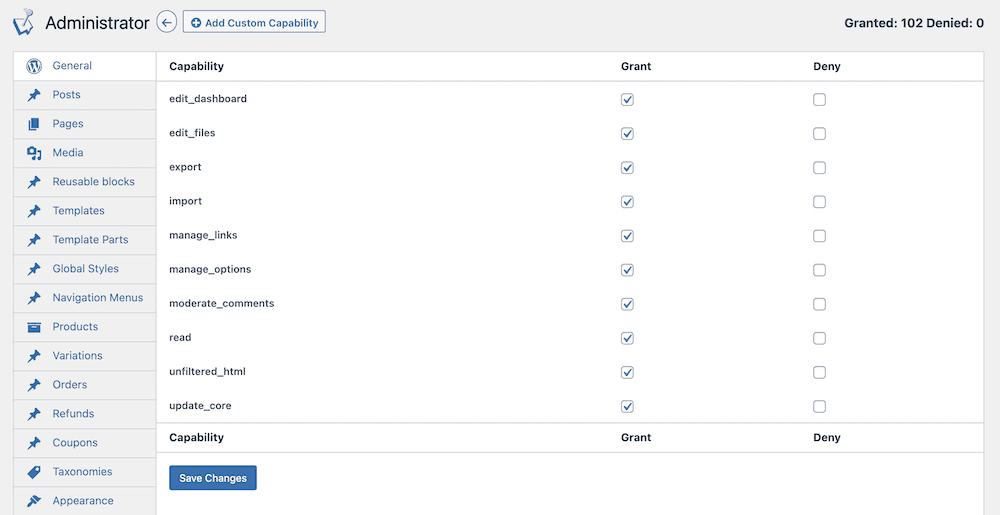 Here, you'll tick boxes to either approve or deny capabilities, and the left-hand menu orders them all in logical groups. It requires no technical knowledge, and means you can set up dedicated custom user roles in no time at all.
Display a List of Different Users on the Front-End
Speaking of technical knowledge, you often need this to implement certain advanced and complex features on your site. For instance, you'll typically need to do this if you want to showcase a list of registered users on your site.
However, WP User Manager builds this functionality into the plugin. You're able to display gorgeous user directories on the front end of your site in seconds.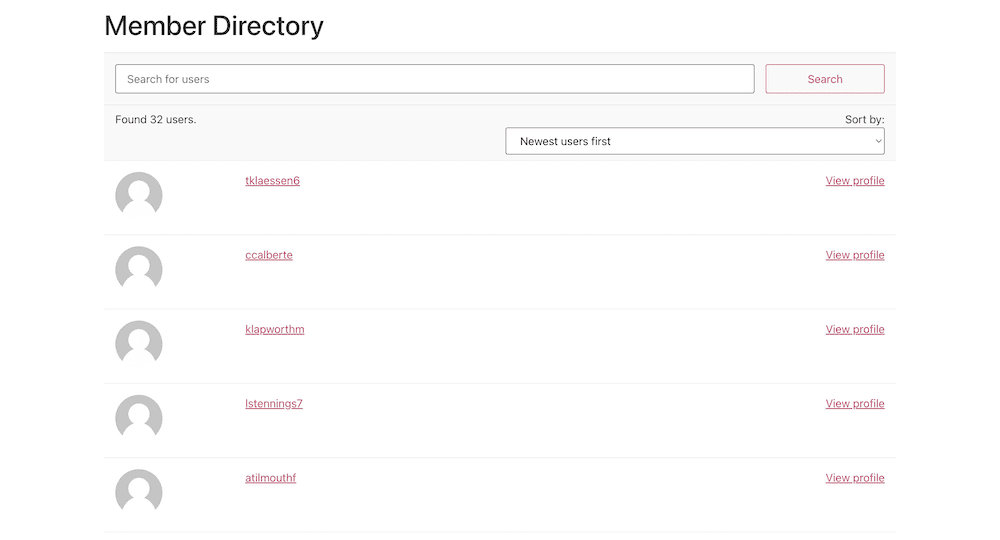 The Users > Directories screen within WordPress will show a list of directories. If you choose edit one, you'll spot a wealth of settings and options to customize yours to your liking.
For instance, you can choose to group users by role, exclude certain user IDs, implement a search form, sort the list, and more: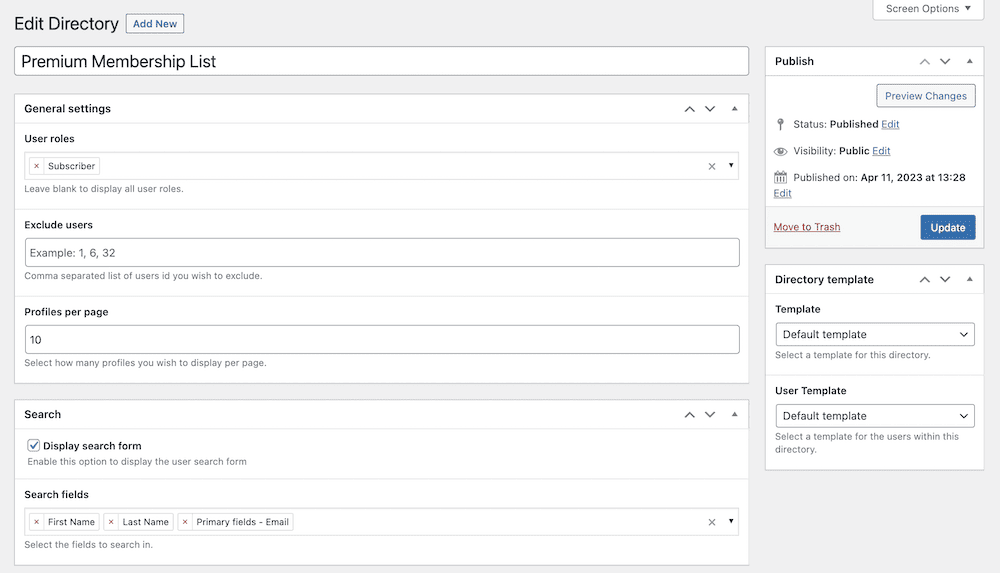 You even get to decide what fields you showcase within that directory using drag-and-drop functionality: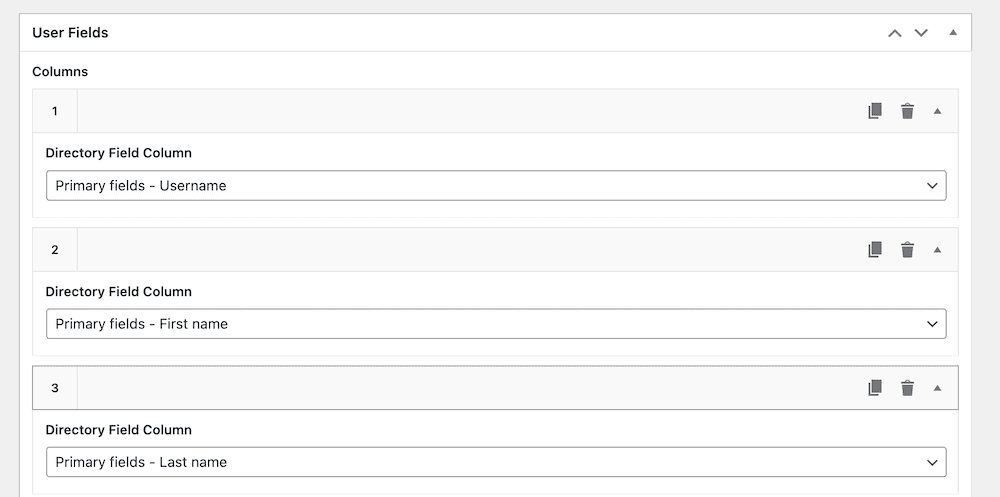 To display these user directories on any page, WP User Manager provides shortcodes. This means the directory can sit on any page you wish. You might even want to display multiple directories on one page.
Create Multiple Frontend Registration Forms
In order to register users on your site, you'll need forms. WP User Manager gives you a full-featured way to create a frontend registration form, as well as an add-on to build as many you need.
You can add and manage your forms on the Users > Registration Forms screen within WordPress. For those without the Registration Forms add-on, you'll have access to the default form only, but this will be enough to intake new registrations. Creating your form is straight forward: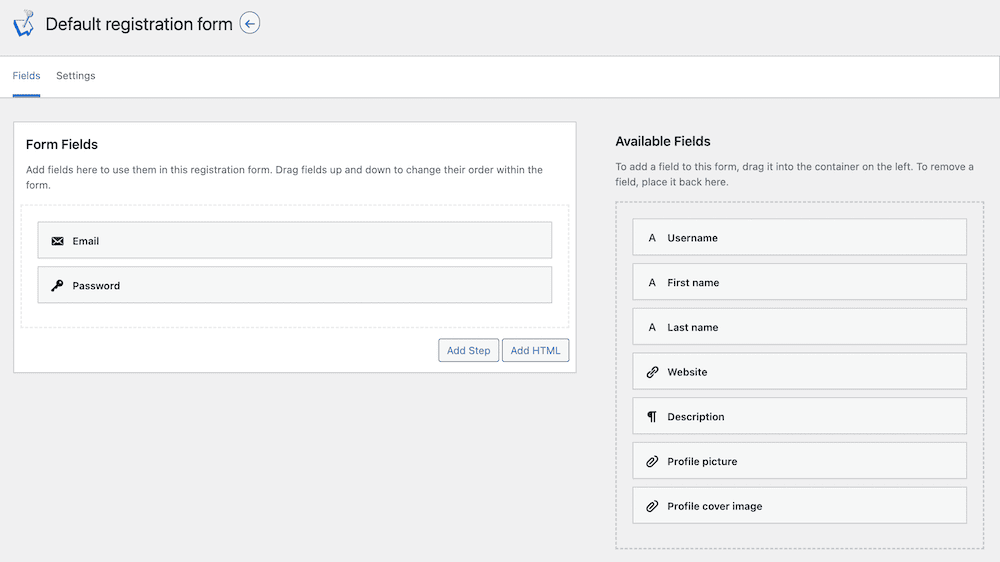 You have a collection of fields on the right hand side of the screen that you can drag into place on the left. However, although we give you plenty of ways to collect information, we don't recommend you use them all. You should aim to collect only as much information as is necessary to register, and let users add more later.
There are also a lot of options to help you customize your forms to your liking: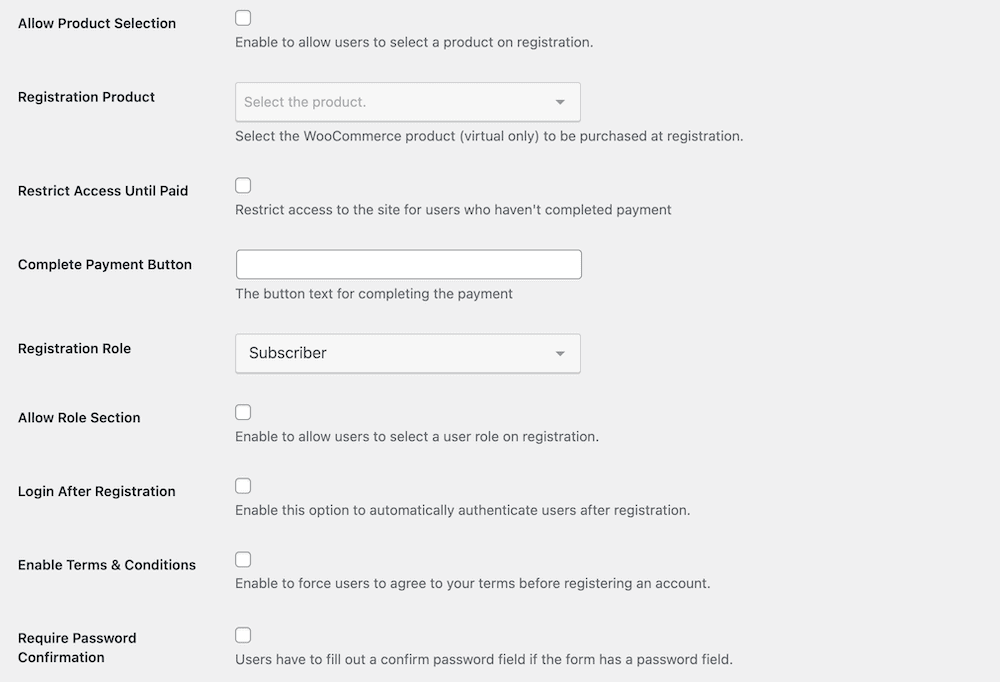 For instance, you can let the user choose their role from a selection, or set a unique default role for new registrations. You can also enforce terms and conditions before registering, and many more options. It's a great way to make your site's registration forms your own.
If you use the Block Editor, you can add your registration form from there: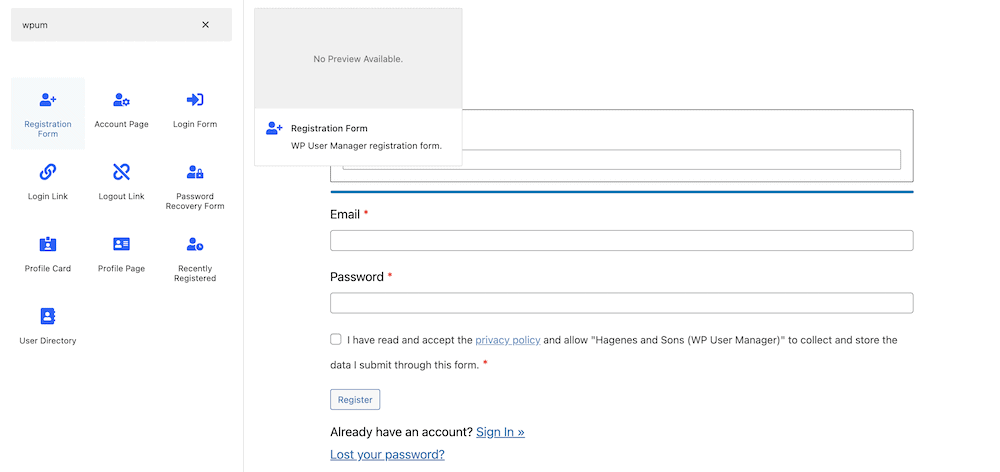 However, if you use another editor, WP User Manager provides shortcodes too.
Give Users Multiple Roles
One key piece of functionality WP User Manager can provide that the core WordPress experience doesn't is the ability to assign multiple user roles. The most straightforward way to do this is from the Users > All Users screen. Here, you'll check boxes for the relevant users, then select your desired user role from the Add Role… drop-down menu: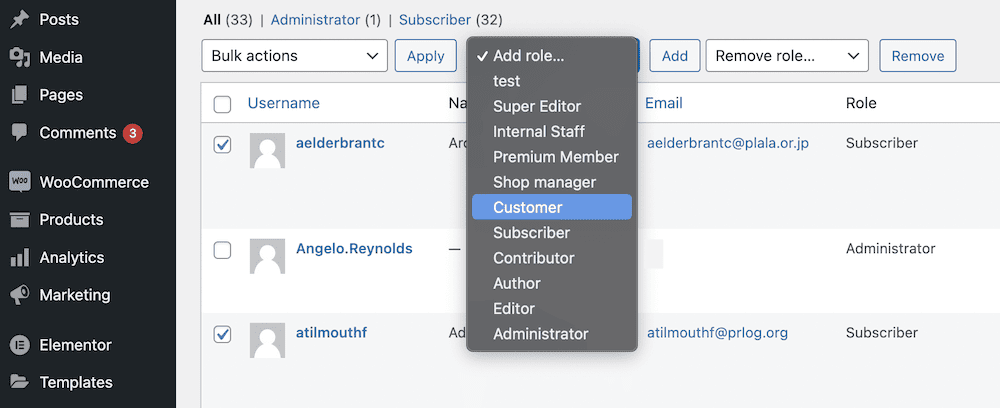 Once you click the Add button, this will apply. It's a great way to give a unique blend of permissions for some of your users, such as for subscribers and customers.
Collect Additional Data With Custom User Fields
You don't have to settle for the fields a registration form gives you. Instead, you can add custom fields to both forms and user profiles with the dedicated WP User Manager add-on.
This gives you a way to collect unique and specific information. For instance, if you choose not to collect certain information at registration for UX reasons, you can do so later on through the user profile. You might even choose to set up a multi-step registration form as an alternative: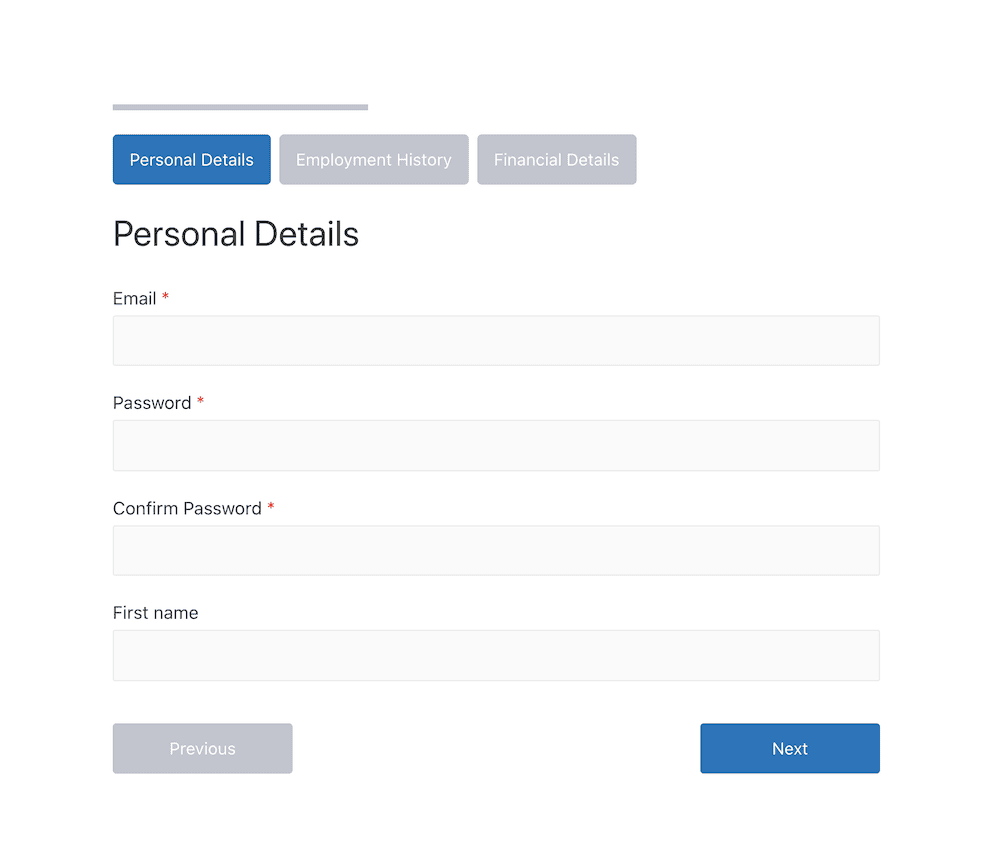 If you use the Advanced Custom Fields (ACF) plugin, there's also a dedicated integration with WP User Manager that will supercharge how you collect custom data.
Regardless, we have a full tutorial on how to add and set up custom data fields for forms on the WP User Manager blog.
Conclusion
While some sites don't need to worry about carrying out user admin, membership sites do. In fact, there are plenty of niches that require you to undertake some WordPress user management.
Vanilla WordPress offers some powerful tools to help you set up user roles, but a dedicated plugin can do more. For instance, WP User Manager gives you a full-featured user role editor, the ability to organize them on the backend, a way to create sign up forms, and much more. Even better, a single-site license begins from $149 per year.
Do you have any questions about WordPress user management, or how WP User Manager can help you? Ask away in the comments section below!